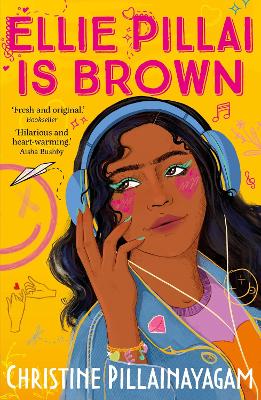 By Author / Illustrator
Christine Pillainayagam
Genre
Romance & Relationships
Age range(s)
11+
Publisher
Faber & Faber
ISBN
9780571366910
Format
Paperback / softback
Published
05-05-2022
Synopsis
The perfect coming-of-age summer romance by the most spectacularly funny and original debut UKYA voice.
My name is Ellie. Ellie Pillai . . . And I suppose I am a little bit weird, but then, aren't we all, just a little bit?   Most days, Ellie Pillai is somewhere between invisible, and not very cool - and usually she's okay with that. But suddenly, Ellie feels different. Maybe it's the new boy at school who makes her brain explode into rainbows every time she sees him (and also happens to be going out with her best friend), or maybe it's her new drama teacher, the one who seems to have noticed she exists. Suddenly, her misfit style, her skin colour, her songwriting and all that getting lost in the music in her head seem to be okay too. Because maybe standing out isn't a bad thing after all.   'I adored this.' Simon James Green, author of Alex in Wonderland. 'Warm, funny and hopeful.' A M Dassu, author of Boy, Everywhere.
Find out more in this video and Q&A with author Christine Pillainayagam
Reviews
Ruth
I thoroughly enjoyed meeting Ellie Pillai! She is such a likeable mid teen with the usual hang ups about herself, learning how she fits in at school, with friends, at home, discovering the complications of being attracted to someone already spoken for, and slowly becoming more confident through drama.
Ellie's struggles with her identity resonate as the author draws you into her world. This book is difficult to put down as you become connected to the main character and I found myself hoping for only good things to happen. However, it is through the challenges of teenage life that Ellie begins to find herself, making this an extremely relatable book for upper school students.
The author, Christine Pillainayagam, has written a cracking debut YA book threaded through with popular musical references which I particularly enjoyed. She also uses the book to showcase her own talents as there is a downloadable album with tracks reflecting the chapter themes throughout the book, accessible by scanning the liberally spread QR codes. This makes it an even more enjoyable read as you feel further immersed into Ellie's world. Interspersed with excerpts of song lyrics and with the catalogue at the back, this becomes a multi-sensory experience. In addition the book's cover is beautifully illustrated by Trisha Srivastava making it an eye catching front facing book for dynamic library shelving plus pretty pink edges and mini pics for extra attractiveness.
A great addition to a school YA collection and one that is sure to prove a popular loan!
464 pages / Reviewed by Ruth Cornish, school librarian
Suggested Reading Age 14+
Other titles