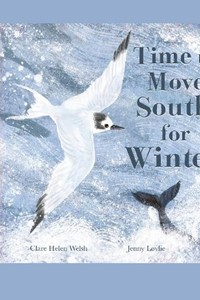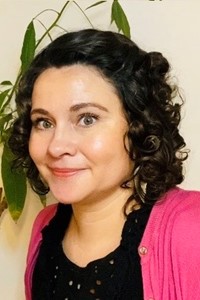 About Author
Clare Helen Welsh's new book, Time to Move South for Winter, illustrated by Jenny Løvlie, explores themes of migration through the flight of an Arctic tern. Clare is a primary school teacher and children's author who lives in South West England with her husband and two children. Clare does her best writing by the sea, which is lucky because she lives close to many beautiful beaches and the salty sea air.  She is passionate about writing stories that help children deal with big feelings and difficult issues. When Clare isn't writing stories, she is inspiring children to write their own. 
Jenny Løvlie grew up in Northern-Norway where summers were spent in the great outdoors, climbing rocks, watching the seagull-chicks hatching and rock-pooling and the dark winters reading, drawing and making. Jenny studied Illustration & Animation at Kingston University in London and won the Waterstones Children's book prize for best illustrated book for The Girls, written by Lauren Ace 2019. Her love of nature shines through her work and she draws inspiration from the wild landscapes of Scandinavia, nordic folklore and Scandinavian design. 
Interview
Time to Move South for Winter  (Little Tiger Press)
September 2021
Time to Move South for Winter by Clare Helen Welsh, illustrated by Jenny Løvlie, explores themes of migration through the flight of an Arctic tern, following its path southwards, and introducing other creatures on their migration journeys. A final spread shows the Arctic tern's journey - it has the furthest migration of all - and gives information about the other creatures that also migrate to warmer climates.
In this video, Clare introduces Time to Move South for Winter to younger children, and explains the migration journey the Arctic tern makes:
Q&A with Clare Helen Welsh
1. What draws you to a subject for a picture book?
My eyes and ears are always open to picture book inspiration and I keep a long list of phrases and ideas in the notes pages of my phone. I don't tend to choose subjects. It's more the other way around - they choose me!
It's difficult to pinpoint exactly what makes one idea jump out at any given time. I feel a little buzz of potential - I don't know exactly where it will lead but I look forward to finding out. I have a sense of the theme or tone, then write a little pitch line to flesh out the premise of the story to see if there's enough in the idea to get started. The subject sort of evolves from there. Ultimately, if a book is enjoyable to write, I think there's a good chance that will transfer to the reader in words and pictures.

2. Can you tell us about your new book, Time to Move South for Winter, and why you wanted to write this picture book text?
Time to Move South for Winter is a narrative non-fiction book, illustrated by the hugely talented Jenny Løvlie and published by Nosy Crow. It's a poetic and lyrical story, intertwining migration and animal facts with the tale of an Arctic tern on her annual journey from the Arctic to the Antarctic.
When I wrote this text, I had been reading lots of faction, mostly from the US, where a fictional plot is hinged around facts. This genre of books fired up the teacher in me and opened a whole new world of possibilities.
I love writing stories that can be used as springboards for further learning and I saw potential to write a book that entertained in the traditional way picture books do, but also inspired children to love nature and find out more about the world they live in. When I taught as a primary school teacher, I used books as hooks for learning often - so it makes me very happy to think of my books being used in this way.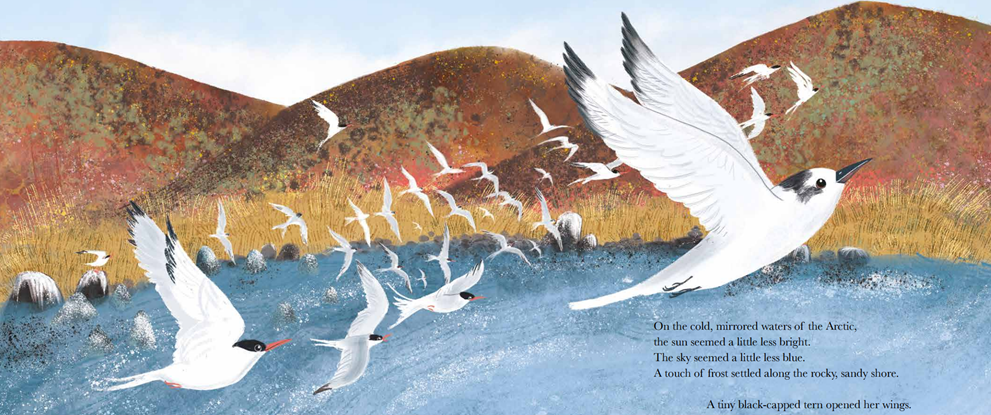 3. How did writing it compare with other picture books you've written? 
Not being a massive plotter, writing a narrative non-fiction text really appealed to my creative process, giving some structure to my ideas and fewer possibilities of which way a concept could be developed. But before I began writing, I read.
This is quite different from the way I usually approach a text. Once I have my pitch line, I more often than not have enough to write a first draft. However, in this case, I needed to absorb as much information as I could about the Artic tern and animal migrations before I could choose my characters and begin.
Narrative non-fiction texts are stories first and foremost, but it's hugely important that the facts are accurate and that comes from research. I liken it to teaching a new subject to your class - to explain it, you first need to fully understand it… so I read as much as I could! It was actually a really lovely way to work - I learned so much!  I hope the fact that I was learning as I wrote comes cross in the pages and in turn inspires readers to learn more, too!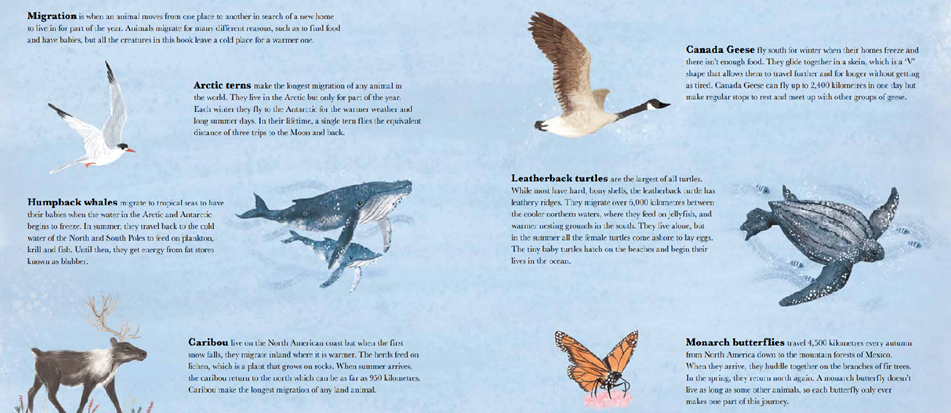 4. Why did you decide to focus on the migration of an arctic tern?
The story actually began life as phrase in a book of poems my Nan gave me; 'summer on the wing'. I began researching bird migration and was soon lost in the fascinating world of the Arctic tern. It's important for a story to have an interesting and engaging main character and the Arctic tern was certainly that! They make the longest migration of any animal from the Arctic to the Antarctic and back again each year.
After reading this, the book sort of appeared fully formed; a tern embarking on her annual winter migration, who discovers lots of other animals also moving south for winter.

6. What do you think of Jenny Løvlie's illustrations? Any favourites?
The text has been stunningly illustrated by none other than Jenny Løvlie, winner of the Waterstones Children's Book Prize 2019. Jenny says Arctic terns are her favourite bird. She grew up by a large colony on Ekkerøy, Norway, making her the perfect person to illustrate the text. Jenny has brought the story to life so beautifully. There's a real sense of magic as the tern travels through the many varied landscapes.
Choosing a favourite is tricky, but I have a soft spot for the humpback whales because I love the sea. I also really like the illustrations that show the Arctic tern in her Antarctic home. Jenny's use of texture and colour give a real sense of warmth, which makes the scene so inviting - I could quite happily jump into those pages!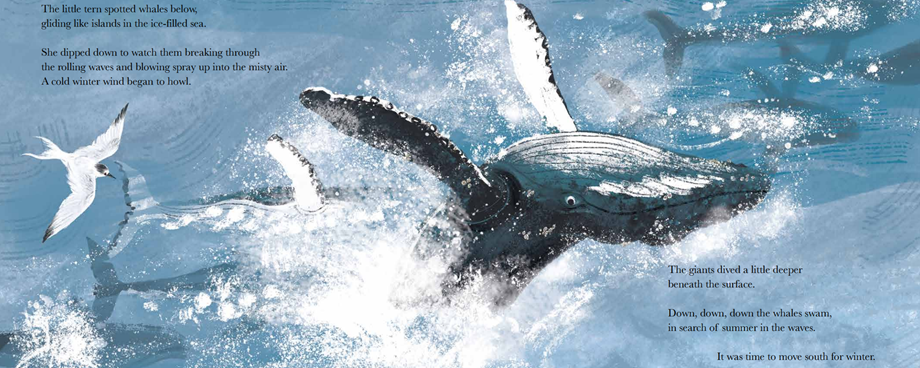 7. Why have you also included a non-fiction element about each of these creatures?
I really hope that the story acts as a springboard for young readers, in that it will inspire them to learn more about the wonderful world they live in. We felt some facts in the back matter of the book would encourage this further, whilst also unpicking some of the more complex concepts and explaining the reasons animals migrate.
Personally, I love Jenny's map, which put the featured migrations into context. We hope the back matter also gives the book re-readability, in that on subsequent reads children can look out for the details mentioned. Finishing a book doesn't have to be the end of the adventure - it could just be the start!

8. How would you like to see the book used in the classroom?
It would make me very happy indeed to think of Time to Move South for Winter being used to inspire children about the world around them. I think there's potential to learn about seasons, the Earth's tilt, continents, animal habitats as well as the migrations. I can also imagine Jenny's illustrations lending themselves to some beautiful silhouette work - I'm seeing sunsets and skies full of southern lights!
I've made a story sack to take with me on school visits, containing one of each of the animals in the book. I can't wait to use them as props for an interactive read through of the story, where the children can move as each animal does. I'm thinking it could lead to some beautiful dance-inspired poetry or creative writing about animals.

9. Do you plan to write more narrative non-fiction texts, like this?
I'm not exactly sure what I am allowed to reveal, but let's just say I certainly have the bug and this is unlikely to be my last!
In fact, I know I am allowed to talk about my first picture book with Andersen Press publishing in November. It's a fictional retelling of Cinderella, inspired by the life and work of Lotte Reinger, who was a film director and the pioneer of silhouette animation who predated Disney by as much as a decade. The production on this book is also stunning. It has been brought to life by illustrator, Laura Barrett. It's called Scissorella and has peep through pages and plenty of girl power to boot!
Q&A with Jenny Løvlie

1. What are your favourite kinds of texts to illustrate?
Anything with a heart! And a strong girl main character is always a bonus.

2. What drew you to this one, Time to Move South for Winter?
Apart from Clare's brilliant writing, the Arctic Tern is one of my favourite birds. I grew up on Ekkerøy in Northern Norway, right next to a large Arctic Tern colony so I'm very familiar with them. This book was a bit of a dream project for me!   Also having the chance to work with the lovely people at Nosy Crow again was a huge factor!

3. Did you need to research how to illustrate these creatures?
I always do a lot of research when I'm illustrating a picture book, but a little extra is required for non-fiction! I'm very familiar with the Arctic landscape, so that came quite naturally to me, but the American and Antarctic landscapes required some more sleuthing.

4. How do you create your images and what media do you use?
I always start off sketching on paper, but all final artwork is drawn in photoshop using a wacom cintiq.

5. Do you have a favourite spread or landscape?
It's so difficult to choose, I love them all in their own way. But my favourite spread is one of the last ones, the one where they arrive in Antarctica. I loved drawing the reflections in the water and the icebergs!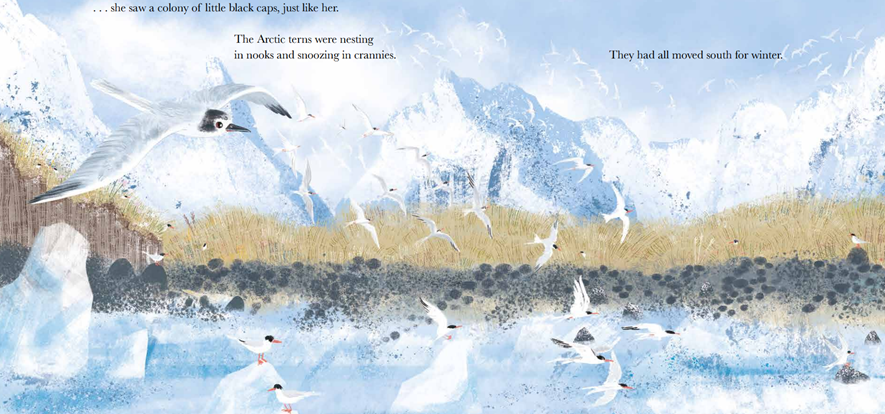 6. How did you decide what images to use for the eye-catching front cover?
We did quite a few rounds of brainstorming before we landed on this design. We all wanted the tern to shine, but also really wanted to include a whale as well! This was a little tricky considering the immense difference in size of the two animals!

7. Where do you do your illustration work? What are you currently working on?
I've just moved from Cardiff to London and haven't had a chance to set up my studio yet, so I'm currently working on the kitchen table. Hopefully I'll be back at my desk soon!  I'm working on a couple of picture books and Kitty number nine at the moment. That's all I can say!

Thanks so much for shining a light on our new book. We're so excited to share it and hope little readers and their families enjoy it as much as we have enjoyed working on it.
Author's Titles