Time to Move South for Winter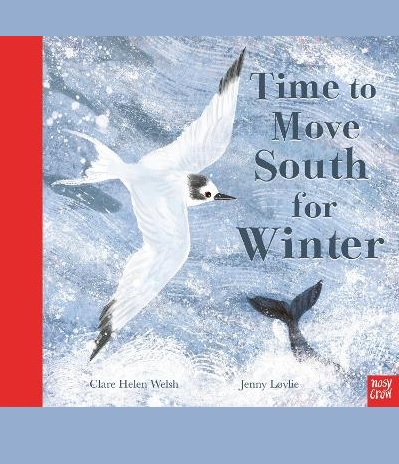 By Author / Illustrator
Clare Helen Welsh, illus Jenny Løvlie
Genre
Picture Books
Age range(s)
5+
Publisher
Nosy Crow Ltd
ISBN
9781788008136
Format
Hardback
Published
02-09-2021
Synopsis
A breathtaking picture book about incredible animal migrations, illustrated by the winner of the 2019 Waterstones Children's Book Prize, Jenny Lovlie. Over the cold, mirrored waters of the Arctic, a tiny tern sets off on the world's longest animal migration. On her way, she passes humpback whales, caribou, Canada geese, leatherback turtles and monarch butterflies, each on their own incredible journey south for winter. When the Arctic tern finally arrives, she must find a new home on the Antarctic shore . . . until it's time to return to the northern skies once again.A beautiful, lyrical and reassuring bedtime story, perfect for young animal lovers, with a map and double-page spread of non-fiction facts at the end.
Q&A & Video with Clare Helen Welsh and Jenny Løvlie
Reviews
Jemma
In this gorgeous book, we follow a tiny Arctic tern as she embarks on the world's longest animal migration. As the tern flies south to warmer weather, chasing the sun, we meet many creatures including majestic humpback whales, charming caribou, friendly Canada geese, humble leatherback turtles and millions of monarch butterflies.
Time to Move South for Winter is stunning in every way. The words used to describe the landscapes and animals are highly descriptive. They make reading this book out loud an absolute pleasure. The illustrations are soft and gentle, reflecting the tern herself. Each page offers a beautiful landscape to enjoy alongside the detailed images of the creatures.
After reading this book to my daughter, she immediately asked to look through it again and studied each illustration with pure joy. Although this is a fiction book, there is information about each animal at the back and a globe showing the tern's journey, which both myself and my daughter found fascinating.
I can't recommend this book enough. It is truly beautiful.
Picture book / Reviewed by Jemma Jeffrey, teacher
Suggested Reading Age 5+
Sharon
This stunning book is fabulous for a migration topic in school. Time to Move South for Winter tells the tale of a tiny black-capped tern making her journey south and mentions the things she sees along the way. The geography or map studies that could be developed for key stage 2 children from this text would be super. The enormity of the tern's journey is beautifully illustrated by the magnificent Jenny Lovlie one the last page. Her illustrations throughout the book are quite simply breath taking - with such detail across each double page spread.
Clare's text introduces a wide variety of animals which could be used as a stimulus for research into these migrations or life cycles. This is a vocabulary-rich text for younger children, with the opportunity to introduce children to vocabulary such as Antarctic, colony, nooks and crannies and kaleidoscope.  I think my favourite double page spread is that where the tern stops to rest. It took a moment or two for me to find the tern in her resting place. The sunset is glorious.
A highly recommended book for key stage 2.
Picture book / Reviewed by Sharon Porter, teacher
Suggested Reading Age 7+
Other titles