David Almond (Picture Books)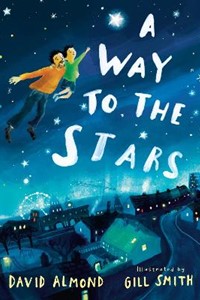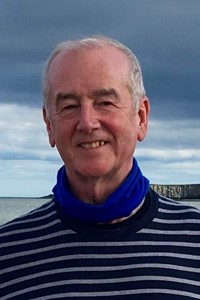 About Author
David Almond spent his childhood in Newcastle playing football, camping with his friends and singing as an altar boy. He worked as a teacher before writing his award-winning novel, Skellig. In 2011 he was awarded the prestigious Hans Christian Andersen Award, and received an OBE for Services to Literature in 2021. www.davidalmond.com
Gill Smith worked initially as a primary teacher, then within community arts and theatre, before pursuing illustration with an MA in Children's Book Illustration at the Cambridge School of Art. She was shortlisted for the Batsford Illustration prize and a winner of international competition, "Picture This". 
Interview
A Way to the Stars   (Walker Books)
November 2023
In his new picture book, A Way to the Stars, author David Almond explores the warm and magical connection between a father and son, as the father helps his son achieve what sounds impossible; a way to reach the stars!   David introduces his new book in this short video, encouraging readers old and young to pursue their dreams, and tells us what inspired the story.
Review:     "A Way to the Stars is a magical and uplifting tale of imagination, perseverance and connection."
Q&A with David Almond and Gill Smith, introducing A Way to the Stars
Here, David Almond tells ReadingZone what inspired A Way to the Stars and how writing picture books is like writing a poem; and we speak with illustrator Gill Smith to find out how researching the night sky, hanging out with friends and exploring the urban world helped her develop the illustrations for A Way to the Stars.  

1.   Hello David, thank you for joining us on ReadingZone. Hard to believe it's really 25 years since Skellig was published - what are the standout moments of your writing career to date?
Ah, so many! Skellig's first publication, of course. The premiere of the Skellig play at the Young Vic. The publication of every book! So thrilling to have A Way to the Stars published today. All the travelling I've done. Three amazing trips to Japan - during one of which I had a long meeting with the Empress Michiko. I've won many prizes - the standouts must be The Carnegie Medal, The Hans Christian Andersen Award, The Nonino International Prize, my OBE.
It's been wonderful to spread my storytelling wings and work with wonderful artists, musicians, theatre directors. And I've met so many brilliant people - writers, publishers, librarians, teachers. And it's a great thrill and privilege to create work for children and young people, who are the best of all readers, and who inspire me and give me hope for a better world.

2.   We're focusing on your picture book, A Way to the Stars, today, so what kinds of picture books do you enjoy? Any recommendations from the picture books you've seen recently?
I like all kinds of picture books, especially those that are rather strange and edgy. They're a great art form, bringing writers and artists together to create things of excitement and beauty.
Recent books I've loved - the strange and wonderful Godfather Death, by Sally Nicholls and Julia Sarda; The Star Whale - deeply moving blend of poetry and art by Nicola Davies and Petr Horacek; The Queen in the Cave - a gorgeous and mysterious work by Julia Sarda; The Skull by John Klassen.

3.   What draws you to creating stories for younger children?  How does this form of writing compare with writing longer fiction? 
Younger children are the future of our world. They are natural artists. They deserve the very best stories, the very best art, we can create.
When I'm writing a picture book, I think visually, but just as important, I think in terms of sound and rhythm. A picture book text is a kind of poem. Every word, every comma, every full stop, matters. I imagine a lot of space around the words - a space that the artist will begin to fill with their own visions. A good picture book is the coming together of two minds, two visions.
Compared with writing longer fiction, there's the simple fact that there are fewer words - a few dozen instead of many thousands. In longer fiction, there's more scope for scene setting, character development. I love the process of putting together a story word by word, page by page, seeing the pages accumulate over weeks and months of work. In its own way, a picture book is just as hard to write. It can look easy. It's just a few words, after all! But it can be fiendishly difficult to get it right.

4. What inspired this story of reaching for the stars?
I can't remember exactly when it started, but I know it came suddenly, as some picture books do. I wrote the first version pretty quickly, as a kind of poem. No pictures, just words. This was published in The Book of Hopes, edited by Katherine Rundell. Along with the wonderful people at Walker Books, I saw that it could become a picture book. I rewrote it several times, seeking the right shape. When I was done, we agreed that Gill Smith would be the perfect artist. And I was so delighted that Gill said yes, and began to create the marvellous, bright, bold illustration that we see today.

5. Does the story have links to any of your earlier picture books, for example, The Woman Who Turned Children into Birds?  
Yes, I guess it does have links to other books I've done. The theme of reaching for the sky seems to be very important to me! We see that in The Woman Who Turned Children into Birds with marvellous art by Laura Carlin, and in My Dad's a Birdman beautifully illustrated by Polly Dunbar.

6.   There is a lovely father and son relationship at the heart of the story - how do you build this? Is telling so much of the story through their dialogue an important part of this?
Yes, the dialogue is really important - it shows the closeness and shared dreams of Joe and his dad. I love the fact that Dad doesn't try to thwart Joe's ambitions, or tell him that he's being daft or overambitious. Joe and his dad just sprang to life. Right from the start, they were just as they are in the book, very close to each other, willing to experiment and play together. When I began to write, it was as if they'd just been waiting for the opportunity to come out of my mind and to appear on the page.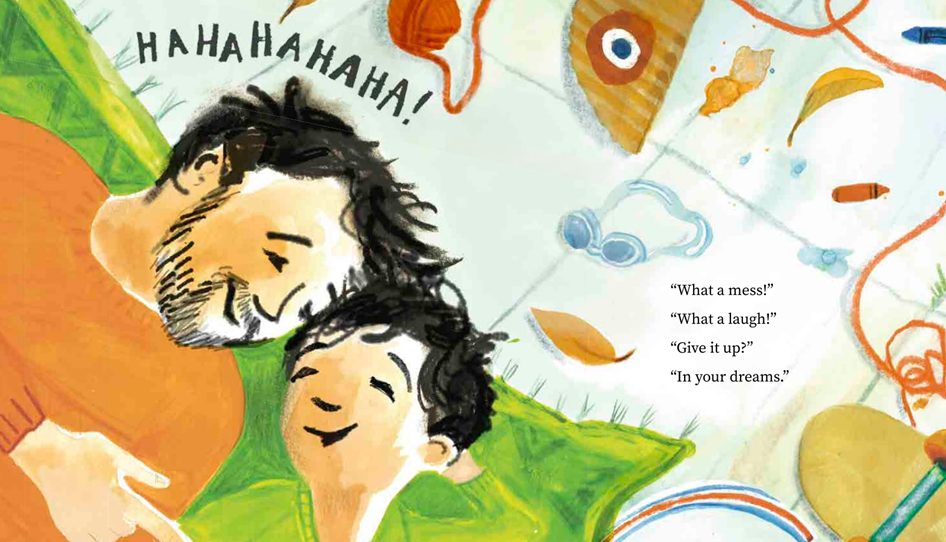 7.    What do you think of the illustrations by Gill Smith? Do any spreads stand out for you?
Gill's work is marvellous! What a joy to work with an artist who brings such vividness and excitement to my words. I love the tenderness and wackiness of her work. Everything is so bold and bright and effervescent, but filled with love.
I love the spread which is filled with Joe and Dad's faces close together with the sounds of laugher above and love and delight on their faces. It expresses so much in one bold, apparently simple image. And the spread where they are producing their art in the shed - their closeness and concentration, both of them absorbed in their mutual task. And ah, the cover image, where they soar together towards the stars!

8.    What would you like your young readers and families to take from A Way to the Stars?
Well, I hope they enjoy it! That they feel drawn into Joe and his Dad's world, that they'll feel some of the excitement that Joe and his dad do. I hope it helps to show the importance of adults and children working and playing together.
Reading picture books together is a marvellous way of drawing families together. A good picture book will be read many times. It'd be wonderful if this book might be one of those. And I hope it will encourage people of all ages to create their own books made of pictures and words.

9.    Do you have more picture books planned?  What other projects are you working on currently?
Yes, I have another picture book on the way. It'll be published next Autumn. I can't share the details yet, but I can tell you that the art work is amazing! And I'm in the process of finishing another. There are two novels coming out next year - the first is called Puppet, which will be published in the spring. Right now, I'm writing another new novel. I've also been writing quite a few poems over the last couple of years.

10.    Given all your links with music, theatre and writing - what creative outings are you looking forward to this winter?
A new stage version of A Song for Ella Grey will premiere at Northern Stage in February, then go on national tour. It goes into rehearsal soon. Very exciting!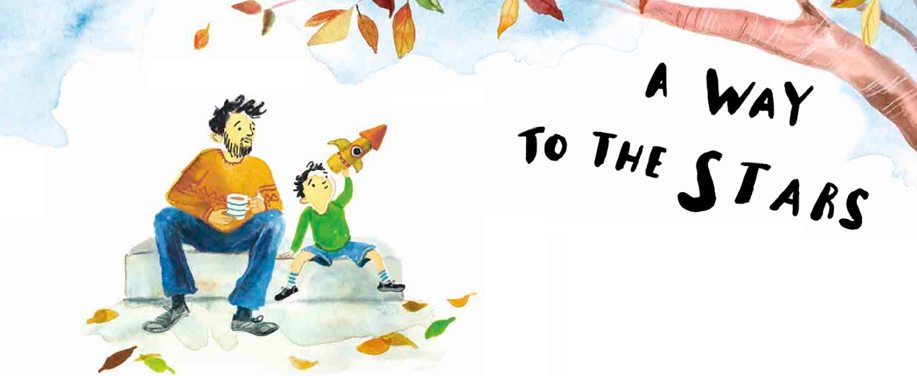 Q&A with illustrator Gill Smith, on illustrating A Way to the Stars 

    "Joe longs for the world beyond his small back yard. I wanted to contrast the smalltown domestic setting with the vast expanse of Joe's imagination and the night sky."

1.    Hello Gill, thank you for joining us on ReadingZone. Can you tell us what brought you into illustrating for children, and which picture book creators inspire you?
I worked as a primary teacher, then a community artist for 15 years, designing and making for arts organisations whilst obsessing about creating children's books. The MA in Children's book illustration, at Cambridge School of Art, really opened the doors to the children's publishing industry and gave me the chance to get my work seen.
My favourite illustrators are those great story tellers I grew up with such as Raymond Briggs, Shirley Hughes, John Burningham and Helen Oxenbury. Their characters and worlds are completely convincing. Recently, I discovered I Am The Subway by Kim Hyo-eun. It is unbelievably beautiful in it's depiction of ordinary life. Both funny and sad at the same time. It has inspired me to keep observing the world around me.

2.    What kinds of stories do you enjoy illustrating, and how would you describe your illustration style?
A curiosity about people's experiences and emotions inspires me. I love to get inside a characters head in fiction or history and imagine their thoughts. In terms of style, my work is evolving all the time. I am teetering on a tightrope between observational and imaginative drawing. Someone once said my work is 'Gritty pretty!' I do enjoy finding the beauty in unexpected, ordinary places.

3.   What stood out in the text of A Way to the Stars for you? How did you decide to approach it?
David Almond is a literary hero of mine. He captures the mysteries and wildness of childhood perfectly. I find his work so emotive. A Way To The Stars is a beautiful story which speaks of creativity, imagination and daring to dream. The down-to-earth dialogue between Joe and his Dad felt authentic and I loved their easy relationship, where the Dad gets to be a big kid playing and dreaming along with his son.
When I first read the text, it wasn't long after the pandemic and there was a sense of the world opening up again after such restriction. Joe longs for the world beyond his small back yard. I wanted to contrast the smalltown domestic setting with the vast expanse of Joe's imagination and the night sky.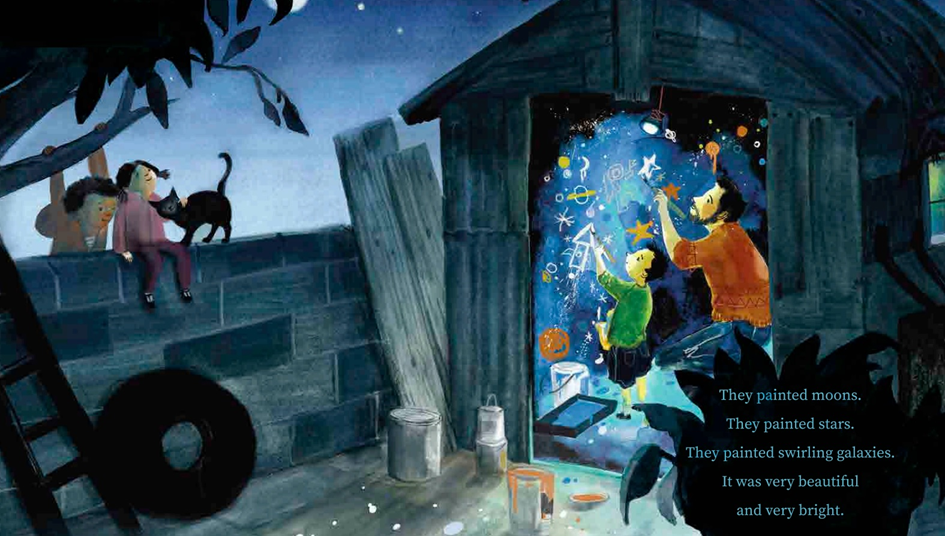 4.   The nightscapes and painting in the shed are luminous - what are the challenges in creating nighttime spreads like these and how did you overcome those?
Research included staring at stars for long periods of time!  I walked around at night observing and photographing how street lights affected the colours of the night sky.  Retaining a light touch whilst depicting darkness was tricky using unpredictable ink and watercolours. I find it so much easier to draw figures than settings. It was often a case of trial and error with paint and then refining with procreate to get the lights to pop against the dark back grounds.

5.    We love all the details in the images - do you like to give children more to explore in the visual imagery?
Yes, children are brilliant at reading pictures. I love it when they get excited about spotting tiny details for the first time. I also got so much satisfaction from bringing in extra characters like the cat, the neighbours and Joe's toys to create a complete and believable world.
Whilst developing sketches for this book, I hung out with my friend and his six-year-old son, Hugo, and sketched them playing together. I was intrigued by how Hugo switched effortlessly between the real world and his imaginary one. He drew a map for me which would get me to the moon by bus, with a few planetary pit stops on route. The map became the chalk drawings on the brick wall in one of the spreads.

6.    Do you draw on your own landscapes and what's around you for these illustrations? 
I live in a first floor flat and the view from the fire escape overlooks a whole street of higgeldy piggeldy back yards with an assortment of rooftops, chimneys, sheds, walls, fences, washing lines and strung up solar powered lights. Sometimes this scene includes a big full moon, a splattering of stars or a fox!
In the story, Joe and his dad lose track of time and stay up late painting their shed. I thought about how exciting it was as a child to be allowed to stay up and I revisited that wonderful final night time spread in Judith Kerr's The Tiger Who Came To Tea. I wanted to celebrate the urban world around me, where magical and extraordinary things could happen.
I am starting to recognise that for me there are so many things that feed into the illustrations of a book. The text, memories, observations, dreams, random overheard conversations, films and music can gradually inform interpretation, decisions and choices. I listened to Elbow's album Flying dream on repeat during this work. It has very tender lyrics full of warmth and empathy and it instantly put me into the mindset where I could feel the affection between Joe and his dad. I could clearly visualise Joe and his Dad soaring through the northern sky to a Guy Garvey soundtrack!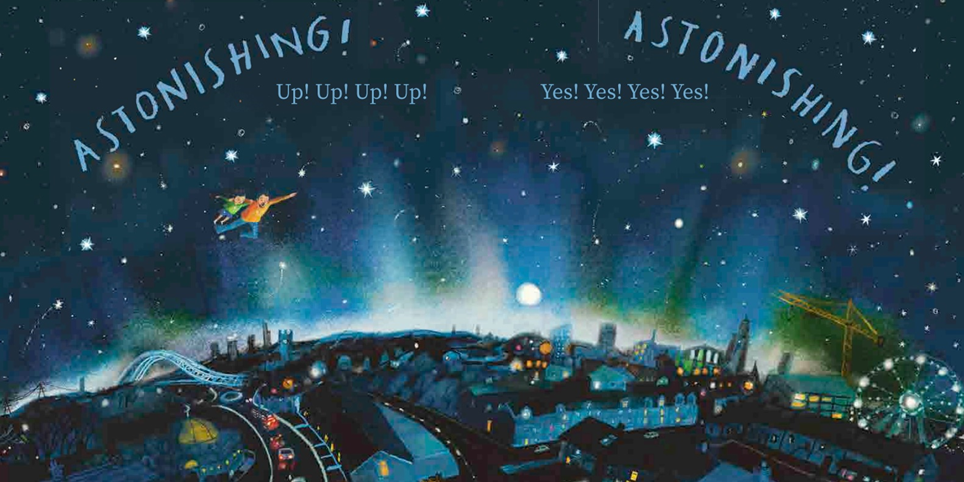 7.    Do you have a favourite spread in the finished book?
Whenever I go abroad, I still get fascinated when looking out from a plane window at the 'toy town' views below the clouds. I really loved adding lots of tiny details to the bird's eye views over the town in the flying scene. The simplicity of the text left room for me to imagine what it was that Joe and his Dad found 'astonishing' whilst spinning amongst the heavens. A new perspective perhaps? Their little home appearing just as astonishing as the starry sky when viewed from above. I love how the text is open enough for readers to fly up to the stars with these characters and have their own imaginings.

8.    Are you working on other picture books or illustrations?
Yes. I am so excited to be working on a beautiful story about wild places by Katya Balen. I feel incredibly lucky that Walker Books have these amazing writers and stories which ignite so many ideas. It felt very serendipitous to get Katya's beautiful text as I have been really appreciating the many wild places in Liverpool and beyond.

9.    What do you enjoy doing in time out, away from your studio?
I have to move after sitting for so long at a desk. I just love walking around the river and the park in all seasons. I love living in this city for all of its art and culture and go to lots of gigs and theatre whenever I can. I am at my happiest mooching about in a bookshop. I also sing in a community choir which specialises in Bowie, Madonna medleys and 80s hits! Rehearsals invariably get very silly.
Author's Titles