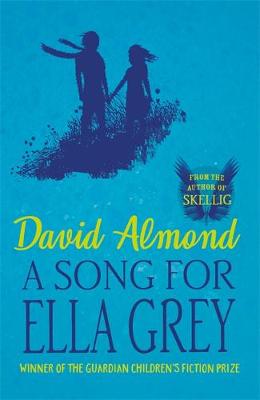 By Author / Illustrator
David Almond
Genre
Friends and family
Publisher
Hachette Children's Group
ISBN
9781444922134
Format
Paperback / softback
Published
04-06-2015
Synopsis
Winner of the Guardian children's book prize 2015

I'm the one who's left behind. I'm the one to tell the tale. I knew them both... knew how they lived and how they died.

Claire is Ella Grey's best friend. She's there when the whirlwind arrives on the scene: catapulted into a North East landscape of gutted shipyards; of high arched bridges and ancient collapsed mines. She witnesses a love so dramatic it is as if her best friend has been captured and taken from her. But the loss of her friend to the arms of Orpheus is nothing compared to the loss she feels when Ella is taken from the world. This is her story - as she bears witness to a love so complete; so sure, that not even death can prove final.
Reviews
Daisy

- Age 15
Because it is told from an interesting stand point; an onlooker, not a main character. The imagery is beautiful and very emotional and it summarizes youth incredibly realistically. Almond clearly understands what it's like to be a teenager.
Suggested Reading Age 14+
Kimea
I found this book ok. It was a bit too lovey for my liking, and some parts of it didn't make much sense from my standpoint.
Suggested Reading Age 14+
Grace

- Age 14
I have enjoyed books by David Almond before, such as Skellig, so I had very high hopes for this book. Having finished this book nearly a week ago, I'm still unsure about whether it fulfilled them or not. The plot of A Song for Ella Grey was supposed to be filled with mystery and questions - which it was - but I feel like David Almond wrote it in a style that left a little too much to the imagination. Unfortunately that meant that there was very little detail about what happened. There were whole plot lines and characters that had not been explained at all, which I found disappointing. However, I did feel like this lack of clarity added something to the overall experience of the book. I would recommend this book to people who are willing to try a new style of writing and people who like being able to fill in gaps with their own imagination.
Suggested Reading Age 11+
Emily

- Age 14
It is a moving, powerful novel of love and passion and what goes on beyond the gates of death. A weird and wonderful book for those with a wild imagination!
Suggested Reading Age 11+
Dawn
The blurb states that this is 'The most beautiful book you'll read this year' - and, for me, that was true. I loved it. A modern interpretation of the myth of Orpheus and Eurydice, this novel is told from Claire's viewpoint. It describes her life from age five to 17 with her best friend Ella Grey. At the start of this summer, they were 17 years old; this evoked my memories from that magical age - no responsibilities, carefree, cushioned by parental love. We could do anything and everything was possible. Almond's love of the Northumbrian countryside and coastline is demonstrated by his description of the surroundings of the young people in the story. Even without knowing the area, you can feel the magic in his words when describing the sheer joy of life for the young lovers as well as their friends. Although I was familiar with the myth, I was still shocked when Ella died. So for those readers who don't know the story, they too will experience a severe loss when she is bitten by the snake. Part 4 is produced on black paper - a symbolic interpretation of life in the Underworld. It all seems so believable, so the shock when Orpheus looks behind him is equally devastating. Almond has mixed up the everyday of school, exams and parental concerns for their children and their revision with legendary love at first sight and tragic loss. This must resonate with teenage angst, enabling its intended audience to identify immediately with the group of young people. Everyone loved Orpheus -- girls and men, and there is a hint of dealing with teenage anxieties of sexual preference without the need to be explicit. A beautiful, layered read. 288 pages / Ages 12+ / Reviewed by Dawn Woods, school librarian
Suggested Reading Age 11+
Other titles