Frances Stickley and Eamonn O'Neill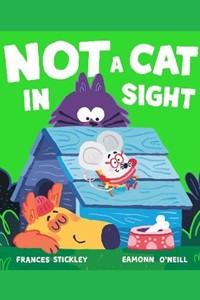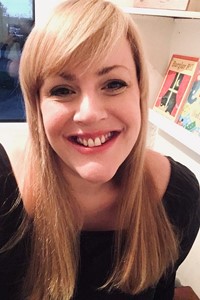 About Author
Frances Stickley's new picture book Not a Cat in Sight plays with the idea of what the pictures show, compared with what the text says. As well as being a picture book author (What Will You Dream of
Tonight, The Mouse's Apples, Love You Always), Frances is a trained children's literacy specialist and a former primary school teacher. She lives with her family in Derbyshire.
Eamonn O'Neill studied animation at the National Film School, Dublin and at the Royal College of Art in London. He has been working in animation for ten years, designing and directing. Not a Cat in Sight is his first picture book. He lives in Co. Wicklow, Ireland.
Interview
Not a Cat in Sight (Simon & Schuster Children's Books)
April 2022
Join Mouse as he enjoys his adventurous day, with not a cat in sight! But what is that lurking in the background - is Mouse in more danger than he thinks? A hilarious story that will have children giggling, this is a great story to share with groups or at bedtime. 
Enter our free draw to win a copy of Not a Cat in Sight
In this short video, author Frances Stickley shares the start of the story with us, followed by illustrator Eamonn O'Neill showing us how to draw Mouse:
Q&A with Frances Stickley and Eamonn O'Neill
1.   What brought you into writing and illustrating children's books? 
Frances:  I started making books and stories when I was really little. My first one was about my dad's milk float stuck in the snow. I used to teach infants so it was a perfect fit as I was surrounded by picture books, and from there I went onto specialise into helping children who were struggling with reading. These days, I spend most of my time writing and earwigging my girls' conversation to pilfer ideas!
Eamonn: I love books and storytelling of all sorts. It's always been an ambition of mine to make picture books. I studied animation in Dublin and London. After graduation I went to work in the animation industry where I was lucky to get hired as a director. I've been working in animation for 13 years now and I've always kept up with the picture book world and in 2020 my brilliant agent Jodie Hodges took me on board. Since then I've been balancing my work in books with freelance animation projects. 

2.   Who are your picture book 'heroes'?
Frances:  My favourite book growing up was Old Winkle and the Seagulls by Elizabeth and Gerald Rose. The artwork is just wonderful. I love Tove Jansson - everything she does, and more recently, we're lucky enough to have this explosion of amazing picture books everywhere! Lu Fraser and Kate Hindley's The Littlest Yak is often picked out in our house, as is The Pet by Catherine Emmett and David Tazzyman but for pure nostalgia and comfort, you can't really beat Jill Murphy's Whatever Next.
Eamonn:  I love Max Velthuijs, his Frog series is just perfect to me. The same goes for Quentin Blake, David McKee and Dick Bruna. I think Nadia Shireen is brilliant. Laura Carlin and Eva Lindström are two more favourites! There's so many exciting people creating wonderful work.

3.   Frances, how would you describe your picture book stories?
I've been lucky enough to develop a number of different strands of picture-book styles, but I do like a fair bit of heart and sentiment, in general. Not a Cat in Sight has been my first opportunity to do something really silly and daft without worrying about why, beyond that.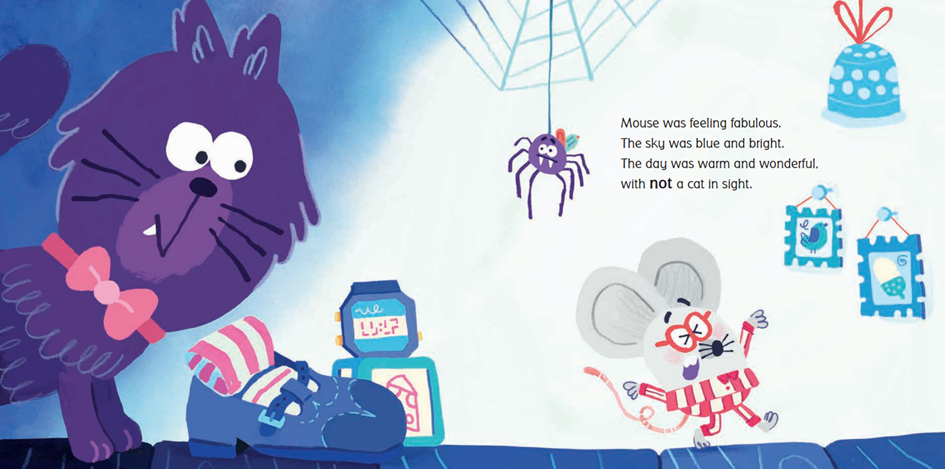 4.   Eamonn, how would you describe your animation style? 
I would describe my animation style as bold, character-based, colourful and fun! I like creating work that makes people smile. Most recently I've made work for Storybots on Netflix; in the past I worked on Hey Duggee and The Amazing World of Gumball. I think my animation work looks quite different from my book illustration, but I really enjoy having both strands and being able to chop and change.

5.   How has being an animator helped you develop as a picture book illustrator? 
I think my background in animation has really informed my sense of visual storytelling, staging action and designing a spread. It's also given me a strong understanding of anatomy and character. There's a lot of overlap between animation and picture books. There's the obvious areas like the working with a sequential narrative, the creative problem solving and the design. There's the less obvious things like being able communicate ideas and being a part of a team, being open to alternative approaches. These skills are just as important.
Creating books is a slower pace of work over a longer period of time than animation; commercial animation projects tend to have a fast turnaround, often days and weeks instead of months or years. One difference I'm enjoying is that with books, you are making a physical object. Seeing your work printed and bound, as something you can hold and interact with, is a very different feeling from seeing work on screen.

6.   Frances, Can you tell us a little about Not a Cat in Sight, and what inspired the story?
We originally pitched the story as Rosie's Walk meets Tom and Jerry, because it has such a cartoonish caper at its heart. I've always loved stories where the text is completely undermined by the illustrations, so you have this wonderful parallel narrative throughout.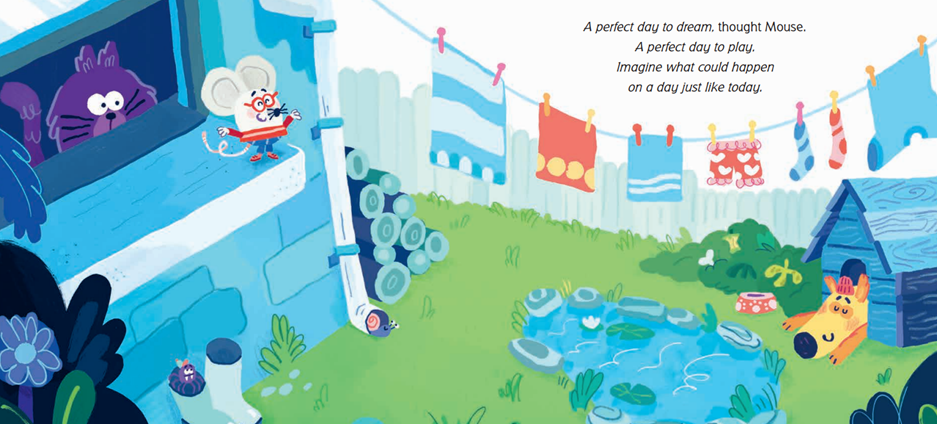 7.   Since a lot of the story depends on the images to tell it, was it hard to write?
There were far more illustration notes than there were text, which isn't always the best idea but seemed important to get the conceit across here otherwise my job as author is totally redundant. Retrospectively, it was a massive ask for anybody to design and illustrate. The action that we needed to pack into each spread to keep it moving was epic, but somehow Eamonn and the designers at S&S made it look like a total breeze, no doubt in no small part because because Eamonn was - and is - such an accomplished animator too.

8.   So Eamonn, why did you want to illustrate this book?
When I read Frances' text I could tell immediately it was a great match for my illustrations. I was drawn to Mouse and his world. I loved that Frances had written a story where the text and the visuals were at odds with each other. I loved the possibilities for humour that it presented and how inviting and playful it was.

9.   How much freedom did you get in telling the story through the images?
I had complete freedom. Frances had written illustration notes in the text because they were essential to explain the idea. They were really helpful. Both Frances and Helen Mackenzie Smith, our editor at Simon & Schuster, were adamant that I should be as free as I needed with it. Frances even suggested changing the text to suit certain illustrations if needed. That wasn't necessary but it says a great deal about Frances and her attitude towards it being a team effort.

10.   What makes Not a Cat in Sight so funny?
Frances:  The illustrations are amazing. They feel so dynamic and ever-changing that it's almost like a flicker-book of our hero's day and there's so much character in each one. I also love stories where the text so authoritatively, almost smugly, rollicks forward whilst the illustrations completely contradict it. Who doesn't love a story that makes the author look really daft and uninformed?
Eamonn:  I think it's the "it's behind you" nature of the story, combined with Mouse's playful imagination. The two narratives at work, the one in Mouse's head and the one happening just over his shoulder, definitely make for a funny read.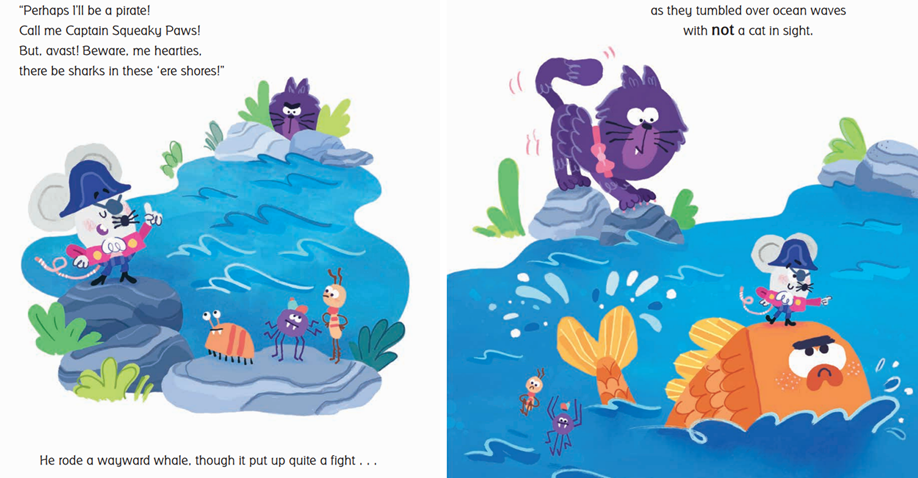 11.   What else are you working on?
Frances:   I've got a very exciting year or two ahead, having recently worked with amazing illustrators such as Lucy Fleming and Asa Gillard and the team at Andersen, as well as a book called Love, The Earth soon to make its way into the world, with Tim Hopgood and Walker. I've also been lucky enough to sign again with Simon and Schuster and I cannot wait to carry on the journey here with Helen and Eamonn.
Eamonn:  I'm in the middle of working on my author/illustrator debut book and I'm also writing new stories when I can. I'm lucky to be working with the same brilliant team, Helen McKenzie Smith and Jane Buckley, at Simon & Schuster. Along side that I'm in the early stages of research for the next book with Frances.

12. Where do you prefer to work - and what would your dream writer's shed or studio look like?
Frances:   I'd love to say that I have a sacred space for writing. I always envisaged that I would, with real wood floors, fresh flowers, creaking attic windows and fountain pens that I actually use, but I have children that never sleep. So I mostly write under a small child with a foot in my face and rice crispy cakes smooshed into the pillow.
Eamonn:  I've been working freelance from my home studio since 2014. My dream studio would have huge windows with lots of light and a sea view. Ideally it would have space for books and a huge table to spread out work and get messy when I need to! Oh… and lots of storage for paper and pens!
Author's Titles