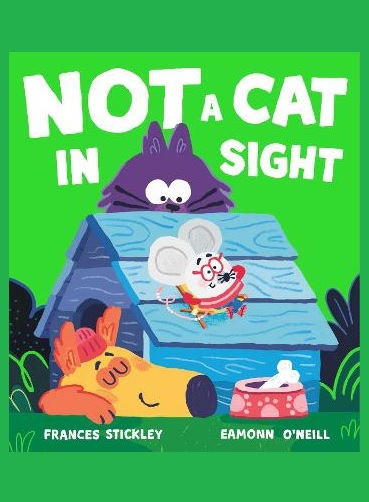 By Author / Illustrator
Frances Stickley, Eamonn O'Neill
Genre
Funny Stories
Age range(s)
3+
Publisher
Simon & Schuster Ltd
ISBN
9781398508934
Format
Paperback / softback
Published
28-04-2022
Synopsis
A fast, funny 'It's behind you!' tale with a rollicking rhyming text and bold, bright illustrations.
'Mouse was feeling fabulous. The sky was blue and bright.
The day was warm and wonderful, with not a cat in sight...'

Mouse sets off on his perfect day blissfully unaware (in the tradition of all the best cat-and-mouse capers) that he is being followed every step of the way. He imagines he's at the circus, skydiving, discovering priceless treasure... And the best bit? There's not a cat in sight. Or is there...?    Children will delight at being one step ahead of all the characters in this riotous tale, featuring an irresistible refrain, delightfully skilful rhyming text by Frances Stickley, and the debut picture book illustrations from exciting new artist Eamonn O'Neill.
Reviews
Maria
Be warned! If you read Not a Cat in Sight to a class of children, be prepared for much audience participation, squeals and laughter! This funny tale of Mouse will have anyone who is listening, calling out, 'He's behind you!'.
Mouse is having a wonderfully fabulous day with no cat in sight. He can play, sky dive, be a pirate and even give a dog a bone, all without a cat being in sight. Or is there? The eagle eyed reader will quickly spot that the brilliant bright and bold illustrations tell a different story, because lurking on every page is a cat! But what is he doing?
This delightful tale with rhyme and repetition is highly engaging for young children and will have them joining in with the story. The changes in the text's font and size provides young children the experience of emphasised expression early on, and the opportunity to use it is the repetition of, 'With NOT a cat in sight'. The bright, bold illustrations really add to the text and provide an opportunity to think about other characters.
Not a Cat in Sight is a brilliant book to add to any story collection.
Picture book / Reviewed by Maria Faithorn, teacher
Suggested Reading Age 3+
Wendy
This is a jolly, but slight, story of a little Mouse having a day full of adventures. He's also being tailed by a curious cat but Mouse manages to avoid seeing him throughout the entire day.
The text is simple and the rhyming couplets make it a bouncy read. Young children will enjoy the mouse missing the cat every time and will share the cat's frustration as he gets closer and closer, only to be thwarted by the dog at the end. The illustrations are bright and cartoony and there is enough detail to provoke much conversation about familiar settings.
While it won't earn it's place among the classic picture books, it would make a fun bedtime story or addition to a classroom bookcase.
Picture book / Reviewed by Wendy Kelly, teacher
Suggested Reading Age 5+
Other titles