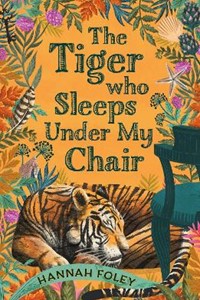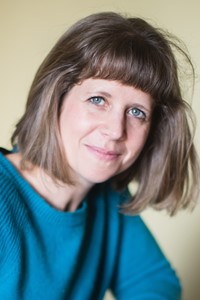 About Author
Hannah Foley's latest novel, The Tiger Who Sleeps Under My Chair, is a dual timeline mystery story with mental health themes.
Hannah grew up in Devon, surrounded by green fields and spare tractor parts. She worked as an illustrator and designer in Scotland, before returning to Devon where she now lives with her three children.  A specialist nurse for people with multiple sclerosis, she spends her spare time writing, drawing and digging on her allotment. In 2018, she won the Kelpies Prize for her first novel, and she has illustrated two picture books by Vivian French. The Tiger Who Sleeps Under My Chair is Hannah's first book with Zephyr.
Interview
The Tiger Who Sleeps Under My Chair (Zephyr)
March 2023
An impressive dual-time novel, The Tiger Who Sleeps Under My Chair by Hannah Foley takes us back to the Victorian age alongside a contemporary mystery, exploring mental health as well as themes of family and friendship, and set against a backdrop of the Jurassic coast.  We asked Hannah to tell us more about The Tiger Who Sleeps Under My Chair and the imagery and themes that she explores through the novel.
Read a Chapter from The Tiger Who Sleeps Under My Chair
Q&A with Hannah Foley
1.    What brought you into writing for children? You are also an illustrator, so how does it feel to have created illustrations for The Tiger Who Sleeps Under My Chair?
My work as an illustrator was what led me into writing children's novels. I had ideas for picture books texts I wanted to illustrate, so I went on courses and to evening classes to learn more about writing. But picture books are really hard to write! I found myself writing longer stories and getting excited about books for an older age group.
Creating the internal illustrations for The Tiger Who Sleeps Under My Chair has been wonderful, bringing these two sides of my creativity together. I was delighted with how the Zephyr team used my illustrations to make such a beautiful book.

2.    Can you tell us what happens in the novel?
The Tiger Who Sleeps Under My Chair is a dual timeline mystery story with mental health themes. The story starts with Emma and her brother James, in Victorian England. James has become obsessed with a stuffed tiger at the Natural History Museum. Then we meet Jude and his classmate, Rosie, who live on the Jurassic coast in the present day. Jude has just found out he's out of football academy when he finds Rosie, behaving strangely in town.
Straight away two clues link the two time periods: an ammonite fossil and a tiger-striped scarf. Gradually more and more clues emerge as the story goes on, the two timelines getting closer and closer together, until one day, they collide!

3.   What inspired this story and the focus on the imagery of a tiger?
The tiger is central to what this book is all about because of the way the image of a tiger has been used to explore connections throughout literary history. William Blake famously used the tiger to explore his concerns about the impact of industrialisation and human disconnection from landscape during the industrial revolution. Later, the tiger was used to represent India and China during the colonial era. European colonialist hunters decimated tiger populations and so, the tiger came to represent not just oppression of people but the environment, too.
Today, as we grapple with biodiversity loss, climate change, and declining human mental health, despite our increasing monetary wealth, the tiger continues to be a powerful image of our disconnection from nature, our own history, our own landscapes and our place in all that.
I often wonder if this is one of the reasons we struggle so much with stigma around mental illness, like a canary in the coal mine. We know mental illness is multi-faceted, not just down to individual vulnerability but also the consequence of societal problems and inequalities. Characters like James and Rosie in the book reveal the depth of our disconnection and beg us to ask better questions so we can come up with better solutions.

4.   Why did you want to explore mental health through your characters, and how society responds to those who struggle with their mental health? Where did you research this?
As well as being a children's author, I work as a nurse, and this experience opened my eyes to the mismatch between our perception of mental illness and what people with mental illnesses are really like. Not only that, but how our attitudes make living with a mental illness much harder.
TV shows, films and newspapers headlines have a lot to answer for! Research has shown films heavily rely on the stereotype of mental illness as a cause of murderous or violent villains, which couldn't be further from real-life truth. I spent a lot of time listening to people, reading research and talking with other health professionals. When we write well about mental illness, we can bring readers close to experiences they might not have encountered before and help increase understanding.

5.   Why did you decide to write the novel as a dual timeline narrative, and why choose the Victorian and contemporary timelines? 
A lot of our negative ideas about mental illness stem from the Victorian times and I wanted to explore how those ideas still impact us now. The Victorians didn't understand the causes of mental illness and their views were influenced by existing inequality in society, for example, you were much more likely to be sent to a lunatic asylum if you were a woman.
But this was also a time of unprecedented scientific discovery, and this frightened many Victorians. For example, Charles Darwin's Theory of Evolution challenged accepted ideas about biology and caused people to question what it meant to be human at all.

6.   Can you tell us about the image of the ammonite that occurs throughout the novel?
Ammonite fossils occur along the Jurassic coast. The way they change in the different ages of rock helps scientists to understand what life was like in deep history. The best time to find ammonite fossils is after a storm. When they emerge from the rock, they are like secret messages from the past and so, the ammonite is a brilliant image for how ideas from the past still influence us now and the way human society will often try to bury bad secrets. The spiral shape of the ammonite is like the unrolling of time and how buried secrets don't stay buried forever. In the book, family secrets of mental illness slowly come to the surface, like the fossils in the cliffs.

7.   Why is the historical figure of Mary Anning referenced so much in this story?
Mary Anning was a Victorian fossil hunter who discovered the first ichthyosaur fossil on the Jurassic Coast and whose ideas about dinosaurs were dismissed or stolen by wealthy men at the time. We've only recently learned what an amazing person she was, standing up for her theories even though she was put down because of her gender, class and religious views. She inspires both Emma and Rosie in the book and I think she should inspire us too.
An important theme in the story is the immense value of people who are different. Mary Anning is a great example of this. I wonder if she would have come up with her theories if she hadn't had the different perspective her background gave her? I hope we are getting better at valuing differences and listening to those with alternative experiences.

8.   Your characters who struggle with their mental health find peace at Kersbrook; is it based on a place you know, and why is it so important in helping people recover?
Kersbrook isn't one real place but a mash-up of many places I know and love in Devon. Researchers are really clear that connection to nature and access to green spaces are vital for human wellbeing and act as protective factors against developing a mental illness.
I wouldn't like people to take away that being in nature can 'cure' mental illness but it can certainly play an important part in recovery. But, I think, more broadly, we know that our environment plays a key role in both physical and mental health. What's good for the planet is good for humans and we urgently need to make radical changes both for ourselves and for nature.

9.    What would you like your readers to take from The Tiger Who Sleeps Under My Chair?
It's so important to recognise where our beliefs come from and that we are influenced by outside forces. I remember vividly the moment I discovered not all human cultures stigmatise mental illness. That means we aren't born with stigmatising ideas, we learn them. I was outraged! What other wrong beliefs had I accepted as fact just because the people around me thought those things, or the media told me it was that way?
I would love for The Tiger Who Sleeps Under My Chair to inspire readers to ask questions about mental illness and the structure of our society, and to commit to making up their own minds. I would love for readers take away a deep love for difference and to treasure the differences of the people they see around them, recognising that difference makes us all wiser. I also hope readers will take away the holistic nature of mental illness. We are all connected to each other and the planet.

10.   Do you have a set place for writing?  What are you writing currently?
We have a tiny and very busy house, so I write wherever and whenever I get chance! I build my books, slowly, slowly, in snatched moments. I found Jude and Rosie's side of the story easier to write. Jude is such a chatty, personable character. It felt like he was on my shoulder all the time, telling me what to write and reminding me when I'd forgotten bits. Emma, hidden in her London attic, was much harder to write. She was so quiet and timid, it was hard to get to know her.
I've got a few things on the go at the moment but am trying to focus on my next book for Zephyr, which is top secret!
More about Hannah
1.   What are your passions in life?
I'm super passionate about growing vegetables and flowers on my allotment. Don't get me started or you'll never shut me up!
2.   What are your secret talents?
I have recently taken up the piano accordion and am loving it.
3.   Which figures from history most inspire you?
Someone I find incredibly inspiring is the chemist and author, Rachel Carson. Like me, she bridged the worlds of art and science. Her book, Silent Spring, published in the 1960s, was ground-breaking, revealing how pesticides were destroying the environment. She argued that humans are interconnected and interdependent with each other and nature, and that our behaviour was destroying the planet. It was considered heretical to say this at the time. Through her writing she showed how books can bring people close to a problem and change attitudes.

Author's Titles