The Tiger Who Sleeps Under My Chair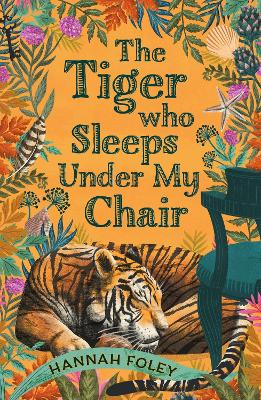 By Author / Illustrator
Hannah Foley
Genre
Mental Health & Wellbeing
Age range(s)
11+
Publisher
Head of Zeus
ISBN
9781803289823
Format
Paperback / softback
Published
02-02-2023
Synopsis
Steeped in the natural history of Mary Anning's Jurassic Coast, this is a powerful dual-timeline story about friendship, mental health and hidden stories.
1884. Emma Linden dreams of following in the footsteps of the famous fossil-hunter, Mary Anning, on the Jurassic Coast. But Emma's world begins to spiral when her brother James becomes obsessed with a glassy-eyed tiger at the museum.    More than a hundred years later, her descendant Rosie Linden goes missing, her mind full of prowling tigers. With her new friend Jude, Rosie uncovers family secrets buried like layer upon layer of rock. Together they must sift the past to find the truth and heal the present.
Praise for Hannah Foley:  'A great friendship story, fascinating, intricate and hopeful.' Hilary McKay author of The Skylarks' War.  '[An] expansive story about mental health, hidden stories and friendship.' The Bookseller, One to Watch.  'A bold, courageous and important book.' Sophie Kirtley author of The Wild Way Home.
Find out more from author Hannah Foley
Reviews
Jenny
The Tiger Who Sleeps Under My Chair is a powerfully written dual narrative story that follows the lives and emotional journeys of several members of the same family, several generations apart. It is a story that explores mental health in the most unique and moving manner through a dual timeline in the Victorian days of 1884 and the present day.  The Tiger Who Sleeps Under My Chair astounded and utterly captivated me; it became one the those books that consume you and that you simply can't step away from. 
In 1884, our narrator is Emma Linden, a young girl whose life, so far, is restricted to being locked in an attic with her alleged 'nervous disposition' and the shame and fear of her deceased mother's struggle with mental health casting a shadow over her past and future. Yet she is inspired by strong female figures like Mary Anning, her fossil finds and desire to make her own mark in the world; she longs for a freer life. The cracks in the family, however, appear not within Emma, but in the emotional stability of her brother James. The siblings move to their Devon home of Kersbrook to protect James's reputation, lest the news of his poor mental health be made public.
In the present day in Devon, our narrator becomes 13-year-old football-loving boy, Jude, who finds his classmate Rosie Linden (who has been missing for four days) dishevelled, confused and clearly in emotional distress in the centre of their town. He is the one to protect her and keep her safe and he ensures she receives the help she needs.
The two stories are linked and intertwined so beautifully and delicately as in 1884, we follow Emma (with dear friends Oliver and Anna) trying to keep her brother James well and safe and trying to understand his troubled mind and bring peace to it. In the present day, we find Jude (with friends Amin and Imogen) forming a close knit and protective trio around Rosie as she goes through severe emotional trauma, despite her young age. As Kersbrook becomes the setting in the present day too, the parallels between the two groups are clear to see.
Despite the difference in time and the difference in attitudes to mental health of each time, each friendship group is determinedly loyal, trusted and supportive. It is a beautifully moving story. Both of the narratives are so well written with two very relatable yet very different voices. Both of the narratives reflect so well the time in which their characters live and this is incredibly clever; the author can take her readers from Victorian female to modern teenage boy and have both of them be fully rounded, believable individuals. They share an empathy and sensitivity that weaves them and the parts of their story together wonderfully.
The sensitive way the author approaches her characters' struggles with mental health reflect a real gentleness and also sense of encouragement and hope, despite the pain we see. Ultimately, the story explores the ripple effect that dealing with mental health can cause and the powerful, vital way that our close contacts and loved ones can support those coping with such issues. The book feels timeless and classic from the start and is one of the most meaningful, thought-provoking and captivating books that I have had the pleasure of reading lately.
320 pages / Reviewed by Jennifer, teacher
Suggested Reading Age 9+
Other titles