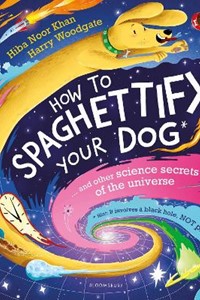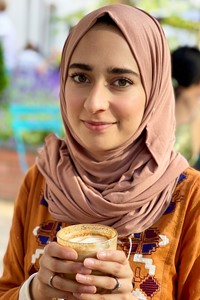 About Author
Hiba Noor Khan is a writer and activist based in the north of England. Her academic background is in physics and engineering and she completed postgraduate study in 2015 at the University of Oxford. Since then she has worked as a Refugee Advocacy Worker for The Children's Society, a Physics teacher and TV presenter. She has written six children's book so far.
Harry Woodgate is an award-winning illustrator and author based in St Albans, UK. They love creating stories with a focus on diversity, inclusivity, compassion and adventure. When they're not illustrating or writing they love baking, cycling and discovering random facts about the world around them.
Interview
How to Spaghettify Your Dog  (Bloomsbury Children's Books)
August 2023
Hiba Noor Khan shares her love of science and physics with younger children in How to Spaghettify Your Dog, which takes us on a whirlwind tour of the wonders of the universe, from the deepest parts of matter and across galaxies.  Find out more in this introduction by Hiba Noor Khan, and what inspired her own love of science and why she wants to share it with young readers.
Review:  "Any child (or adult) who has wondered at the weirdness of the world and puzzled over why things do what they do, or look the way they look, will get sucked in."
Q&A with Hiba Noor Khan
"How to Spaghettify your Dog is a whistlestop tour of some of the weirdest, wackiest, wonders of our universe, revealing fascinating science secrets of the universe in digestible ways for young readers."
1.   Hello Hiba, Can you tell us a little about yourself and when your interest in science started? 
I've always been curious about the world around me, I remember pondering the shapes of clouds, and why sticky tape was sticky, when I was about six! Physics is a real love of mine, when I was studying engineering at university, I spent hours on my own utterly absorbed by the mysteries and wonders of the quantum world, with goosebumps and wide eyes.
My other love is for words and stories. After spending a few years teaching physics to children, I couldn't help but feel frustrated at how much of the enchantment, magic, and world of possibility that I found in the subject remains hidden. And out of that feeling, the seeds of How to Spaghettify your Dog were sown!
Like most writers, I also love reading, both children's and adult's books. My favourite place to be is surrounded by the ocean, and I have two very fluffy and profoundly wise cats.

2.   What is your new book, How to Spaghettify Your Dog, about? Why did you choose this title?
How to Spaghettify your Dog is a whistlestop tour of some of the weirdest, wackiest, wonders of our universe, revealing fascinating science secrets of the universe in digestible ways for young readers. It's filled with mind-bending, brain-boggling concepts, along with plenty of puns! A vision of a dog being spaghettified popped into my mind one day, and I thought that'd be a brilliant entry point to the wacky world of physics!

3.   Why did you want to explain the science of the universe to children? Which concepts do you cover in the book and how is it organised?
The contents of the book span all the way from the tricks of light, to quantum particles, from the bending time, to supercooling materials, and so much more in between. There are topics that overlap with the National Curriculum, and others that are included purely for the sake of wonder and awe, which I reckon is just as important!
Each spread approaches a new topic, so by the end of the book, the reader will have travelled all the way into the deepest depths of matter itself, as well as to the farthest galaxies. Physics can often seem intimidating and bland with the way it's presented at school and in society, and I wanted to do something to tackle this stigma, to break down those barriers. I hope the book makes physics accessible to all young readers and lights a spark of curiosity that deeply engages them with our world.

4.   Did any of these questions come from children? Which topic is the hardest to explain?
A lot of the inspiration for the content came from my time teaching science classes and running physics club, I saw how fascinated and enchanted children were by aspects of science that aren't covered at school, and tried to tap into the marvellously mysterious, downright dazzling, and sometimes surprising areas. The spread on space-time and general relativity was a real challenge to pen!
There was so much I wanted to include, but with the word limit and format I had to be a bit ruthless. I remember sitting for hours and hours wondering how I would ever explain this to eight year-olds, but we got there in the end!

5.   Although you have a background in science, did you still need to do research to write this book?
Absolutely, I spent lots of time reading and researching the areas of science included in the book. Physics is so broad and spans across so many different subjects and theories, so thorough research is essential to do a book like this justice! Sometimes I was jogging my memory on topics, but other times I'd dive into deep rabbit holes, learning brilliant new things along the way.

6.   What for you are the most fascinating facts in the book? And which science are you looking forward to us understanding better in the future?
It's difficult to choose, but I especially love marvelling at how time slows down and speeds up according to our movements! I'm always intrigued by the developments within the field of quantum physics, the fact that it consistently turns our understanding upside down, and that what we perceive to be impossible very rarely is so, is bewildering and wonderful at the same time.

7.   The little experiments through the book are great at helping to explain the science - why did you want to include these, and how easy are they to do?
My editor and I both agreed from the very beginnings that little experiments were great ways to get the reader practically involved, and to bring some of the magic out of the pages into real life. They vary in ease, some of the simpler ones can be done with just paper, pen, and a cup of water, while others definitely need the help of an adult to take care of flames and glass bottles! There's nothing quite like witnessing the physics first hand in front of you, so we've tried to include experiments that have a bit of a wow factor.

8.   We love the layout and illustrations by Harry Woodgate - were you involved in deciding which sections needed illustrations, and the 'scrapbook' feel of the book?
Harry has done an absolutely extraordinary job of bringing very abstract, tough concepts to colourful life! I had specified instances in which visuals would be necessary to support the text, but other times Harry was free to dream up illustrative worlds, which they've done phenomenally. I'm still blown away by the level of detail and imagination on every page.

9.   Do you have any other books about science for children planned? What are you writing currently?
I am currently writing a follow-up to How to Spaghettify your Dog that has another unique take on physics. Again, it's been great fun and I can't wait for it to be out in the world! Another book I wrote, Inspiring Inventors, published last year, and that is also about science and technology but from a very different angle. I also write historical fiction, so I get to use different parts of my brain on different days which is nice!

10.   What does a favourite day away from your desk look like for you?
I love exploring other avenues for creativity, rolling my sleeves up at a pottery wheel, or taking watercolour paints somewhere scenic to paint. I think my recipe for an ideal day would involve getting out into the wilderness somewhere, followed by a relaxed bookshop and café crawl to finish off!
Author's Titles