How To Spaghettify Your Dog: and other science secrets of the universe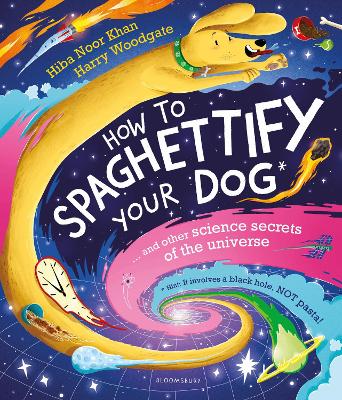 By Author / Illustrator
Hiba Noor Khan, illus Harry Woodgate
Genre
Non Fiction
Age range(s)
7+
Publisher
Bloomsbury Publishing PLC
ISBN
9781526627810
Format
Paperback / softback
Published
17-08-2023
Synopsis
'A wonderfully illustrated, jam-packed, must-have science book for all aspiring young physicists!' The Royal Institution.
Have you ever wondered how to slow down time? Or what would happen if the Earth stopped spinning? Or whether you'd be OK if you fell into a black hole? Well, wonder no more. This book, by former physics teacher and UKLA longlisted author Hiba Noor Khan, is bursting with fascinating physics facts that will explain everything you want to know, and more, about the curiosities of our cosmos.
Become acquainted with the phenomenal laws of physics - from the tiniest building blocks of our body to the enormous stars that burn in our skies, light years away. The book breaks down complex science topics into fun, digestible chunks.
Featuring easy-to-follow experiments, eye-catching illustrations by Waterstones Book Prize winner Harry Woodgate and plenty of laugh-out-loud moments, this hands-on book will demystify physics and bring science to life.
Find out more in this Q&A with author Hiba Noor Khan - or watch this video by Hiba.
Reviews
Jane
It's not only geeks and science teachers who will enjoy How To Spaghettify Your Dog, although they surely will. Any child (or adult) who has wondered at the weirdness of the world and puzzled over why things do what they do, or look the way they look, will get sucked in.
The back cover blurb says to expect 'fascinating physics facts' and that is what we get, aplenty. But the boundaries with other areas of science (eg chemistry) are blurred, and material is included that might be equally topical in a geography lesson (on, say, the greenhouse effect). Also blurred is the distinction between metaphor and fact in text and illustrations which, given the limitations of human understanding, is not a bad thing. Both use humour to good effect which lightens the tone.
Apart from science buffs and the simply curious, budding writers and fans of science fiction too will find much here to feed their imaginations, from chaos theory to time travel, dark matter and, yes, spaghettification. I can see myself showing the book to teachers in KS1 and 2 so that their classes might then benefit from the authors' skill in explaining and visualising such tricky concepts as Forces and Motion, Light and Shadow, States of Matter, Energy, Pressure, Time and Space, that could otherwise be a little intimidating or off-putting. Perhaps, as Hiba says in her Final Note, we'll see it all as wondrous instead… an exercise in exploring the mystery of the universe.
64 pages / Reviewed by Jane Rew, school librarian
Suggested Reading Age 7+
Sue
Written by a former physics teacher, How To Spaghettify Your Dog is an engrossing read, full of fascinating facts about the universe. The Contents page directs the reader to pages dedicated to all areas of physics, some with clear titles like States of Matter, some with more intriguing headings such as Elephants vs High Heels. Whatever the subject matter, information is clearly presented in a lively, chatty tone, offering plenty of examples to clarify and entertain.
Each topic is broken down into accessible chunks, giving examples where necessary, and fact boxes to capture important snippets of information. Humour is also used in the illustrations with a whole array of characters sharing jokes on every page.
An excellent book for inspiring budding physicists and for explaining complex concepts to those of us with no clue, How to Spaghettify Your Dog is perfect for anyone wondering 'why' things happen!
64 pages / Reviewed by Sue Wilsher, teacher
Suggested Reading Age 7+
Other titles