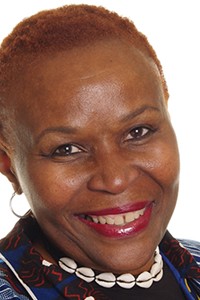 About Author
Ifeoma Onyefulu was brought up in eastern Nigeria. After completing a business management course she trained as a photographer, contributing to a number of magazines.
Her highly-acclaimed children's books counteract negative images of Africa by celebrating its traditional village life.
"Ask most children - or indeed adults - what the word 'Africa' makes them think of and many may answer 'poverty' or 'starvation'. But Ifeoma Onyefulu's photographic books show the positive side of this little-understood continent, for they are always full of the vibrant joy of African culture."
Child Education
Her work has been admired at many exhibitions, most recently 'The Colour of Home', part of Camden's Black History Month celebrations in 2003. Her first book for Frances Lincoln, A is for Africa, was chosen as one of Child Education's Best Information books and Junior Education's Best Books.
Ifeoma regularly visits schools and festivals doing workshops, readings and teaching traditional African games.
She is currently involved with a web project linking schools in the UK with schools in Africa, run by the Young People's Commission for Africa.
Ifeoma lives in London with her two sons and visits her family in Nigeria as often as she can.
Interview
WHERE DID YOU GROW UP?
I grew up in Nigeria

WHERE DO YOU LIVE NOW?
I live in London now

WHERE DID YOU GO TO SCHOOL?
I went to school in a small, quiet town
called Ogidi in Nigeria.

WHAT DID YOU WANT TO DO WHEN YOU GREW UP?
I wanted to be a lawyer, like my father.

WHEN DID YOU FIRST THINK ABOUT WRITING FOR A LIVING?
I wanted to find a book to read to my first son, when he was two years old, which gave him a real picture of the Africa I know and love. The only books I could find for children about Africa focused on poverty or were about African animals. When I couldn't find any books I decided to write one!


DO YOU FIND IT EASY TO WRITE?
No. But the idea for a story is the easy part,
then it takes ages to figure out the story.

WHERE DO YOU GET YOUR IDEAS AND INSPIRATIONS?
I visit Africa as much as I can and all my books have an African setting. I get my ideas from reading, listening to people and observing people too.

WHAT WOULD YOU DO IF YOU WERE NOT A WRITER?
I would be a full time photographer. All my books are illustrated with my own photographs

DO YOU SPEND MUCH TIME IN AFRICA?
Yes, I do spend weeks in Africa, every year if I can, researching my books. I would like to spend longer but I don't like my children missing out on their schooling. I tend to write down a story then travel with my children to African villages or towns, looking for the best location to set the story.
HOW YOU THINK CHILDREN IN THIS COUNTRY CAN BENEFIT FROM YOUR BOOKS?
I would like the children in the UK to know more about other cultures,especially African cultures, because it makes the world a better place to live in. I hope my books will teach children about the Africa I know and the traditions I grew up in.
Author's Titles