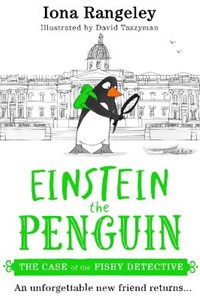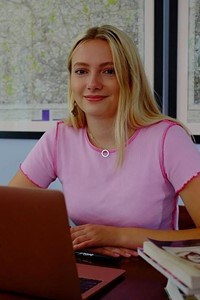 About Author
Iona Rangeley has just finished studying English at Oxford. She has wanted to be a writer since her debut novel Sam and the Pig, which she wrote when she was five. Iona started writing Einstein the Penguin when her final exams came along, because it was more fun!!
David Tazzyman is an internationally acclaimed award-winning illustrator.
Read a Chapter from Einstein the Penguin
Read a Chapter from Einstein the Penguin: The Case of the Fishy Detective
Interview
Einstein the Penguin: The Case of the Fishy Detective (HarperCollins Children's Books)
October 2022
Einstein is a loveable character in children's books who turned up at the door of the Stewart family one day, and refused to leave until they helped him solve a mystery. In this new adventure, Einstein travels back to the UK but then disappears, leaving the children Imogen and Arthur with another mystery to solve.... 
Expect penguins, giggles, plenty of red herrings - and lots of fish in general - in this funny, warm mystery for young readers.  Here, author Iona Rangeley tells us more about Einstein the Penguin: The Case of the Fishy Detective, and reads from the start of the novel - and you can enjoy some of David Tazzyman's brilliant illustrations in the following Q&A with Iona.
Q&A with Iona Rangeley
1.   How did you start writing for children?
I can't remember ever not wanting to be a writer, but the specific children's writing ambition started when I joined a poetry society at university, where we would anonymously submit poems we had written. I started with a children's poem about a cat I had written a couple of years earlier whilst at school and it went down really well, so I wrote more and eventually tried to turn them into a book, which I ended up sending to my (now) agent Eve. 

2.   Einstein the Penguin was your debut book - how are you enjoying being an author?
I was working in PR part-time for a while but I've been a full-time writer for a few months now. A bit like being a student, being an author takes quite a lot of self-discipline and forcing yourself to get on with it, but it's what I've wanted to do my whole life so I definitely can't complain!

3.   Can you tell us about Einstein, and why you chose to make him a penguin?
Einstein is a little blue penguin who came all the way to England from Sydney Zoo. He is very clever and can understand human speech, though he can't speak himself. I wanted to choose an animal that had some human-like qualities, and given how easy it is to imagine penguins as a bit like little people they were an obvious choice.   I had the idea of the penguin quite early along and stuck with it. I think I briefly considered a panda, but honestly only for about five minutes.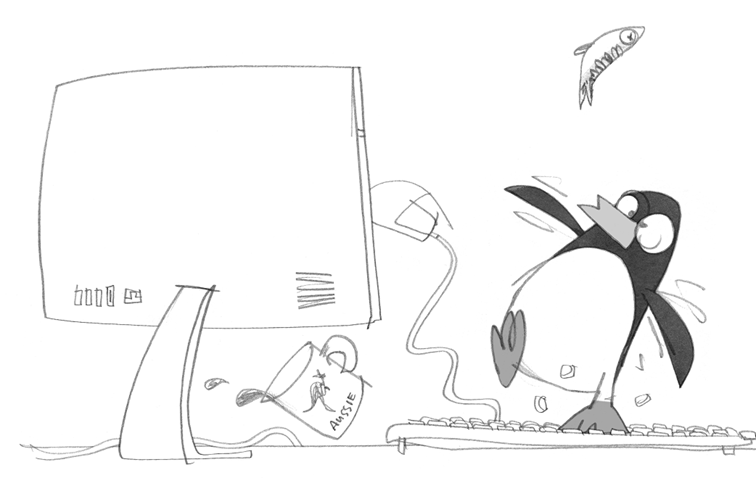 Illustration copyright © David Tazzyman 2022
4.    What happens in each book?
In Book 1 Einstein takes an invitation to come and stay with the Stewarts whenever he likes very literally, and follows them home one evening. Discovering that he didn't really come from London Zoo after all, Imogen and Arthur must work out why he came to them in the first place and help him find what he is looking for. (Hint: It might just include a long lost friend.)
Book 2 picks up where Book 1 left off, with Einstein back home in Sydney and Imogen and Arthur missing him very much. When an opportunity arises to get him back to London they jump at the chance, but then Einstein and his friend Isaac are kidnapped, and another detective mystery begins.

5.   Is it difficult to have a lead character - Einstein - who doesn't speak?
I think the challenges it creates are also what lends the book a lot of its plot, mystery and humour, so whilst it can be difficult at times I think this particular book would be harder to write if Einstein could speak. One of my favourite things about Einstein is that whilst he's human-like in many ways, he's also just a penguin being a penguin.

6.    Have you drawn on your own family to create the Stewarts, the family in Einstein the Penguin?
Not completely, but definitely a bit. There are aspects of Arthur that are like my brother when he was little, my parents' obsession with tea is a bit like Mr and Mrs Stewart's, and their relationship with the dog (who is the most spoilt animal in the world!) is a bit like the Stewarts' with Einstein.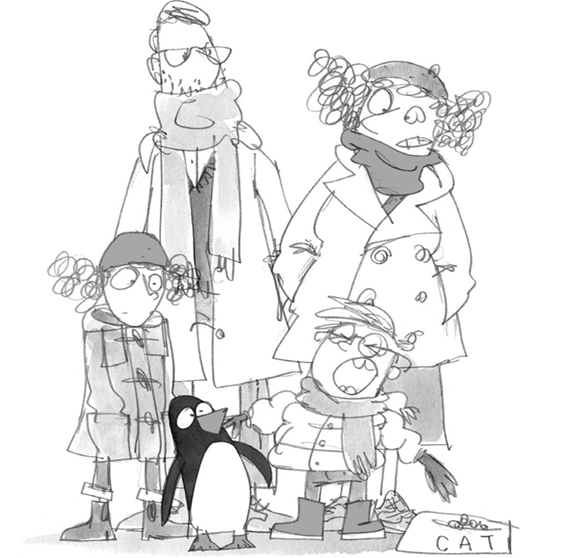 Illustration copyright © David Tazzyman 2022
7.   Why did you decide to make Einstein's adventures into detective stories, featuring the children Imogen and Arthur?
When I first started writing Einstein the Penguin it didn't have the detective element, but I found there wasn't enough driving the story forward, so I wanted to add in a bit more jeopardy. I also think it made Imogen and Arthur's story more interesting: they're not just entertained by Einstein but they actively help him. And I think being a detective is such a fun idea, particularly for children, because anyone can be a sort of detective if they look for mysteries in the right places.
8.   How well do Imogen and Arthur work together as detectives in this adventure?
This is a cause of conflict between Imogen and Arthur: they don't always work well together. Imogen has a way of leaving her little brother out of things but also getting irritated that she feels she has to do everything, and Arthur doesn't always have the confidence to ask her to listen to him. But they learn to work well together in the end - they wouldn't solve the mystery otherwise!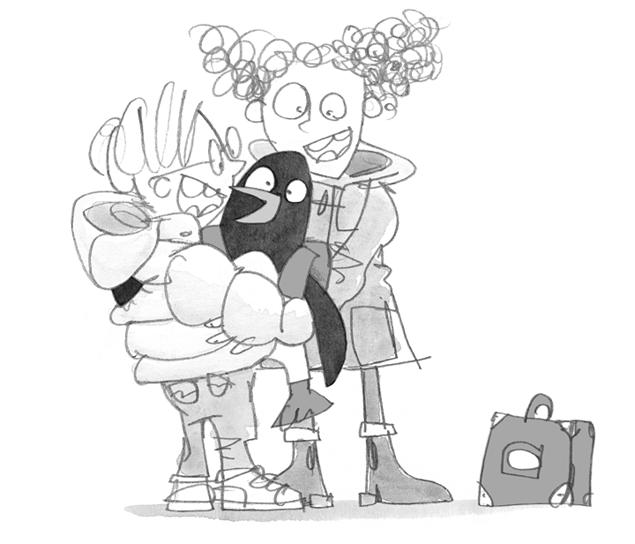 Illustration copyright © David Tazzyman 2022
9.   Why did you want to bring a certain detective from book 1 back into this story...? Do you ever feel a bit sorry for him?
I think it makes sense to have a recurrent villain, rather than a random new one each time, and for Bill Hunter, Book 1 is a good villain origin story. I do feel a little sorry for him in Book 1 - he's not the best detective in the world, and it's embarrassing to be shown up by children - but he only gets more evil. There's less cause to feel sorry for him in Book 2.

10. We can't talk about penguins and fish without mentioning the red herrings - how much planning does it take to write a detective story?
I'll admit I'm not the best planner in the world. I often just start writing and see where it takes me, so it's sometimes a case of going back and adding more clues later on. But I am getting better at planning, I think. Whilst Imogen has a detective notebook I have a notebook full of spider diagrams plotting scenes and arranging clues…and red herrings, of course.

11.   The illustrations by David Tazzyman are fabulous - do any of his characters stand out for you?
It probably sounds like I have to say this but I really do love all of them. If I had to choose one stand out then it might be Detective Bill Hunter. He really looks exactly how Bill Hunter should look, in a way I can't completely explain. I'm also a big fan of Einstein's many facial expressions.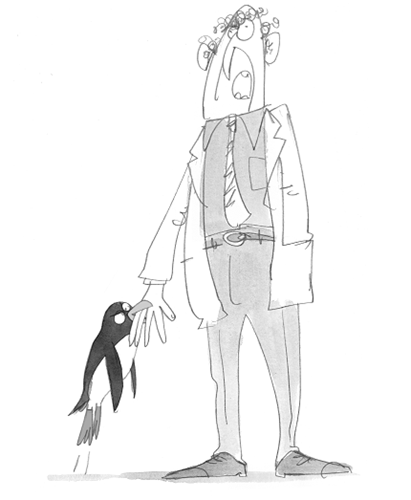 Illustration copyright © David Tazzyman 2022
12.   Will we be hearing more about Einstein - are there more books planned?
Absolutely. Book 3 is in the works and will be out in Autumn 2023!

13.   How would you cope with the arrival of Einstein at your front door?
I would probably make him a bed out of a blanket and a cardboard box and find him something to eat from the larder, which is what I did with a moorhen chick my dog tried to eat when I was nine. Given that I'm not nine anymore, I would probably behave like Mr Stewart and try to call the zoo. 

14.   What are your top tips for young aspiring writers?
Read and write as much as you possibly can and never be embarrassed to have a passion! Show your work to other people if you're confident enough, but it's okay to just do it for yourself too - as long as you believe you can do something, that's what matters. 

15.  What kinds of things do you enjoy doing when you're not writing?
Writing has been pretty much my only hobby for so long that I'm still getting used to the idea that it's actually now a job! I like reading (obviously), walks and runs, baking and seeing my friends.
Author's Titles