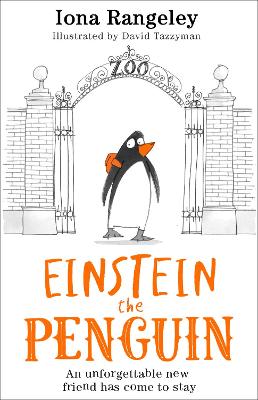 By Author / Illustrator
Iona Rangeley, David Tazzyman
Genre
Funny Stories
Age range(s)
7+
Publisher
HarperCollins Publishers
ISBN
9780008475963
Format
Hardback
Published
11-11-2021
Synopsis
Perfect for all readers from 7 to 70, Einstein the Penguin introduces an unforgettable new character in a future-classic and fantastically funny debut for all the family to enjoy. Get ready to welcome the most extraordinary penguin into your own home...
When the Stewarts spend a sunny, frosty December day at London Zoo, they're enchanted by one small penguin. At the delight of young Imogen and Arthur, Mrs Stewart insists the penguin "must come and stay with them whenever he likes."  But not one Stewart expects the penguin to turn up at their door that evening, rucksack labelled "Einstein" on his back...
The family's new feathered friend helps Arthur to come out of his shell and makes massive demands on Imogen's amateur sleuthing. But together they must find out why Einstein came to them and they must keep away from the mysterious white-coat man.  And Einstein can't stay forever, can he...?
From stunning new writing talent Iona Rangeley, and illustrated with wit and brio by the award-winning David Tazzyman, this is a book that will be treasured for years to come.
Watch a video with author Iona Rangeley
Reviews
Maria
Einstein the Penguin is a very well written and exciting text. It is definitely a book that children won't be able to put down and will be fully engaged with.
Imogen, a nine-year-old girl and her younger brother, Arthur, are taken on a last minute trip to London Zoo. There's all the typical events of a family trip - rushing around, lost jumpers, busy transport, everyone wanting to see different animals, ice cream and not being finished when the attraction closes! Through the detailed events, choices of language and character speech, the reader will soon be laughing as the chaotic events unfold.
As the zoo nears closing time, the family almost run out of time for the penguins. Luckily there's just enough time for a quick stop when one of the smallest penguins approaches them and peers through the glass as if to make friends. 'Can we keep him? Please?' they ask their Mum. Her response.. '..Penguins are always welcome at our house.' Later that evening, this penguin (plus backpack) appears in the street outside their house. They welcome it in with the view that tomorrow it will be returned to the zoo but no-one at the zoo believes they have a penguin in their house.
Imogen and Arthur discover the penguin is called Einstein, who has a lost friend, Isaac. Imogen and Arthur set to some detective work.. where are these penguins from? How did they end up here? and where is Isaac now? An adventure full of suspense unfolds and they end up travelling to Scotland, meeting detectives (and getting them into trouble with their boss!) rescuing Isaac and spending Christmas with a penguin!
An exciting story right up until the end, this is a perfect text for later KS1 and KS2 to use in the classroom, and is a text that all abilities can engage with.  There are plenty of writing opportunities for both fiction and non-fiction from this text; recounts, predictions, newspaper reports, retelling from another character's perspective, factual writing. Drama; freeze frames, debates, character speech, expression, retelling. Geography; country location, travel, climate, habitats. 
320 pages / Reviewed by Maria Faithorn, teacher
Suggested Reading Age 7+
Jacqueline
When the Stewart family visit the zoo, they particularly like the penguins. As they are leaving, Mrs Stewart says to one of the penguins that they can come and visit any time. They are very surprised when the penguin turns up on their doorstep shortly afterwards. The children, Imogen and Arthur, love having Einstein to stay and try to find out more about where he has come from and why he is there.
Featuring cute penguins and shady characters in a mystery adventure that needs solving, even if it means Einstein might not be able to stay. The basic premise of a penguin turning up unannounced is a very cute idea and the drawings by David Tazzyman are the highlight of this book as Einstein is adorable in the pictures and the humans suitably wacky. The Australian character even looks like the Australian actor Bill Hunter and the facial expressions on all the characters are just brilliant.
The story idea is lovely and the way the family adapt to Einstein is delightful. There are many plot holes (like how does Einstein know where they live and how did he get to their house?) but they do not seem to matter too much. The school scenes and the way a small child behaves are not quite right - something I think children will notice, but the story is quite an easy read and just the right length for Lower Key Stage 2 readers.
A bit of madcap and a lot of cuteness (what is it about penguins that makes them so sweet?) makes it a book children will enjoy.
320 pages / Reviewed by Jacqueline Harris, teacher
Suggested Reading Age 7+
Other titles