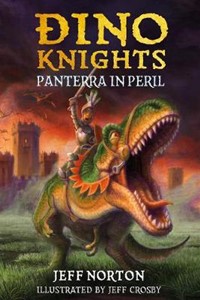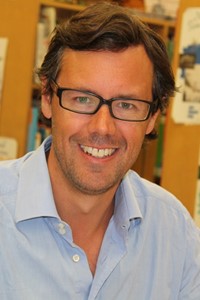 About Author
Jeff Norton is a writer and filmmaker, and his new series Dino Knights, published by Scallywag Press, is now available.
Having been a reluctant reader as a boy, Jeff aims to create ground-breaking fiction that inspires children to become lifelong readers. He founded Awesome, a creative incubator dedicated to creating amazing stories with compelling characters in immersive worlds. Jeff previously ran the Enid Blyton literary estate, managing the publishing program for Britain's most prolific and well loved children's author.  He has also worked for leading entertainment companies such as The Jim Henson Company and Silver Pictures. 
Originally from Canada, he now lives in London, UK with his wife and sons.
Author link
Interview
Dino Knights: Panterra in Peril (Scallywag Press)
July 2021
Imagine a world where medieval knights fight battles not on horses, but on specially bred dinosaurs...Welcome to the world of the Dino Knights! In Panterra in Peril, the first book in the series for ages 7+, treacherous neighbours and deadly flying dinosaurs give the Dino Knights plenty to fight for! We find out more from author Jeff Norton.
Q&A with Jeff Norton
1.  Can you tell us a little about your new book, Dino Knights?
Dino Knights is a new fantasy adventure chapter book about a medieval world where the dinosaurs never went extinct. It's about a young stable boy called Henry who, after performing an act of selfless bravery, is enlisted to join an elite group of guardians called the 'Dino Knights'. But once he's part of the team, he embarks on a dangerous mission to rescue kidnapped Lord of the manor...but nothing is what it seems. The book is published by Scallywag Press with wonderful illustrations by a very talented artist, Jeff Crosby.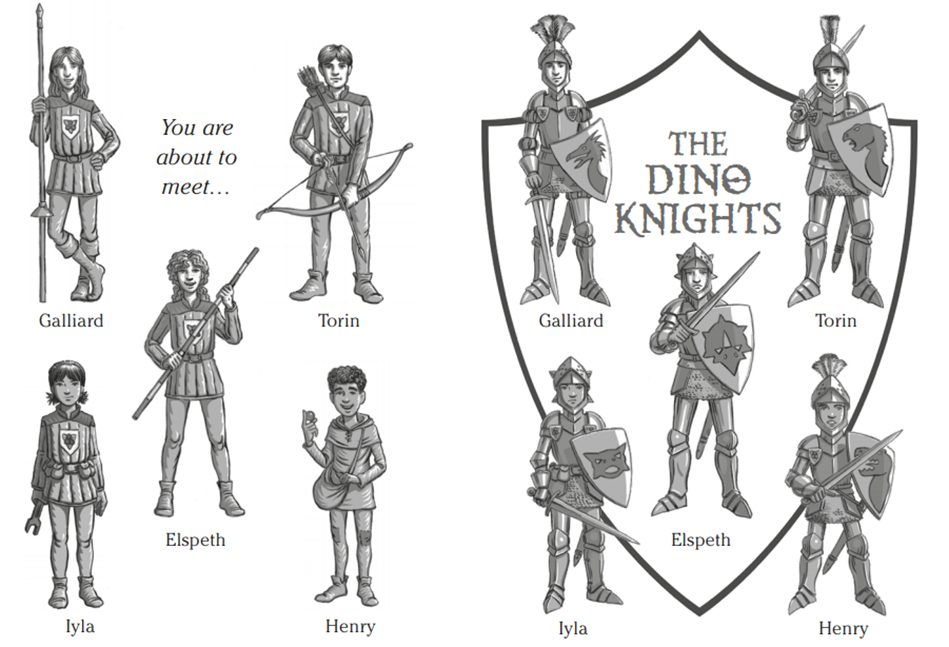 2.  What gave you the idea of dinosaur-riding knights for this series?
I have to give credit to my son Torin for that! One night, at about three in the morning, when he was very young we were awake and playing with all of the toys in the living room. He placed a plastic knight action figure atop a model dinosaur, and I had a eureka moment. I quickly drew a sketch of the combination and then I started to dream up the world of Panterra and a group of brave young knights who would ride into battle of the backs of dinosaurs. From there I created the characters and shaped the story.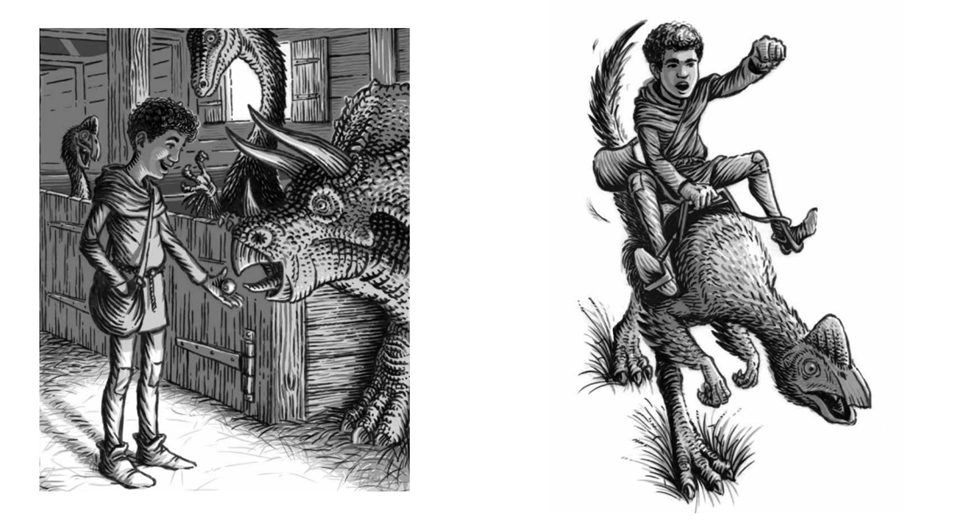 3.  How good is your dinosaur knowledge? Was there a lot to learn?
I've always been fascinated by dinosaurs but I was never obsessed, so I did quite a lot of research and educated myself about newer discoveries. Luckily, we own many non-fiction books about dinos which helped and a few trips to the Natural History Museum made research a lot of fun.
4.  Any favourite dinosaurs in the book?
It's hard to pick a favourite because they're all so different and incredible. But I've always been enthralled with pterosaurs, so I gave the villain an air force of flying dinosaurs and to give our hero a chance to fly on the back of a Quetzalcoatlus.
5.  If you were a Dino Knight, what would you be riding?
I'm tempted to say a T-Rex like Henry; like riding on the king of the jungle, but I'd love to fly so I'd have to say a pterosaur. The idea of soaring through the sky on the back of a winged dinosaur is a fantasy I'd love to fulfill. I suppose that's the magic of writing and reading, that you can live out your fantasies on the page!
6.  Can you tell us what's so special about your lead character Henry when it comes to dinosaurs?
Henry Fairchild is an orphan who was brought in and cared for by Lord Harding and Lady Anwyn. He has a mysterious past that will be revealed over time, but suffice it to say he has a deep connection with the dinosaurs, almost telepathic in nature. What we'll learn over the book series is that Henry was actually raised at a very young age in a nest of baby dinosaurs! The dinos treat him like one of their own.
7.  What next for Dino Knights and how many books do you have planned?
The series will initially be a trilogy and I just competed the edits on the second book, which is a cracker. Henry is now firmly part of the Dino Knights team (and no longer sleeping above the smelly stables) but when something terrible happens, he and Ellie decide to defy their orders and intervene.
8.  Have your sons - who helped inspire Dino Knights - enjoyed reading the book?
They got to read early copies of the manuscript and they loved it. I don't get a free pass because Dad wrote the book, but it probably helped that I used their names for characters! Both of my boys really enjoy reading, especially adventure books, so I did very much craft Dino Knights with them in mind.
9.  Were you a dinosaur fan as a child? What were your go-to toys?
I did like dinosaurs, but my go-to toy was Lego! I was, in the parlance of the times, a Lego-maniac. I used to spend hours building Lego worlds and had a giant city that to me was a living, breathing metropolis that existed on a huge piece of cardboard under my bed. I would pull it out each day and continue to build and change the city.
I was also a child of Star Wars and loved making up my own stories using the action figures. I remember plotting out the whole third film on my desk because I couldn't wait for the follow-up to The Empire Strikes Back.
10.   What else are you writing?
I'm actually spending a lot of time writing for the screen. One of my books (which hasn't been announced yet, sorry) has been optioned for a feature film so I'm writing the screenplay for that.

11.  You haven't always been an author - what are your stand-out moments for you from your career?
I came late to writing, and I think in a way having a lot of life experience has helped inform and shape my creativity; it's given me lots to drawn on. I've had all sorts of interesting jobs, but about twenty years go I made a deliberate shift in my career into the entertainment industry and since then I've had the great pleasure of working on both the business and creative side of books, television and film.
I've helped to shape a number of children's TV shows such as Olivia, Octonauts, Trucktown and Noddy. I actually bought the rights to one of my boyhood favourite book series, Choose Your Own Adventure, and developed and produced it into an interactive DVD movie. More recently, I optioned the rights to a grown-up ghost story from Susan Hill (who wrote The Woman In Black) and executive produced it as a feature drama for Channel 5.
12 What's your favourite thing to do when you're not working?
Both of my sons have gotten into baseball lately. It's not an obvious sport for the UK, but I've been coaching this Spring and it's a real pleasure to help a team of young people improve over a season at a surprisingly complex game.
I also love the cinema and recently donned the mask and got back into the cinema, which felt like a little bit of overdue normalcy after this crazy year and a half we've all had. I also love to travel, but I think that'll have to wait a little bit longer. Until then, I'll do my travelling vicariously through books.
Author's Titles