Dino Knights: Panterra in Peril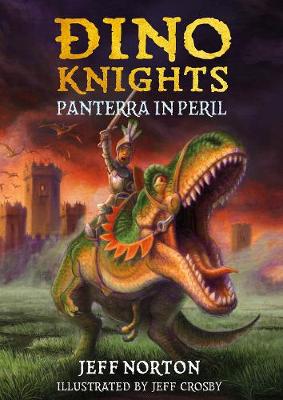 By Author / Illustrator
Jeff Norton, illus Jeff Crosby
Genre
Adventure
Age range(s)
7+
Publisher
Scallywag Press
ISBN
9781912650736
Format
Paperback / softback
Published
01-07-2021
Synopsis
In a medieval land where dinosaurs still roam, lowly stable boy Henry Fairchild joins the brave Dino Knights and rides into adventure on the back of a T-Rex. A fast-paced action-adventure series about bravery, friendship, and being your best self.When Henry's homeland is threatened, and his master Lord Harding is thrown into danger, Henry's gift at making the dinos obey him means the Dino Knights really need him. But will they accept a stable boy into their elite group? After minimal training Henry is launched into battle and his quick wits, daring and kindness win the day. Dino enthusiasts will love that each knight rides a different type of dino, and will enjoy the dramatic and realistic illustrations. Themes of self belief and empathy are combined with high drama for a thrilling roller coaster of a read. For fans of Beast Quest and How To Train Your Dragon.
Video and Q&A with author Jeff Norton
Reviews
Megan
In a medieval land where dinosaurs still roam, Henry is destined to be more than a stable boy....  Henry Fairchild, a common stable boy at the start of the story, has a unique understanding of dinosaurs. After learning of a rampaging T-Rex, Henry takes it upon himself to try and save Lord Harding and Lady Anwyn by taming the beast. Due to his heroic behaviour, Lady Anwyn invites Henry to join the Dino Knights, the land's strong warriors and protectors. However, becoming a Dino Knight is full of challenges.  Dino Knights: Panterra in Peril follows Henry's journey to becoming a brave warrior.
Dino Knights is an exciting new series with themes of bravery, friendship and self-belief. I thoroughly enjoyed reading this book. It is fast-paced and packed full of action and adventure. Fans of the How To Train Your Dragon series will enjoy this.
168 pages / Reviewed by Megan Webb, teacher
Suggested Reading Age 7+
Other titles