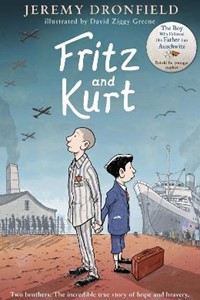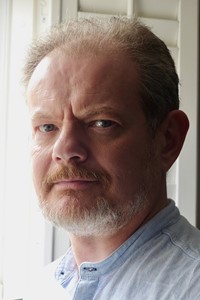 About Author
Jeremy Dronfield has written many books about the lives and adventures of amazing people from history. Most are true stories and a few are fictional. Fritz and Kurt is one of the true ones, and by far the most important. It's also the first one written specially for young readers. Jeremy grew up in Wales. Nowadays he lives in Cambridgeshire with his partner and their dog, in a pretty little town so old that it was once raided by Vikings.
David Ziggy Greene made the UK's only regular illustration reportage in Private Eye magazine from 2011-2020. His work has also appeared around the world in publications like Charlie Hebdo and Folha de São Paulo.
Interview
Fritz and Kurt  ( Puffin )
January 2023
Author Jeremy Dronfield's powerful and moving book, The Boy Who Followed his Father Into Auschwitz, which is based on a true story, has now been re-written for a younger readership.  Fritz and Kurt, with illustrations by David Ziggy Greene, is aimed at readers aged nine years plus, and explores how a Jewish father and son survived the Holocaust, and the experiences they endured. Holocaust Memorial Day takes place on Friday 27th January.
Review:    "Honest, moving and important."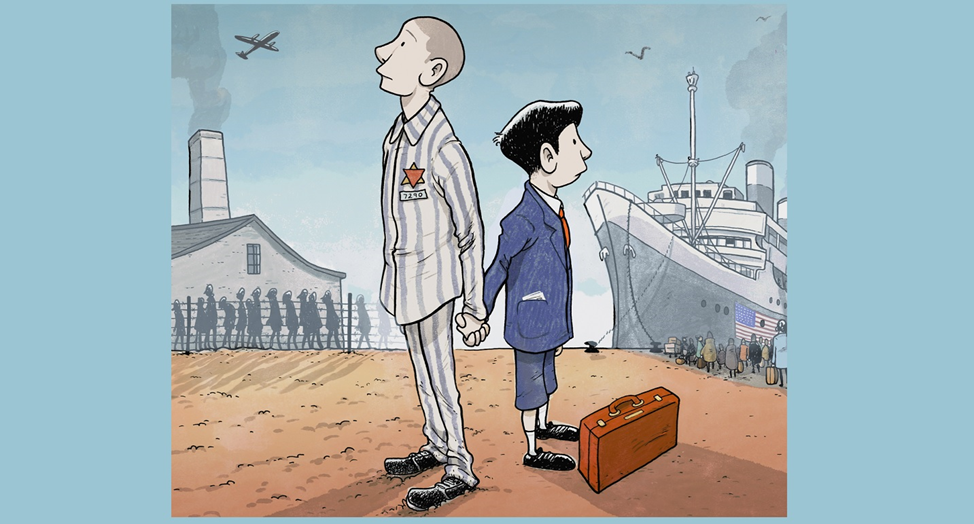 In this Video and Q&A, Jeremy Dronfield tells ReadingZone why he felt their story needed to be told, and why he wanted to write this new version for children and young people.
Q&A with Jeremy Dronfield
1.   Can you tell us what happens in your new book, Fritz and Kurt, and about the true story it is based on?
Fritz and Kurt Kleinmann were born in Vienna. Fritz was fourteen and Kurt was eight when Nazi Germany invaded and took over Austria in 1938. The following year, Fritz and his Papa were arrested and sent to Buchenwald concentration camp, the start of over five years in captivity. When Papa was transferred to Auschwitz - a certain death sentence - Fritz volunteered to be transferred with him. Meanwhile, Fritz and Kurt's mother managed to arrange for Kurt to travel, all alone, to America to escape the Nazis.
The book tells the intertwined true stories of both Fritz and Kurt, the hardships, lethal dangers and adventures they went through, and the journey they hoped would eventually bring them back together.

2.   How did you first hear about Fritz and Kurt's story?
Their father, Gustav Kleinmann, kept a secret diary during his time in the camps. In 2013, I was asked to help find a publisher for an English translation of the diary. My attempt failed, because the diary is extremely difficult to follow and understand, filled with obscure references to people, events, and places. It needs to be 'decoded' to be understood. There are also lots of gaps.

3.   Why did you decide to then write their story yourself?
It was all about Fritz's decision to go with his Papa to Auschwitz. What an incredible thing to choose, knowing that it would probably lead to death. I felt profoundly that it was a story that needed to be told. As far as I'm aware, there is nothing like it in the whole history of the Holocaust - a Jewish father and son, surviving together for over five years, and leaving behind a written account.
After my original book, The Boy Who Followed His Father into Auschwitz, was published, many people told me they wished their children could read it. It is, after all, a story about children. It took me a long time to work out how to write it for young readers. But I found a way through the fact that, as dark as the events are, it's ultimately a positive story of hope, love, and courage.

4.   How did you find out so much about what happened to the brothers and their family?
My research was built around Gustav's diary, plus a short memoir and various interviews given by Fritz during his lifetime. Also I was able to locate other eyewitness testimony to various events, plus archive records.
Sadly, I never got to meet Fritz, who died in 2009. But I did manage to trace Kurt, who at the time was living in New York state. I spent many hours talking to him, learning about the family, about Fritz, their Papa, their mother and sisters, and life in Vienna before and during the Nazi period.

5.   Was it difficult for him to share their story, as there was so much hardship and tragedy in this part of their lives?
For the most part, no. Kurt had spent much of his life telling the story of how he came to America to escape Hitler. But it did become difficult for him with some topics. It frustrated him greatly that, as a result of the trauma he went through, many of his key childhood memories had been suppressed. For instance, he couldn't remember saying goodbye to his mother. He vividly recalled her sitting him on the kitchen table and giving him his travel documents - then a blank until he was on the train to Lisbon.
It was painful for him to learn - through my research - the whole truth about what happened to his mother and older sister. He knew they'd been killed by the Nazis, but didn't know how. Despite the pain, he was glad to know the whole truth at last.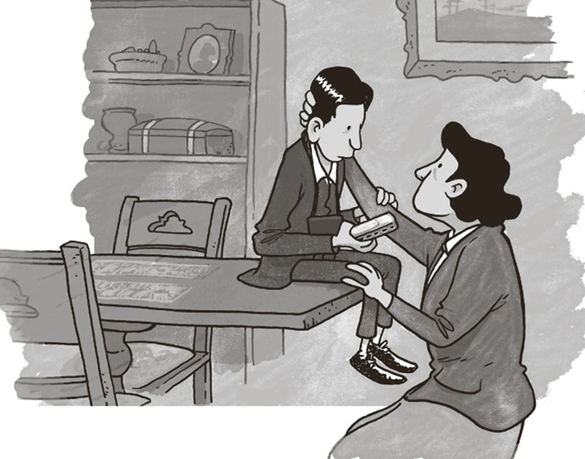 6.   What for you was the hardest part of this book to research or write?
It was a part which is central to my original book, The Boy Who Followed His Father into Auschwitz, but which is omitted from Fritz and Kurt - the killing of the boys' mother and sister. That was extremely painful, and I still find it difficult to talk about. It's left out of the children's book mainly because the boys didn't know about it at the time - Fritz was in the camps and Kurt was in America - and the story is being told here from their viewpoints.
In writing Fritz and Kurt, the greatest challenge was to convey the horrors of the Nazi era and the camps in ways that would not be too upsetting for young readers, but without minimising the truth. I found that the best thing to do was to provide sparse narration of certain events, trusting to children's imaginations to fill in the gaps in ways that they can cope with.

7.   Can you tell us a little more about how you went about researching the events before you wrote the book?
I started with the diary written by Fritz's and Kurt's Papa in the concentration camps, plus Fritz's written and recorded recollections. Most of my additional research was about filling in gaps and cross-checking and corroborating their accounts with other prisoners' testimonies and archive records.
Interviewing Kurt gave me a deeper understanding of the warmth and closeness of the Kleinmann family. For Fritz and Kurt, I went back to the research and made new discoveries. For instance, for the first time we learn the circumstances of the family's betrayal to the Nazis by their friends and neighbours, and about Fritz's period imprisoned in the Vienna football stadium before being sent to the camps, as well as more about Kurt's experiences on his journey to America.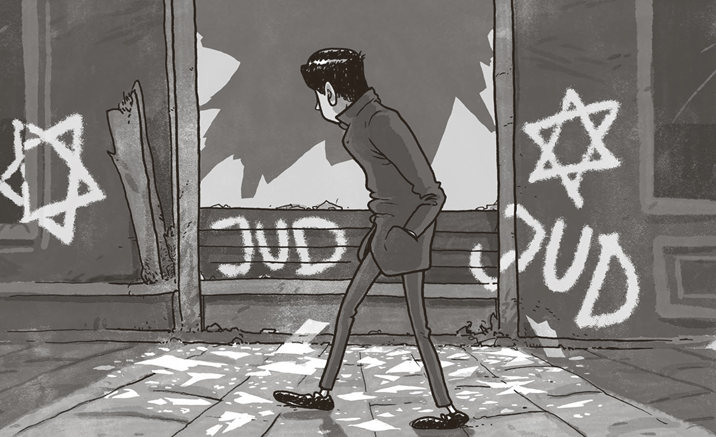 8.   Have you visited any of the places you mention in the book?
You may call it superstitious, but I deliberately chose not to visit these places while researching them. Especially Auschwitz. It's a museum and memorial now, and I didn't want to be influenced by the 'feel' of the place as it is now, freely open and filled with tourists. Even the grief and horror that people feel there is born of the present, of historical awareness.
I feared I would lose my tentative grasp on how it would have felt to prisoners, and to Fritz in particular. Auschwitz as it was to him no longer exists, other than in his recollections and in contemporary photographs and film footage. So that is where I looked for it.

9. What do you feel young people today can learn from Fritz and Kurt's story? And where can they go to find out more?
Above all else, the important lesson from the Holocaust, and from all the genocides and persecutions committed by the Nazis, is to resist the impulse to see people as having diminishing value the further away they are from you, ethnically or culturally. If some people - travellers, refugees, migrants, Jews, Muslims, people of different ethnicities - seem strange or even scary to you, that is your problem, not caused by any inherent quality those people have.
In 1933-1945, most countries didn't want to take Jewish refugees fleeing the Nazis. If you went back in time and read the newspapers, listened to the politicians, and talked with the ordinary people in that period, you'd hear exactly the same fears, suspicions and rumours about those refugees that you hear about migrants and asylum seekers in the present day. The result of that failure of human empathy was one of the greatest tragedies in history. The Holocaust could have been diminished or never happened at all if people hadn't feared the unfamiliar outsider.
If you want to learn more about the story of Fritz and Kurt, and about the Holocaust generally, plus links to classroom resources, I've written a Guide for Parents, Guardians and Teachers, which you can download free from my website, www.jeremydronfield.com. (Be aware that the guide contains distressing information and is not intended to be read by children.)

10.   How did you begin writing books based on real people's lives? Do you have any other books for children planned?
I began my career writing fiction, and deviated into writing historical biographies almost by accident. I'm an academic researcher by training, so non-fiction has been a natural fit. I've found that writing about real lives - but with the storytelling techniques of a novelist - is far more exciting and satisfying that making things up. When a story is as amazing and important as Fritz and Kurt, telling it feels like the best, most satisfying job in the world.
I do have at least one, possibly two books for children planned. I'm about to start work on one, which I hope will be published in 2024. It's another true story of children surviving the Holocaust, once again a tale of courage and love, but different in every other way from Fritz and Kurt.

11.   Where do you tend to do your writing? What does a 'writing day' look like for you?
Well, I don't have a desk. I sit on the sofa with my laptop, a stack of books and other research materials on the table nearby, and my dog snoozing next to me. Really I could write anywhere, so long as it's comfortable. Once I get immersed, the physical world around me disappears; there's just me and the words and, if it's going well and the magic is happening, I'm right there inside the world I'm writing about. When I emerge, it's like waking from a dream.
At the beginning of a book, I tend to dip into it, writing in small passages, feeling my way into the story, working out how to tell it. Once I've got the feel for it and know where I'm going, I'm up early every day, writing and writing and writing until my fingers get tired and start stumbling over the keys. I always like to finish the day in the middle of a passage that's going well, so that I'll be able to slip back into it easily the next day.

12.   What do you enjoy doing when you're not at your desk?
My work space is basically wherever my laptop and my mind are. Unfortunately, I can't leave the latter behind when I finish work, so the world I'm writing about tends to come with me. I never really stop thinking about it.
Films and music are my retreat. I tend not to read books (other than research) while I'm writing. This is another of my superstitious tics. I can be extremely susceptible to creative influences, and I'm afraid that if I read, it will somehow colour what I'm writing. In the early days, that was definitely true; now perhaps not so much, but it's become a habit.
Author's Titles