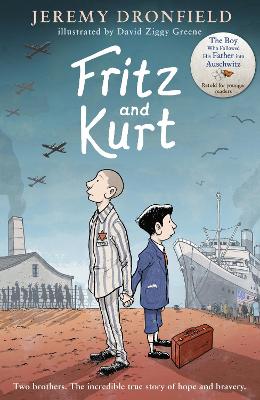 By Author / Illustrator
Jeremy Dronfield, illus David Ziggy Greene
Genre
Real life
Age range(s)
9+
Publisher
Penguin Random House Children's UK
ISBN
9780241565742
Format
Paperback / softback
Published
19-01-2023
Synopsis
When everything is taken away from you, love and courage are all you have left.  In 1938, the Nazis come to Vienna. They hate anyone who is different, especially Jewish people.  Fritz and Kurt's family are Jewish, and that puts them in terrible danger.  Fritz, along with his father, is taken to a Nazi prison camp, a terrible place, full of fear. When his father is sent to a certain death, Fritz can't face losing his beloved Papa. He chooses to go with him and fight for survival.  Meanwhile, Kurt must go on a frightening journey, all alone, to seek safety on the far side of the world.  

In this extraordinary true story, Fritz and Kurt must face unimaginable hardships, and the two brothers wonder if they will ever return home...  A retelling of the Sunday Times bestselling The Boy Who Followed his Father into Auschwitz, a Daily Mail and Sunday Express book of the year.   'Extraordinary' - Observer.
Find out more from author Jeremy Dronfield in this Video and Q&A
Reviews
Louisa
Here is my first 'must buy, must read' title for 2023! There are so many books about the Holocaust but for me, Fritz and Kurt was instantly compelling. It's based on the true story of the Kleinmanns, a working class Jewish family from Vienna, that was told for adults as 'The Boy Who Followed his Father into Auschwitz'.
When the Nazis take over Austria, four different paths await each of the family's four children. Kurt, the youngest, manages to travel all alone to a new life in America. Edith, the eldest, secures a position as a maid in England while her sister, Herta, stays in Vienna with her mother until both are transported to the Ostland. 14-year-old Fritz is sent to Buchenwald with his father.
As the title suggests, the book focuses in detail on the parallel but contrasting paths of Fritz and Kurt. When the horror of Fritz's experience becomes too much, the narrative cuts deftly to the relative safety of Kurt. The narrative is direct but sensitive: it doesn't euphemise the evil of the Nazi treatment of Jews but it wouldn't traumatise an Upper Key Stage 2 reader (ages 9+), either. The accompanying black and white illustrations tread a similar careful line between the trivial and the horrific, taking much from the style of contemporary graphic novels. Taken together, the words and pictures feel honest, moving and important.
Although it's not truly a novel, it reads like one. Against the grimmest of backdrops, there's adventure, excitement and camaraderie between a cast of remarkable characters; there's even hope, as well as fear and desolation. If you are teaching the Second World War, it would be a great text to use alongside the classic Diary of Anne Frank and When Hitler Stole Pink Rabbit as well as the more recently published When the World Was Ours. But I think there are many children who will enjoy reading it for what it is: an astonishing story of the resilience of the human spirit.
384 pages / Reviewed by Louisa Farrow, teacher
Suggested Reading Age 9+
Kelly
A story based on real-life. A narrative on harrowing events: The Holocaust.  Fritz and Kurt is a story about a Jewish family, The Kleinman's, living in Austria during the 1930s; a time when their world was seemingly changed overnight and ripped apart.  Hitler invaded, blaming Jewish people for the demise of Germany: they are sent to concentration camps or executed. Jewish residents are sought out, humiliated and bullied - once friends but now enemies.
In a case of mistaken identity, Kurt, the eldest son, is sent to a concentration camp for Jews and later finds his papa there, too. They are grateful to be together: to have each other to lean on for support and their strength, hope and courage is a theme throughout the story. Fritz, the youngest of the Kleinmans, is sent to America to live a life of freedom; he is trapped in conflicting emotions: relief, but also grief and loneliness. He grieves the loss of his family, the lack of contact and the uncertainty that one feels when unable to communicate one's true feelings due to a language barrier.
I love how the characters evolve throughout and never lose hope of freedom. Illustrations peppered throughout the book bring the story to life. This story has been written for younger readers to help them understand what life was like for Jewish people during the holocaust.  Due to its nature, this book would be better suited to upper KS2 and would support the teaching of WWII well. The author has exercised care and sensitivity in catering to a younger audience whilst instilling an awareness of the living nightmare that Jewish people suffered during the holocaust.
384 pages / Reviewed by Kelly Buxton, teacher
Suggested Reading Age 9+
Other titles