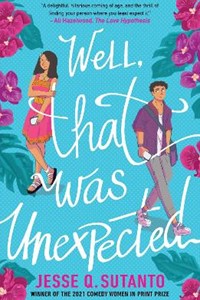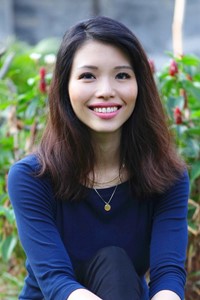 About Author
Jesse writes books for children and adults, and her first YA romcom, Well, That Was Unexpected, is now available.
Jesse grew up in Indonesia and Singapore and received her Masters from the University of Oxford. She currently lives in Jakarta with her husband and two daughters.  Jesse has 42 first cousins and 30 aunties and uncles, many of whom live down the road and some of whom inspired characters in Well, That Was Unexpected. 
You can find out more about Jesse on her website www.jesseqsutanto.com, Twitter @thewritinghippo and on Instagram @JesseQSutanto
Interview
Well, That Was Unexpected  (Electric Monkey)
November 2022
Read a Chapter from Well, That Was Unexpected
Sharlot knows very little about her mum's native Indonesia - until her mum decides that the time has come to pay a visit. Sharlot is whisked away from her boyfriend, and the summer she had planned, to a very different world - and an unexpected and unlikely date! We asked author Jesse Q Sutanto to tell us more about her writing, how her family helps inspire her novels, and her new YA romcom, Well, That Was Unexpected.
Q&A with Jesse Q Sutanto
1.   Can you tell us a little about yourself and your life as an author?
I'm the author of Well, That Was Unexpected and Dial A for Aunties. I'm all about writing fast and publishing as many books as I can per year. I had four books come out this year and four more coming out next year, which is honestly incredible. It's been such a wonderful whirlwind and I hope it won't ever end.

2.   What is your debut YA romcom, Well, That Was Unexpected, about, and why did you want to write it as a romcom?
My debut YA novel was actually The Obsession, which is a YA suspense. Well, That Was Unexpected, my first YA romcom, is about Sharlot, who gets caught by her mom in a compromising position and before she knows it, she is whisked off from LA to Indonesia for the summer, where she has to fake date the son of a billionaire family.

3.   What inspired you to set your novel in Indonesia? And what was it like exploring the country through a newcomer's (Sharlot's) eyes?
I've always wanted to set a story in Indonesia as I feel like most westerners know very little about it. My husband is English and when he first came, I saw the country through his eyes and it was really fun seeing the surprise on his face when he discovered that Jakarta is a thriving metropolis filled with modern skyscrapers. I wanted to show the country in an accessible way, which is why I had an outsider's point of view for most of the book.

4.   Do you also feel that Southeast Asian heritage is overlooked and under-represented in the YA world?
Yes for sure! I can't even think of many of them off the top of my head. But the tide is changing, thanks to people like Hanna Alkaf, and I hope that it continues to bring about more stories from this part of the world.

5.   Through Sharlot and George's experiences, you explore that tug between modern life and traditional expectations on teenagers - do you feel many teenagers are dealing with this?
Well, I know that within my Chinese-Indonesian culture that they are definitely dealing with this. Most of the older generation is still very strict; in fact, the schools are extremely strict with rules like "no makeup and no nail polish etc" so it's definitely a huge struggle being a teen and having to straddle that line!

6.   How much of Sharlot and George's experiences are based on your own life?
Haha! I'll just leave it at this: have my parents catfished some poor guy into dating me? No. But have they tailed me when I said I was going out with a friend to make sure I wasn't out with a boy? Yes. And has my dad sought the help of a cousin of mine to write a breakup email to my boyfriend? Also yes.

7.   What about your characters, have any real family members helped inspire them?
See above answer, lol!

8.   What drives the humour in Well, That Was Unexpected?
As with all of my books, the humor is all totally based on my own family. I think this is why so many Asian readers really relate to the hijinks in my books.

9.   We learn a lot about Indonesian food in the novel, too - any favourite dishes in there?
This is going to sound so sad, but my favorite would be gado-gado, which is an indonesian salad. I know! A salad? But trust me, this is the most unhealthy salad in the history of salads. It's a ton of veggies absolutely smothered in a sweet peanut sauce. This sauce is so delicious - thick and crunchy with bits of roasted peanuts and sweet and savory and the veggies are just an excuse to have more peanut sauce!

10.   What have you enjoyed about writing for YA readers? Do you have other YA novels planned?
I started out writing YA books because I feel that when I was a teen, I felt everything so sharply. The world was filled with endless possibilities and everything meant so much to me. I love diving back into that feeling. And yes, I have other YA novels planned! The next book will actually follow Kiki's story as she navigates her way through a super traditional school.

11.   Where do you prefer to do your writing?
Anywhere quiet! I don't like music or background noise when I write. In fact, I find noise so distracting that if I'm writing at a cafe, I'll actually put in ear plugs.

12.   What does a favourite day away from your desk look like?
Okay so please don't judge me, but actually my favorite days are ones that are spent doing nothing but writing. I recently did a solo writing retreat where I checked myself into a nice hotel and did nothing but write the entire day and it was pure bliss!
Author's Titles