Well, That Was Unexpected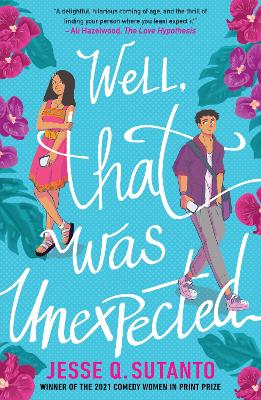 By Author / Illustrator
Jesse Q Sutanto
Genre
Romance & Relationships
Age range(s)
14+
Publisher
HarperCollins Publishers
ISBN
9780008501464
Format
Paperback / softback
Published
10-11-2022
Synopsis
Sharlot and George's story starts how all good love stories do - they're catfished by their own parents...
When Sharlot Citra is caught with her very hot (but very secret) boyfriend by her traditional mother, she finds herself whisked away from LA to Indonesia for a summer of 'getting back to her roots'. Or so her mother thinks.  Across the globe, George Clooney Tanuwijaya, tested with a name that is a daily embarrassment, is tested further when his father and sister, Eleanor Roosevelt, decide to take it upon themselves to find him a respectable girlfriend. His family-one of the wealthiest, most famed in Indonesia-has a reputation to uphold.  Sharlot and George's worlds collide when they discover that their parents have secretly been pretending to be them online. They agree to meet once, just to shut their parents up. But when the media gets wind of their date, things quickly spiral and the two families get swept up in a highly publicised stunt where everyone has a role to play. And a secret to keep.
Reviews
Clair
Well, That Was Unexpected is a multicultural rom com that delivers heart-warming, laugh-out-loud moments. Sharlot "Who knows why these English names are not spelled the way they sound?" is caught by her mum in a compromising situation with a boyfriend and is promptly whisked away to Indonesia, her mother's birthplace. Meanwhile, George Clooney Tanuwijaya, son of the most famous family in Indonesia, is caught having some "alone time" as his dad and younger sister walk in on him. They decide that he needs a real life, "nice" girlfriend and turn to a dating app to find him one. Sharlot and George are catfished by their own parents as Sharlot's mum sets up a fake profile for Sharlot and George's dad and sister begin messaging her. Neither parent has represented their teenager accurately, both portraying them as they would like them to be seen. So, when Sharlot and George meet for their first fake date, they aren't quite what each other was expecting! To keep up the Tanuwijaya family reputation Sharlot is whisked off to Bali where she gets swept up in a highly publicised 'romance'. As George and Sharlot are expected to spend more time together, will they fall in love for real?
I found the main characters to be very likeable and I loved their family dynamics. Their date at the Monkey Temple with the monkeys stealing things was hilarious, it was so well written that I could actually picture this happening. I really liked the LGBTQ representation and the way that the cultural differences were highlighted. I have never visited Indonesia so really enjoyed the description of their traditional cuisine and tourist sites.
Content: American spelling, swearing, some sexual content, LGBTQ+ representation
384 pages / Reviewed by Clair Bossons, school librarian
Suggested Reading Age 14+
Linda
After an embarrassing encounter at home when Sharlot's mom walks in on her and her boyfriend, her mother whisks her away from LA to her native Indonesia for the summer, to instill on her how a 'good girl' should behave; well that's what her mother thinks. Meanwhile, in Indonesia, another embarrassing encounter happens when George Clooney's (according to the naming system in this country) dad walks in on him and catches him...  I'm saying no more... This behaviour, from the easily-relatable two main characters, lead to their parents 'catfishing' them on a dating app. However, as George is very famous, the press soon get to know about this new relationship. This is definitely where the comedy clicks in throughout the book.
Well, That Was Unexpected is suitable for the 14+ reader due to the fact that the book does contain some offensive language, sexual content and the use of offensive text speak. Which in my opinion is a shame as the book would have been great for book/intervention groups due to the wonderful world-building and excellent writing skills from the author.
What shines through in this funny story is the love the author has for her culture, it especially comes through when she describes the food that Sharlot experiences for the first time. Warning... don't read this on an empty stomach! As you turn the pages, you quickly come to understand why Jesse Q Sutanto won an award for her writing in 2021. Overall, this is a delightful coming of age, romantic comedy story showing how young adults deal with ever changing emotions and embarrassing parents.
384 pages / Reviewed by Linda Brown, school librarian
Suggested Reading Age 14+
Other titles