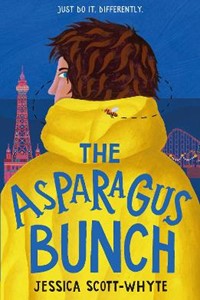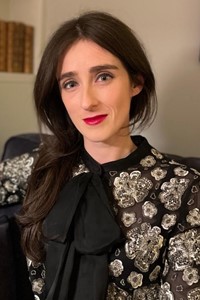 About Author
The Asparagus Bunch is  Jessica Scott-Whyte's debut novel. Jessica was born and raised in Dublin. She studied French and History at University College Dublin, then moved to London where she studied Fashion Journalism. She currently lives in Paris with her husband and two children in a neurodiverse family. 
Jessica remains terribly nostalgic of growing up in the nineties and wishes she could go back to that incredible era of Pogs, Art Attack, Ring Pops, Goosebumps books, cereal box prizes, The Crystal Maze, boy bands and Super Nintendo. 
Download a chapter from The Asparagus Bunch
Interview
The Asparagus Bunch   (Welbeck Publishing)
July 2022
When 13-year-old Leon Crothers joins his seventh new school, he knows it won't be long before he's asked to leave. Leon has an 'attitude problem', but during the course of this novel, we discover what is the real reason behind Leon's challenging behaviours. This is a warm and funny novel about difference, friendship and learning to let go. Author Jessica Scott-Whyte tells us more.
Q&A with Jessica Scott-Whyte
1.   What brought you into writing for young people?
Reading, I'd say. I was lucky to have been introduced to books at a very young age and really got a taste for stories of all kinds. I guess I felt at one point that I wouldn't mind having a go! I also had a fantastic teacher when I was eight years old who was very keen on creative writing and gave us a weekly creative writing assignment which I just LOVED!

2.   Can you tell us a little about The Asparagus Bunch, and what happens?
The Asparagus Bunch is told from the point of view of 13-year-old Leon, who lives in Blackpool with his mother Caroline. To most people, Leon has an attitude problem, which they assume is the reason that he's been forced to change schools so many times, but of course, throughout the story, this idea of Leon is very much challenged.

3.   What inspired the story and why did you want to write this story?
At its heart, this is story about control. How much we try to control most aspects of our lives and how it feels when control that we are used to having is suddenly taken from us. I wrote this story at the start of the very first lockdown, during which time I really struggled with the fact that I had so little control over my own life. It was a big wakeup call and a learning process to see and do things differently in the face of such an extreme situation.

4.   How much of Leon's experiences are drawn from your own experiences?
My only sibling (my brother) was diagnosed with dyslexia at quite a young age, so I grew up watching and experiencing his journey with dyslexia, from him initially seeing it as a fault to being a true superpower. Today I live in a neurodiverse family and one of my children was diagnosed a few years ago as having an autism spectrum disorder. I drew very much from these experiences in the book, in particular Leon's relationship with his mother. Their relationship comes straight from my heart, warts and all.

5.   Even with this experience, did you need to research Autism Spectrum Disorder and how it can affect young people?
Absolutely, even lived experiences require some research in some way or another, I feel. I frequently meet and socialize with children of all ages with ASD's and their families, which in itself prompted me two include two characters with an ASD diagnosis in the cast. To quote directly from Leon's doctor, every autism case is different, and it was important to me to touch on that. I also drew on some fantastic resources from the UK's National Autistic Society and also AsIAm, Ireland's National Autism Charity.

6.   How did Leon, your main character in The Asparagus Bunch, develop?
I have to say that Leon almost leapt on to the page fully formed! He knew exactly who is was and what he wanted. One thing though that came much later in the writing process, after a couple of drafts anyway, was the introduction of Jim (Caroline's hidden love interest). I think that I put off including this important element in the plot because I was terrified of how Leon was going to cope! I wasn't quite sure if he'd make it through....

7.   Who is your favourite supporting character?
While she only appears in a couple of chapters, I really love Tanya's mum, Donna, for her warmth, openness and tolerance towards Leon. I also love Caroline to bits. I know that the next time I visit Blackpool Pleasure Beach, I'll be looking out for her messy kumquat coloured hair!

8.   How have you brought so much humour into the story?
I have absolutely no idea! To be honest, I don't consider myself funny at all so maybe I shouldn't be telling people I've written a comedy! I've always really respected and appreciated humour, in particular for its cleverness. I think humour has the power to really change people's perceptions of things and even foster empathy by getting people to see tricky topics and ideas in a new light. Dismiss the powers of humour at your peril, I say!

9.   We loved finding out about the history of all the sweets mentioned by Leon - how did you go about researching these?
Oh, gosh...how much time do you have??! I love researching and I love sweets, so naturally I spent so much time delving into books, articles...sweet shops of course...I even trialled a couple of Leon's crazy sweet tests, such as trying to see how many Chupa Chups I could eat in row before losing the feeling in my cheeks...I got to 5...though maybe because I chose apple Chupa Chups which have a slightly sour note to them...anyway...I won't be telling Leon my woeful score!

10.   What would you like your readers to take from Leon, Tanya and Lawrence's experiences?
To never be afraid to do things differently. We spend so much of our teenage years trying to blend in with everyone, but almost every adult I know regrets not embracing their own uniqueness at an earlier age. It isn't always easy to do, but I hope that Leon, Tanya and Lawrence will be good ambassadors for doing things differently.

11.   Are you planning on writing a sequel?
Yes, I am currently writing the continuation of Leon's story called From Blackpool With Love, which will publish in May 2023.

12.   Where and when do you prefer to write?
Where there is a bit of chaos actually...! I cannot do the whole cabin in the woods, silence all around etc. My stories are often busy and noisy so I can only write that sort of vibe in a similar setting!

13.   What are your favourite escapes from your desk?
Jigsaw puzzles! That's my thing! Especially when I am knee deep in plot holes...jigsaws are the business because every piece fits where it should!
Author's Titles