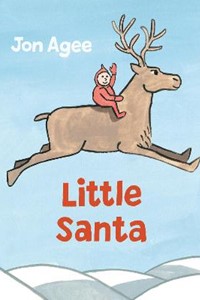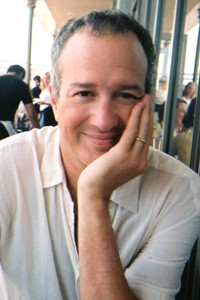 About Author
Award-winning author Jon Agee's latest picture book, Little Santa, tells us how Santa Claus came to be. His picture books include It's Only Stanley, a Boston Globe-Horn Book Honor winner and longlisted picture book for the UKLA Book Award 2022. 
Jon Agee went to college at The Cooper Union School of Art in New York City, where he studied painting and film-making. Now a full-time author, he lives in San Francisco with his wife, Audrey.
Interview
Little Santa  (Scallywag Press)
November 2022
Little Santa, the picture book by bestselling author and illustrator Jon Agee (Scallywag Press), takes us to the frozen north to look at how Santa Claus came to be. This warm and funny story is perfect for sharing with young children this Christmas time. We asked Jon Agee to tell us more in this video, with a reading from Little Santa, and in our Q&A to follow.
Download an extract from Little Santa
Q&A with Jon Agee
1. Can you tell us a little about your life as an author / illustrator - what have been your career highlights to date?
I've been writing and illustrating books for children for over 40 years. My first popular book, from 1988, was The Incredible Painting of Felix Clousseau. (Scallywag Press published the new edition of Felix earlier this year). One of the highlights of what I do is getting to know some of the great people in the publishing world. The other is visiting my readers - kids! - in schools across the United States and in other countries.

2. What is your new picture book, Little Santa, about?
It's the story of Santa's early childhood and the thrilling series of events that led him to become the legendary fellow he is today.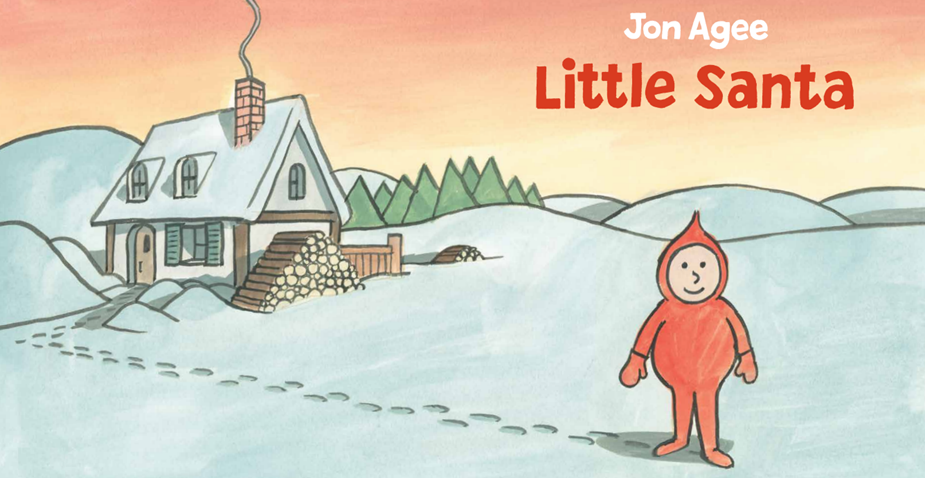 3. Why did you want to create a picture book about Christmas; is it a favourite time of year for you?
It's not uncommon for writer/illustrators to take a classic children's story - Red Riding Hood, The Three Little Pigs - and retell it in a way that is original and innovative. Sometimes this is done as parody or satire, or simply with new, innovative illustrations. With Little Santa, I imagined a part of an old, well-loved story - particularly Santa's childhood - that, as far I knew, hadn't been told before.

4. What was your starting point for your Santa's origins? What are the advantages in working with a story that is so well known to your readers?
I wondered what it would be like to live in the North Pole. It seemed very lonely, like being in lockdown with no internet connection, and surrounded by hundreds of miles of snow. I drew a picture of a gloomy family - the Clauses - huddled around the fireplace in their rustic cabin. In the foreground was their youngest child, wearing a bright red onesie, looking out the window with a sweet smile on his face. The contrast of moods was the spark for the story.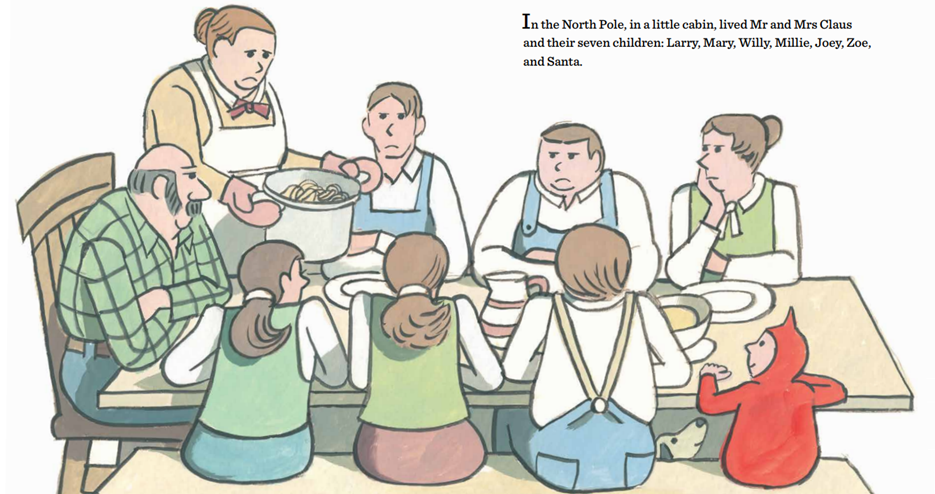 5. What gave you the idea to place him in a family that was so different from him?
Conflict makes for good stories. I made the Claus family large - they have seven children - to enhance their bleak appearance. They all wear drab clothing: muted greens and browns. The children have relatively common names: Willie, Millie, Joey, Zoe, Larry and Mary. Santa has an unusual name and wears a bright red jumpsuit. So it's clear he's a misfit.

6. How did you decide what he would look like as a child? Do you do a lot of doodling before deciding on your characters' final look?
Doodling was definitely done. In the end, Santa's outfit became part of the contrast with his family. While they all wear heavy parkas, ear muffs, scarves and winter hats, Santa appears in a simple, stylish, thermal jumpsuit. Coloured red, of course!

7. We love the humorous touches and clues in the illustrations; do you have a favourite moment?
Much of the fun - unique to picture books - is finding things in the illustrations that are only hinted at or not mentioned in the text. Page turns only add to the fun. In Little Santa, our hero approaches what looks like a tree branch sticking out of the snow. Turning the page, we discover the branch is not a branch at all, but the antler of a large reindeer.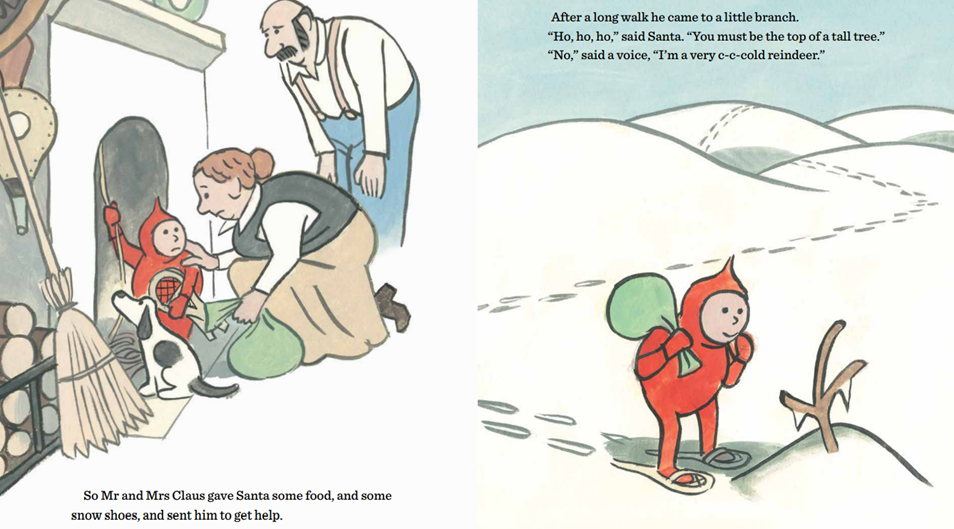 8. How do you create your illustrations?
Little Santa was painted in opaque water color, or gouache.

9. Which spread are you happiest with?
There's a page near the beginning, that always makes me chuckle. The Clauses announce that they have decided to move to Florida. Santa, a true-blue North Poler, appeals to them to stay: "Won't you miss all the pine trees, and the icicles, and the miles and miles of snow?" Their response is short and sweet: "No, Santa, we won't."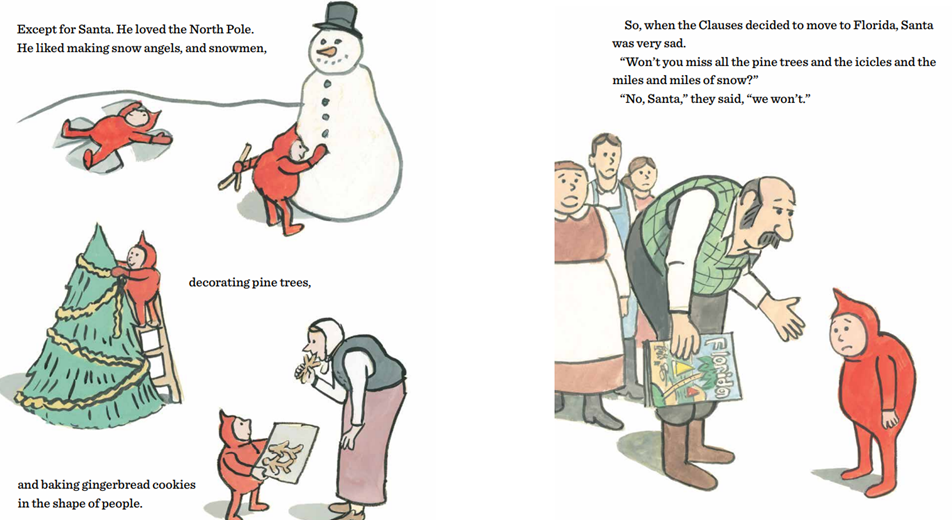 10. Where and when do you write and illustrate your stories? 
I work in a small, cluttered room, which has a nice view of a nearby park, which I hide with thick curtains most of the time, in order to cut down the glare on my computer screen. My little dog is often sleeping in a chair just beside me. I take a break to walk her, or to play tennis down the street with my long-time partner Rong, a 76-year old retired architect from China. He doesn't speak English and I don't speak Chinese, so we communicate with text messages via Google translate.

11. What would you like (grown up) Santa to bring you this Christmas?
If Santa had time in his busy schedule, I would like to find out how he feels about my book, whether it's entirely accurate, whether there's anything I left out, whether I captured the remoteness of the North Pole, or his surprise at meeting a flying reindeer. I'd also like to know whether he visits his parents and siblings in Florida, in-person, or whether he prefers to use Zoom or Facetime.
Author's Titles