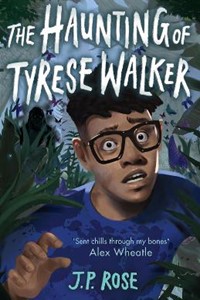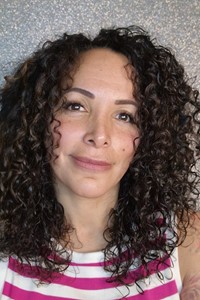 About Author
Author JP Rose's first YA novel, The Haunting of Tyrese Walker, is a gripping psychological horror story. JP Rose was born in Manchester but was raised in Yorkshire after her adoption. Growing up she suffered extreme racism, though she continued to be proud of her diverse and rich heritage of Jamaican, Nigerian and Anglo-Irish. As a child she found herself writing stories as a form of escapism and to combat her loneliness. She trained as an actress but eventually moved into writing and she is now the author of numerous novels for adults. She is the owner of several horses, dogs and cats and lives in the countryside with her family.
Interview
The Haunting of Tyrese Walker  (Andersen Press)
October 2022
Chapter 1 - The Haunting of Tyrese Walker
When visiting family in Jamaica, JP Rose started to learn about Jamaican folklore that helped inspire this new novel for young adult readers, a psychological horror that explores grief and fear with diversity and inclusion at its heart.  Students from Elizabeth Woodville School in Northampton asked JP Rose to tell us more about The Haunting of Tyrese Walker and about writing her psychological horror novel.
Q&A with JP Rose
1.   Can you tell us a little about yourself and your new book, The Haunting of Tyrese Walker?
Hi there, I'm JP Rose and I'm the author of The Haunting Of Tyrese Walker which is a psychological horror set in Jamaica. It'll will be my first teen/YA novel, although it won't be my first book published as I've written many other books for adults, however I've always wanted to write for teens and YA, and after 10 years as a published adult author, I finally decided to take the leap. It's taken me long enough!

2.   Was there any particular reason that you decided to write a YA novel as your previous novels have been adult crime novels? Did you want a new challenge?
When I first started writing there weren't so many opportunities for authors of colour, especially in the children's sector but thankfully the publishing world is becoming more inclusive for authors and publishing a variety of wonderful and diverse stories, reflecting and celebrating each other.

3.    What inspired the idea for The Haunting of Tyrese Walker?
It was a combination of a few things. Firstly, it was when I was visiting family a long time ago, they began to tell me about the rich and varied folklore of Jamaica, and I was fascinated by all the stories. Even back then when I was listening to them, I knew one day I wanted to write a book inspired somehow around these wonderful tales.
Then fast forward years later when my mum died, I was heartbroken and it was a very painful time, but it also got me thinking how it would be for young people to deal with grief, how difficult it might be for them to work through it, that's really where the idea of Tyrese Walker came from. Then over a time it built in my head, and I wanted to combine the themes of grief and mental health with Jamaican folklore, and it really just went from there.

4.   Did you need to do more research Jamaican folklore in order to write this? Is the Shadow Man part of real Jamaican folklore or is it your own idea?
The Shadow Man was my own creation and Jamaican folklore is so interesting I wanted a wide audience to know about it. A celebration of the culture and country as it were. I knew a lot about the folklore, but I still researched as it was important to get it right, plus I love researching and I found out a lot I didn't know.

5.   How do you write such detailed descriptions of the surroundings? Have you based the book's settings on places you know?
The setting for any book, the world building, is very important as I'm taking the reader on a journey and I need them to see it and smell it and hear it as if they were there themselves, so I combine places I know as well as looking at photographs and art and memory recall and emotional recall to create the setting.

6.   Why did you choose to write in third person rather than first person, and was it difficult at times to explain Tyrese's feelings without it being in the first person?
Usually the voice of the protagonist feels instinctive, and it just didn't feel right to make Tyrese first person as I wanted to expand it out and have Jamaica as a character in itself, I wanted a slightly wider POV, and I felt that might be lost if I did it first person. I actually found third person a perfect way of expressing his feelings, however it is third person 'close' which is very near to first person, and we can still be in his head so there isn't that distant vibe that general third person can sometimes have.

7.   By slowly showing aspects of Tyrese's life such as his father, you are able to fully emotionally connect with his character. Did you ever find yourself debating whether to reveal more or less?
I think it was important to slowly unfold Tyrese's life as although it is third person, we are going on an emotional journey with him, and for him to be able to acknowledge what is going on inside him and admit it to himself takes time. So no, I wasn't ever tempted to rush it, the build up was very important to find the truth in the writing.

8.   Why did you decide to write the dialogue in the way the characters speak?
It was important to me to be authentic, however, writing full Patwa for the Jamaican characters might exclude some readers as unless you know the dialect or can hear it in your head it can slow down the reading experience and I didn't want that as it was important that this book was for everyone. I still wanted readers to feel Jamaica and experience it so rather than make the characters speak full Patwa, I sprinkled it with Patwah, along with phrases and Jamaican sayings, which hopefully gives readers a real sense of authenticity.

9.    Did you ever struggle with including the topics of grief and mental health in a YA novel?
I didn't struggle to include it, although as a society we are getting better at talking about grief and mental health, more needs to be done, and I wanted my book to be open about these subjects, although it was important to include hope in this book. Hope and emotional light.

10. Did you ever intend that Tyrese would have a different end to this story? Do you think you will write a sequel to this book, maybe following another character's story or another mystery?
The ending of finishing on hope was always there, always important to me, though I didn't know quite how it would end until I got there! I do think about the characters and wonder what they would be doing now, so maybe one day I might revisit Marvin, Tyrese or even Ellie, who knows!

11. Where and when do you do your best writing? What do you do when you lose motivation with your writing?
It varies, but mainly in my office in the morning. If I've been chattering away with friends or been out and about, it doesn't help my writing at all, as I need my mind to be still and settled, almost in a meditative state. Losing motivation, I have to often override with the fact I have deadlines, so sometimes I can't afford to lose motivation, at other times I just turn off my computer and go and do something else and give my brain a rest.

12. Are you planning - or writing - any more YA novels?
Yes, I'm writing one now and really enjoying it. It will be another psychological horror, it will be a slightly older YA and this time with vampires.

13. What kinds of things do you enjoy doing when you're not at your desk?
I own horses and so if I'm not at my desk, you'll find me with my dog playing with and riding my horses.
Author's Titles