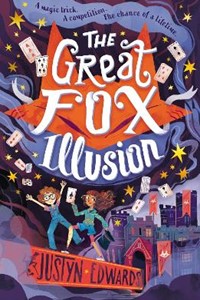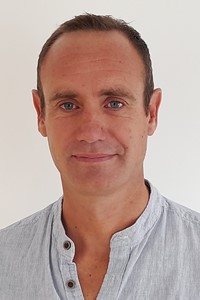 About Author
Justyn tells us about his magical novel, The Great Fox Illusion, where children compete to win the magical secrets of a famous magician.
Justyn studied archaeology but has never worked as an archaeologist; he has worked as a caravan park attendant, a paperboy and a software engineer. He has always wanted to be a writer, and his inspiration for The Great Fox Illusion came from watching magic shows and listening to the stories that magicians he tells their audience. He thought that stories themselves are a kind of magic trick, with the author choosing when to reveal his secrets to the reader. And so Justyn's debut novel was born.
Justyn lives near Camborne, in Cornwall, with his wife and two cats. 
www.justynedwards.com  /  Twitter: @justynedwards
Interview
The Great Fox Illusion (Walker Books)
April 2022
What secrets does the house of a famous magician hide? And which of the children, competing to find the secrets at the heart of the house, will succeed?  Author Justyn Edwards tells us about his magical adventure, The Great Fox Illusion, and what started his passion for performing magic!
Read a Chapter from The Great Fox Illusion
Review "What a brilliant read! Original and absorbing, full of magic, tricks and illusions, the book is bursting with puzzles for the reader to ponder"
Look out for magic, stories and illusions in this video of Justyn Edwards, who also reads from The Great Fox Illusion! 
Q&A with Justyn Edwards
1.   Can you tell us what brought you into writing for children, and what other kinds of work you have done?
I'm a software engineer who always wanted to write books, and it just took me a while to pluck up the courage to sit down and actually write one. The book had to be for children because I've always enjoyed middle-grade mystery or puzzle books and because children's books are the ones that shape you and stay with you. They are the ones you remember.

2.   What inspired your debut, The Great Fox Illusion, and its focus on magic?
I've always been a bit fascinated by magic tricks. Each one holds a secret that is right under your nose, and as you watch the trick unfold, you know you've seen the answer. All the clues are there. You have all the information, but it's been hidden. I love that feeling. Then I thought, What a great concept for a book!

3.   What happens in the story? Did anything help inspire its setting, a house of magic?
Flick and Charlie have to solve the puzzles left behind by a very famous magician in his old house. He expects them to work out the method behind various tricks. The house came from thinking about what someone might build if they had a ridiculous amount of money and they loved magic. And so, the Fox's Den was born.

4.   Can you tell us about your main character, Flick, and why you have given her a disability?
Disabilities have always played a big part in my family, and Flick embodies a lot of what I observe and admire in people who have disabilities. She works with what she has. Despite her limitations, she doesn't hang about and she takes no prisoners. She is a very determined young lady!

5.   Flick has a lot to battle through, including the way people respond to her disability. What would you like your readers to take from her experiences?
Readers with disabilities need to see themselves in books and enjoy their stories being told. Readers without disabilities need to learn about those that have them. I strongly believe everyone benefits from that interchange.

6.   The story is focused around magic and illusions. Do you perform magic? 
When I was a child, my parents had to occasionally endure a little magic show, and I've always found elements of it fascinating. I love tricks that do impossible things with everyday objects, and that feeling of wonder when you can't work out how it's done.

7.   Why do you reveal some magician's tricks in the story - aren't they closely guarded secrets?
I think finding out how tricks are done is nearly as fascinating as watching them. When I learn a bit about the method behind a trick, I'm then usually in awe at how clever someone was to come up with that idea. As for the secrets being closely guarded, why do you think I live at a secret location in deepest, darkest Cornwall?

8. There is one trick at the heart of the story, the Bell System, which we never see. Is it based on a real illusion?
All will be revealed in the second book, which I'm writing at the moment!

9. So, can you give us a glimpse into Book 2?
Flick and Charlie end the first book having stepped behind the curtain and into the world of magicians. They've put some noses out of joint in that process. In the second book, those rivalries increase, and Flick and Charlie find they have the attention of some very powerful enemies. They're basically in a lot of trouble!

10. If you could step back in time and see any of the magicians you mention in the book performing, who would it be?
I'd love to have seen any of David Copperfield's massive, live-on-TV illusions. There is no one really doing anything like that at the moment.

11. What do you enjoy doing when you're not at your desk?
I live in Cornwall, and I love running, walking and going to the beach. So, in the summer there are some beautiful places to visit.

12. Do you have any tips for aspiring magicians who might want to develop their skills?
Practise. Practise. Practise. I'd always wanted to be a writer, but it turned out I needed to do some writing first. It's a cliché, but if you want to perform magic tricks or write books or do anything, you need to have a go. And then you will need to do it again. And again, and again. I'm hoping my second book will be an improvement on the first…
Author's Titles