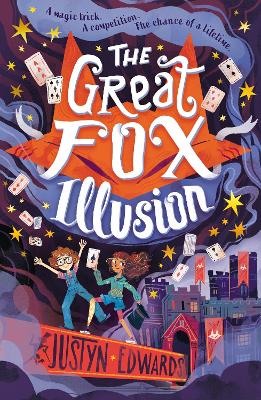 By Author / Illustrator
Justyn Edwards, Flavia Sorrentino
Genre
Adventure
Age range(s)
9+
Publisher
Walker Books Ltd
ISBN
9781529501940
Format
Paperback / softback
Published
07-04-2022
Synopsis
Secrets and illusions abound as a group of young magicians competes for the prize of a lifetime in this gripping adventure, the first in an enthralling new series from debut author Justyn Edwards.

"Magic is about dreaming what is impossible and making it possible. It's the innocent young mind in all of us that loves it. We want to be filled with wonder. We want to believe. I want the winner of this competition and the recipient of my legacy to dare to dream big. So, let The Great Fox Hunt begin."

13-year-old Flick Lions has won a place on a new television show, in which young people compete to win the legacy of the Great Fox, one of the world's most famous magicians. But Flick isn't interested in uncovering the Great Fox's tired old magic tricks - she's after something much more important. The magician destroyed her family, and this is Flick's only chance to put things right. Inside the Fox's house is a secret that will change the world of magic for ever, and Flick will go to any lengths to find it. 

"A delightfully tricky tale of magic and misdirection. A page-turner that's also great fun to read." M. G. Leonard, author of Beetle Boy
Find out more from the author Justyn Edwards
Reviews
Jacqueline
Flick Lions enters a competition to win a television contract for a magic show as the Great Fox's successor. The Great Fox, a world-famous illusionist has died and left a series of complicated puzzles to be solved. But no-on is quite what they seem, and Flick and the other contestants are all taking part for different reasons, not all of them entirely honest. As Flick teams up with Charlie, the race is on to work out the puzzles and win the secrets in the Great Fox's house; but it is not going to be an easy task.
The Great Fox Illusion is Justyn Edward's debut novel for children, and it has all the magic and suspense you would need when watching a master of illusion at work. At first glance there is a Charlie and the Chocolate Factory vibe going on - children vying to win a great prize and not all of the children are particularly nice. There is no build up, you are thrust straight into the heart of the story and it is a whirlwind of action from there.
It is clear the Justyn Edwards not only loves magic tricks but is a bit of a connoisseur when it comes to illusion. He namedrops many famous people and makes their tricks come alive in your mind, which is no mean feat for something that is written down. A few of the characters have disabilities or differences, not least Flick herself with her prosthetic leg, which never gets in her way, and Charlie who appears to be neurodiverse.
Suitable for 8 years and up, The Great Fox Illusion is an enjoyable read. With a striking cover by Flavia Sorrentino, who also illustrates the chapter headings, this book grabs you from the off and I for one am very pleased to hear that there is a sequel in the offing.
288 pages / Reviewed by Jacqueline Harris, teacher
Suggested Reading Age 7+
Sue
The Great Fox, world famous illusionist and man of mystery, has died and the 'Great Fox Hunt' has been launched to find his worthy successor. The competition is open only to children under 14 - the age he was when he first got into magic and a television show is being made of the event. Flick Lions is determined to win the competition, but she has her eyes on a far greater prize than the Great Fox's old tricks - she wants to recover the trick she believes the Great Fox stole from her father, who has since gone missing.
What a brilliant read! Original and absorbing, full of magic, tricks and illusions, the book is bursting with puzzles for the reader to ponder - and for Flick, and her partner, Charlie, to solve. Pitched against Harry and Ruby Townsend - who have their own agenda for winning - Flick and Charlie take on the challenges set by the Great Fox and those of appearing on a game show.
Flick is an engaging, strong character who is determined to win the competition for the good of her family. She has a prosthetic leg and the author does not shy away from showing the reader the pain it can cause her, developing empathy for her situation. Charlie has his own reasons for wanting to win the competition and as their friendship develops and they come to trust one another, sharing their secrets and making a formidable team.
This would make an excellent read aloud and class read with plenty of opportunities to introduce the children to magic tricks and illusions along the way. 'The Fox Files' at the end of the story explains how to perform a card trick which they are sure to love and might awaken a new interest or hobby in one or two of them! The whole story is brilliantly contrived, managing layers of secrets and illusions - and an ending which invites a sequel! I very much hope that there is one to come…soon!
288 pages / Reviewed by Sue Wilsher, teacher
Suggested Reading Age 9+
Other titles