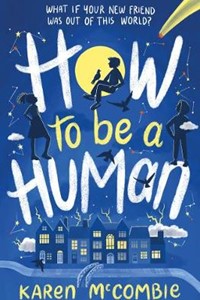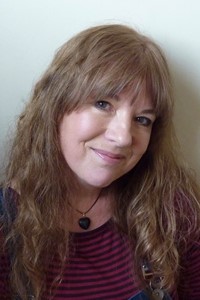 About Author
Best-selling author Karen McCombie explores unexpected friendships in her latest novel, How to be a Human.
Karen is a full-time writer but before that she worked for several teen magazines such as Just Seventeen, Bliss and Sugar in a variety roles - everything from Fashion Editor to Features Editor!  She has had more that 80 books published, with more than a million sold worldwide.
Karen was born and grew up in Aberdeen in Scotland, within sight of the oil rigs on the North Sea, but now lives in London with her Scottish husband Tom, English daughter Milly (who's been taught to say 'loch' in the correct way) and a Scottish Wildcat (well, near enough).
Read a chapter extract from How to be Human
Author link
Interview
How to be a Human (Star Boy 1) (Stripes Publishing)
August 2021
In her latest novel, bestselling author Karen McCombie explores unexpected friendships and what it means to be human, after an alien crash lands in the school playground. We asked Karen to tell us more about her novel and what to expect from this alien encounter.
1. Can you tell us about your new book, How to be a Human?
Kiki has just been kicked out of her friendship group for not being cool enough. Wes is a loner who's been home-schooled till now and doesn't fit in at Fairfield Academy. The Star Boy is a young alien who's crash-landed in the playground after an intergalactic educational trip goes wrong. Suddenly Kiki and Wes are forced to team up and look after the stranded stranger…
2. What helped inspire the story of a 'Star Boy' crashing to Earth?
The transition from primary to secondary school is a HUGE leap - it can be exciting or overwhelming, or more often a bit of both! And it's a time of friendships shifting and changing. I remember a friend's daughter found herself swooped up into a 'cool' crew as soon she started in Yr7 - much to her surprise! - but she got dumped when the others decided she didn't 'fit'.
That was the starting point of the book for me, thinking of the awkwardness of not fitting in. Kiki's story is of course based on my friend's daughter's experience. Wes doesn't quite fit because he's lived a pretty sheltered life, and is a target for bullies. And the Star Boy is the ultimate example of not fitting in, since he's from a different planet entirely…

3. If you could choose a line or two from the book that helps sum up the story, what would they be?
'An urge to be on the Outside suddenly gripped the Star Boy, the thrilling notion of using all his senses and not just his sight. What did clouds smell like? Could he taste sunshine? What would it be like to stroke an insect? Perhaps he'd catch a glimpse of a Human!'

4. How did you find Star Boy's voice - an alien learning about how to be human?
Star Boy is a total fan-boy of all things earth-related, after watching TV shows that have been intercepted from satellites and shown in his classroom. So he has a basic grasp of what human life is about, and a burning curiosity to find out more now he's actually here - but there's lots of scope for him to misinterpret things and get stuff very wrong!
5. What about creating his world and characteristics, how did that develop?
I tried to stand back from things and look at them as if I'd never seen them before. For example; nose hair. Why not mouth hair? It's what the Star Boy thinks when he turns invisible and gets to stand tantalisingly close to Kiki and study her face!
6. His experiences bring a lot of humour into the story - which parts did you most enjoy writing?
My favourite scene to write is when the Star Boy accidentally materialises in front of Kiki and Wes in the Music Room - due to a very random, undramatic and silly occurrence!
7. The story focuses on Kiki and Wes's unexpected friendship. Why did you make this central to the story?
I think you can - and should - always try and be open to different friendships (this goes for everyone at every age, but especially when you're at school). Having a tight friendship group is great, but it can be a bit claustrophobic sometimes. That's when it's fun to have other people to hang out with, like cousins or neighbourhood friends, or buddies you make at lunchtime or after-school/out-of-school clubs. Sometimes people you'd never think you'd get on with (like Kiki and Wes) can really surprise you, if you give them the chance.
8. You also play with Star Boy trying to make sense of Kiki's toxic friendships. Do you feel our friendships at this age are important in helping define who we become?
The secondary school years are a hugely important time in a person's life. For example I remember that I felt my emotions so fiercely - I could be absolutely giddy with happiness or in a deep sludge of boredom. Which makes sense now that I've read so much in the last few years about neurologists discovering that teenagers go through a MAHOOSIVE amount of brain development, making everything more magnified - in good ways and bad! And of course the sense of identity is all wrapped up in this; who am I? Am I like this group of people? Or that group of people? So again, for that chance to explore your identity, it's great not to be rigid and have only one type of friend or friendship group, if you have the opportunity.

9. Will we be seeing more of Star Boy?
Yes! I'm just editing the second of the Star Boy books; 'How to Hide an Alien' will be out in early '22.
10. Where and when do you do your best writing, and what are. you writing currently?
I write in the little back bedroom of my house, overlooking my teeny garden. But pre-pandemic, I used to pack up my laptop and take a walk most mornings through the park to the local garden centre café. The walk helped wake up my brain, and the café had the advantage of cake, which I don't tend to have in my house! These days the garden centre itself is open but they haven't got the café up and running yet… I'm yearning to get back to my usual table in the corner, near the cacti!
As for what I'm writing… once I finish the current edits, I'm going to play around with some new ideas and see where they take me!
11. What do you most enjoy doing when you're not writing?
I live in London, which is obviously a big, busy city, but it's also full of parks and woods, and there're several close by to me. I've always loved going for walks amongst the trees with my friends, chatting and catching up. And now that I've got a puppy - a white Westie called Bonnie - I'm in the parks and woods even more!
12. Which other contemporary children's writers stand out for you? 
One author I really admire is Philip Reeve, because he's so versatile. He can write awe-inspiringly good futuristic novels (I adored his 'Fever Crumb' series) and then hugely funny younger fiction, like the irresistibly silly 'The Legend of Kevin', illustrated brilliantly by Sarah McIntyre.
And while we're on the subject of illustrations, I so wish 'older' books had more illustrations in them! Everyone loves a good drawing!! Maybe I should start a campaign to badger publishers into doing that…
Author's Titles