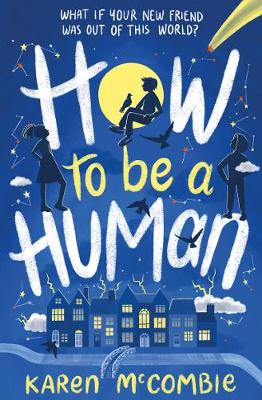 By Author / Illustrator
Karen McCombie
Genre
Friendship
Age range(s)
9+
Publisher
Little Tiger Press Group
ISBN
9781788951098
Format
Paperback / softback
Published
05-08-2021
Synopsis
Who said friends have to match to matter?  When the Star Boy's space-pod crashes in the grounds of Fairfield Academy he knows he must seek shelter. Taking refuge in the school's boiler room to await rescue he discovers that the room's small window is the perfect place to watch humans go by.
The Star Boy knows about humans from his Earth lessons but no one from his planet has ever studied them up close. Now he has the perfect opportunity. There are two humans in particular that catch his attention - a boy called Wes and a girl named Kiki. But as his curiosity grows so does his courage and, making a momentous decision, the Star Boy follows Wes and Kiki into class ... and into their lives.
A warm and otherworldly story about finding friendship in the most unlikely of places, for fans of Tamsin Winter, Cath Howe and Ross Welford.
Q&A and Video with author Karen McCombie
Reviews
Sam
How to be Human by Karen McCombie is a heartwarming story of family and friendship. A brilliant Key Stage 2 fantasy/sci-fi book about 3 rather unlikely friends. Star boy's (Stan) space pod has crashed onto the grounds of Fairfield Academy and he takes shelter in the school's boiler room to wait for the Master and the Others to come looking for him.
Kiki is happy to finally be part of the 'in crowd' at Secondary School, although she still feels a little uncomfortable about no longer hanging out with her old friends from primary school. Wes is a loner and a bit of an 'oddball', so it comes as no surprise that he regularly gets bullied by some of the more popular kids in school.
It's the Monday morning after a squirmingly, embarrassing disaster at one of her new friend's party at the weekend. Kiki tries to sneak into school without being noticed, but she soon finds she is not the only person 'staying out of the way' on the lower playground. It's here that Wes considers his personal reading corner, and here, on this occasion that Stan gets his first real sighting of the young humans. Excited by the opportunity to study the young humans up close Stan checks that the invisibility shield for his damaged pod is working and quickly decides to follow them to class…
At first glance a young reader may be mistaken in thinking this is 'just another early sci-fi read', however, it is so much more. With each chapter written from one of the three main character's viewpoint, the multiple narratives make this story even more appealing, giving each of the characters a distinct narrative.
How to be Human is a story of family, friendship, self image and peer pressure. A great independent read but also a super choice for a class guided reading text. There are numerous points of inference as the Stan describes things about Earth which strike him as odd, and Kiki and Wes gradually reveal things about their own lives. A thoroughly enjoyable read.
224 pages / Reviewed by Sam Phillips
Suggested Reading Age 9+
Beverley
Kiki is in Year 7 at Riverside Academy. She's lost touch with her old friends and is now part of the Popular Crew, along with Lola, Zainab and Saffron. Now she's trying desperately to fit in with them. Wes is in the same year, but he doesn't fit in at all. His hair is wrong, his clothes are wrong and he's bullied by Harvey Wickes and his gang. Kiki and Wes aren't friends - but that is all about to change.
When fierce storms and flooding hit the town of Fairfield, no-one realises that they have been caused by a mob of unruly aliens - and one of them has crash-landed next to the school! Kiki and Wes have to work together to keep the Star Boy (aka Stan Boyd) safe and secret, and they learn a lot about themselves - and each other - along the way.
This is a really clever and enjoyable book with some lovely characters. Kiki is an interesting girl. She knows that she has lost good friends by taking up with Lola but she feels under pressure to stay part of the group. I loved Wes - he too has a difficult home background but is self-sufficient and just lets the bullying he experiences bounce off him. The Star Boy draws them together. He sees things very simply; he realises that Lola is not a very nice girl, making Kiki question the relationship she has with her.
Star Boy also helps bring about the downfall of Harvey the bully in a most satisfying way! Some of his observations are very funny - I shall always call carpets "ground fur" from now on! The idea of an alien observing the behaviour of young adults is brilliant, and the author shows the reader how much pressure is put on them to conform to what their friends believe to be right. When Kiki behaves in a way that the Popular Crew don't approve of, she is ostracised and the author depicts her feelings so well. When people are making fun of Kiki on social media, she wonders "how was it possible to feel so noticed but ignored at the same time?" I'm sure many of Ms McCombie's many young readers will have felt this way at some point.
The author has cleverly written a story about space travel which is very accessible - we are not overwhelmed with too much scientific detail, but are given just enough information to make us understand a little of Star Boy's background and how he came to fall to Earth. The story ends with a very exciting finale, and the author has kindly given us an extract from her next novel - which is a sequel to How to be a Human! I can't wait to see how Kiki and Wes's friendship flourishes and what happens next to the wonderful Star Boy.
I loved this book and I am sure it will be hugely popular with young readers, both male and female. Bravo Ms McCombie!
224 pages / Reviewed by Beverley Somerset, School Librarian
Suggested Reading Age 9+
Other titles