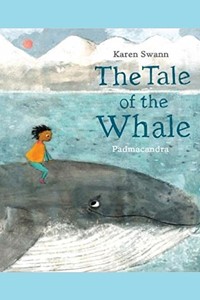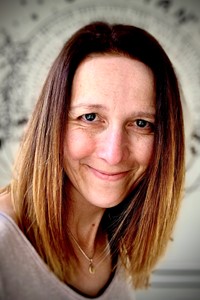 About Author
Karen Swann and Padmacandra's new picture book, The Tale of the Whale, takes us on a journey of exploration through the world's oceans, where the whale has a special message for us.
Karen Swann is an author based in Nottingham. She trained as a physiotherapist in a small town by the sea, and has always been a writer and storyteller. When she's not halfway up a climbing wall, she loves to write lyrical rhyming stories at an old Victorian scrub-top table.
Padmacandra is an illustrator based in Norfolk, (regularly visiting London, Cambridge, Norwich, Brighton, The Malverns, Edinburgh and Dundee).  As an experienced & creative workshop leader in mindfulness & poetry, she is keen to increase her experience leading events with children, helping to enable doorways into imagination, and new possibilities.
Interview
The Tale of the Whale (Scallywag Books)
February 2022
A boy and a whale travel with each other through the oceans, rejoicing at its treasures - and sorrowing at the hazards that now litter the waters. What can a young child do to help protect our oceans?  This is a lyrical, hopeful picture book about helping the environment and wildlife by author Karen Swann, beautifully illustrated by Padmacandra.
Review: "The Tale of the Whale led to wonderful discussions about taking care of the ocean, recycling and our shared responsibility to care for all living things and ecosystems, now and forever."
Find out more in our Video and Q&A with Karen and Padmacandra:
Q&A with Karen Swann, author
1.   How did you start writing for children? Which authors inspire you?
I have been making up stories with my children since they were little. From garden squirrels to the family dog, all the animals had silly conversations (usually in silly voices) and we spent a lot of time together just making things up as we played.
I also read to my children ALL the time and that is where my love for picture books was reignited. Picture books are special in the way that they foster imagination and explore the world from the comfort and security of a trusted lap. It was a natural step to start writing some of my ideas down and to start hoping that one day they might be part of other children's adventures.
I have a HUGE shelf of picture books in a great variety of styles, collected over many years and it would be impossible to pick favourites! I love a funny picture book that makes me snort my coffee (Jon Klassen, Chris Haughton, Mac Barnett) and also picture books that are beautiful illustratively (Erin Stead, Sarah Massini, Lane Smith, Gabriella Barouch, David Litchfield, and the incredible Shaun Tan). I also love a wordless picture book that makes me think (Aaron Becker, JonArno Lawson/Sydney Smith, Shaun Tan again!) and I am also very much drawn to beautifully crafted lyrical stories (Julie Fogliano, Kobi Yamada, Louise Greig - so many more!) Ultimately, it's the beautifully illustrated books with stories full of heart that leave you feeling something that are my favourites.

2.   Can you tell us a little about The Tale of the Whale?
The Tale of the Whale is a magical tale of friendship between a child and a whale as they go on a journey together and we experience the wonder and beauty of the ocean through the eyes of the child and Padmacandra's stunning illustrations. But the whale also has things he needs to show us about the effects our way of life is having on his ocean home, and we see this slowly appearing in the subtle illustrations through to the moment of realisation that we have together with the child.
It is also a story full of hope and determination that invites readers to consider their responsibility to the environment and hopefully opens a doorway to discussions about what we can all do to make a difference.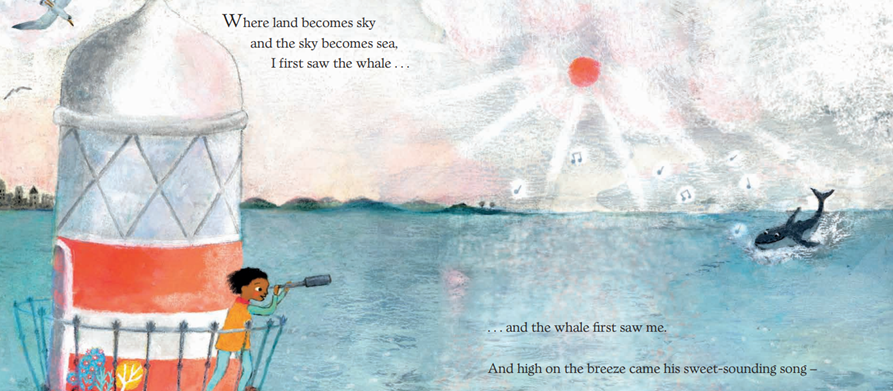 3.   What inspired this story?
I began writing The Tale of the Whale after becoming more aware of environmental issues such as plastic pollution and our over consumption of single-use plastic. I was beginning to make changes in the way that we, as family, shopped and used products. I remember thinking about the mascara (in a plastic tube) that I was using and that the whales didn't have a choice whether I had long black lashes or not, but I did!
I wanted to write something that looked at the issue of plastic in the ocean from the whale's perspective. What would they want us to know?

4.   Why did you decide to partner the child with a whale?
The whale came first, but I knew I needed to balance this story - it's not enough to just say 'there's a problem' without referencing the reasons why we should care. I have been fortunate enough to dive in some of the most stunning areas of the world including the Great Barrier Reef, and the oceans are a beautiful, wonderous place. I wanted to reflect that in the whale's journey and to show it through the eyes of someone experiencing it all for the first time, as I once did.
I realised the story needed to be the child's to tell as they were the one experiencing both the wonder and the shock of what they saw. By putting the story into the child's voice, I hoped that whoever was reading or listening to the story would experience the journey for themselves, and perhaps as a result would feel some connection and desire to make a difference.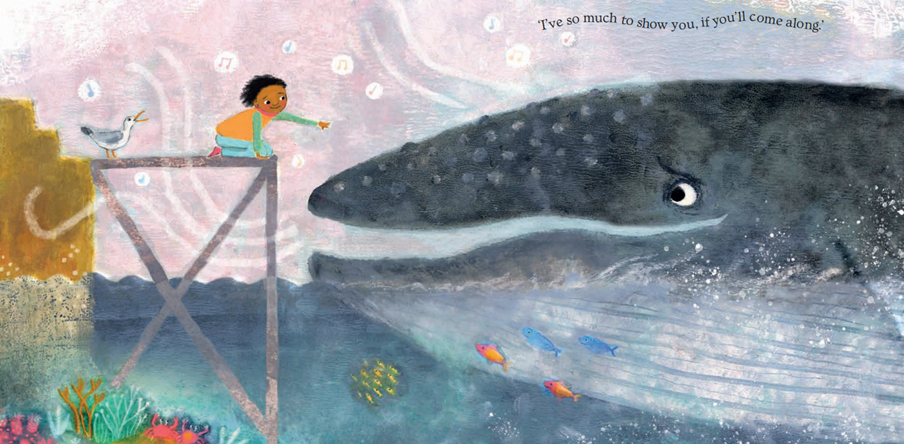 5.   Why did you decide to write it as a picture book, and to use rhyming text for this story? Was it difficult to write?
I love picture books as a medium for sharing experiences together. I write both rhyme and prose, but I always find that the story tends to dictate to you which style it wants to be written in.  Whale started as a musical couplet in my head that the whale spoke, and it went from there. I love the musicality of the rhythm of the words and the way they mimic the rise and fall of the ocean, so it felt like the right way to tell this story.  Was it difficult to write? Sometimes the words flowed easily like water. Sometimes it was like hitting your head on an iceberg. Hopefully you can't tell which bits are which!

6.   How do you give children hope about the environment, despite the difficulties we face? And what would you like your readers to take from the story?
The story ends with the child making the whale a promise - to tell the whole land - and asks us all to be a part of the change that needs to happen. Children are great empathisers and naturally ask the most important questions that make us all think!
I would like to hope that The Tale of the Whale might pave the way for discussions about the beauty of our oceans and the way that we share our world and live together within it, and that we, as adults, might find we are able to listen.

7. Have you been involved in beach cleans or other activities for the environment?
I think that beach-cleans and litter collections are a great active, immediate way to respond to what we see around us. But I also feel strongly that we need to reduce our over consumption of many things at source - to buy less single use plastic and reuse or repurpose what we can.
Our society has become very wasteful in its 'disposable' culture and, as consumers, we have influence if we change our behaviour by the choices we make. I actively try to reduce the waste we produce, buying fresh and unpackaged where I can and being more considerate of how products are packaged - from shampoo bars and refillable containers when shopping, to second-hand clothing and bring-your-own coffee cups - there are many things we can start to do ourselves to make a small difference. And we can raise awareness too - start a conversation.

8. What do you think of Pacmacandra's illustrations - any favourite images?
I have to admit to a bit of squealing when I first discovered Padmacandra's work and found out that she was likely to be illustrating Whale! Her illustrations are so full of depth and texture and compliment the text so brilliantly. She has really drawn out the amazing relationship between the child and the whale and we feel deeply the empathy between them.
I have lots of favourite bits! I love the child reaching their hand towards the whale as he sings, and the whale himself - so friendly and trustworthy. I love the arches spread for all its colour and detail - there's more to see each time you look! And I do also have a really soft spot for the polar bears on the cover!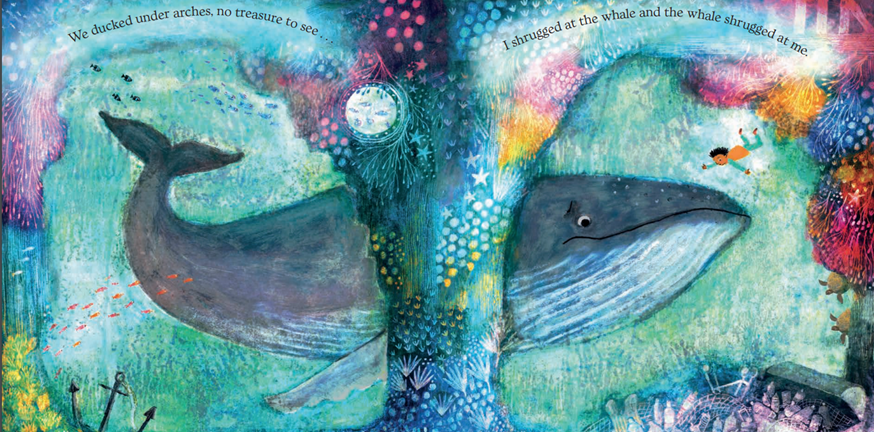 9. What are you writing currently?
I am always writing and have many more picture book stories to tell, quite a few of which are linked to the environment in some way. I also love to write more whimsical fantasy stories in rhyme where I can really let my imagination fly! My current work in progress is another lyrical rhyming story about a butterfly.

10. What do you enjoy doing when you're not at your desk?
You can usually find me halfway up a climbing wall! I love the challenge of problem solving that comes with trying new routes, as well as the physical exercise - it's a total body sport! It is also a very mindful activity. The wall needs your full concentration, so it is a great way to let go of everyday worries for a while.
I also I enjoy walking with my husband and our dog both locally and in the Derbyshire Peaks and find baking very therapeutic (I love to sing very loudly and very badly whilst I bake. Shhh, don't tell anyone!)
Q&A with Padmacandra, illustrator

1. How did you start illustrating children's books, and which authors / illustrators inspire you?
As a child I loved the idea of magically entering other worlds, and enjoyed fairy stories and fantastical tales. I used to search for a magical land with my younger brother that we called "duggiland", and imagine if I turned three times while standing on my top bunk, and knock on the wall, a door might open!
I was fascinated by some of the illustrations of such stories - such as those of Janet and Anne Grahame Johnstone. My Hungarian grandmother influenced me, and my grandfathers parents were keen picture book collectors, and artists/illustators in the arts and crafts tradition.
I thought this world of imagination might be lost to me as an adult, but through learning to meditate I realised that the magic was always available. Another way of accessing such magic was through drawing and writing. I love doing both (I've always been a doodler in margins), and I love picture books for children.
At a relatively late time in life (I am in my 50s), and with no previous formal art training, I enrolled in what proved to be an outstanding MA course in children's book illustration, led by Martin Salisbury and Pam Smy, at the Cambridge School of Art.
Illustrators who inspire me are really numerous. I find a lot of inspiration following my favourite people of past and present on Instagram and Pinterest. I think many of these draw on cultures with a rich folk tale tradition of either Eastern Europe, or Asia: Alice and Martin Provensen, Josef Pacek, Viera Bombova, Momo Takano, and Manon Gauthier to name a very few. I also love illustrators and authors from the "nonsense" tradition of the Victorians, such as Edward Gorey and Edward Lear
I am always striving to become more loose and spontaneous in my work, and feel I have much to learn (or rather, to let go of!). I would like to produce more "straight" artwork too, and am often asked if I have anything for sale. Its something I intend to explore further.

2. Why did you want to illustrate The Tale of the Whale? Did you need to research whales to help you illustrate it?
As part of my M.A. I started experimenting with monoprints and oil pastels and found myself creating some under sea scenes with whales, which featured in my graduation show. Sarah of Scallywag Press had already signed me to illustrate one of my own (rather more "nonsense" inspired) text. However, when Karen's text came in, she and Janice Thomson the editor absolutely loved it, and remembered my whale images. I was blown away by both the text and the message of the book, and feel incredibly proud to have been trusted to illustrate it as a debut illustrator.
And yes, I did do quite a bit of research on whales. There was a very fun correspondence about what type of whale the book was about. We chose the humpbacked whale as it is a wonderful singer, and very playful, often jumping completely out of the water in its displays. We also realised that it must be a male whale, because males usually travel alone, whereas females are often in groups with their calves.
It was also fun to discover the very specific routes that humpbacked whales take, and to find out about their feeding behaviour, as "baleen" whales. For authenticity, it was important to research which creatures our whale would encounter on his route between (in this case) the arctic and the equator.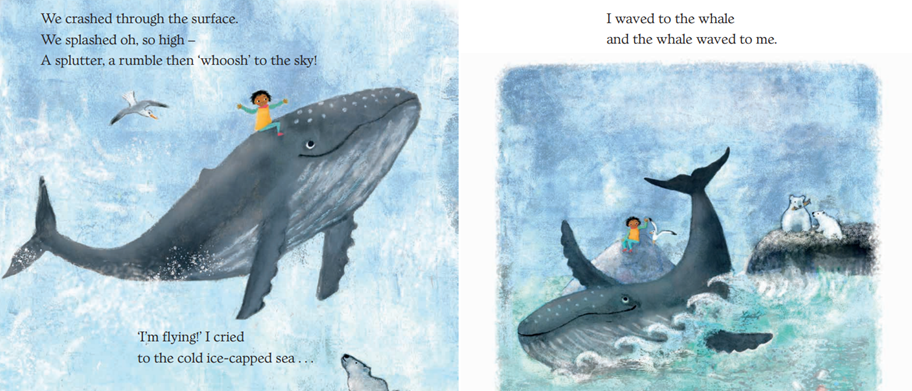 3.   How much freedom do you have in deciding what to illustrate?
I was given a lot of freedom about how to illustrate the book, although that was on the basis of work that the publisher and designer had already seen. I worked closely with the brilliant Ness Wood, book designer.
Firstly the words were finalised and some pointers discussed. For example, it was felt we wanted a gender neutral, diverse character for the child.  Then I submitted thumbnails of how I envisioned each spread to look, followed by more detailed monotone roughs based on the thumbnails, until all were agreed. Then the colourwork began.
Karen's skill in writing the text showed that she had really thought about the illustrations, which made my task so much easier and more fun.

4. What were the challenges in illustrating this text, for example, the perspectives with a child and a whale?
One of the challenges was scale! A whale can be as big as a 40 tonne lorry, whereas a 7/8 year old child is tiny in comparison. Fitting them both on the page, and keeping their relationship as growing friends relatable, was a challenge! Keeping a sense of liveliness in the child and whale was also a fun challenge.

5. How do you create your images and the textures we see on each page?
I used a method of layering dark upon light coloured crayon, and then scratching through to reveal the colours underneath. I also added monoprinted layers digitally.

6. Is there a spread you're particularly happy with?
A lot of people love the spread which shows the whale and child swimming through huge coral-like arches, and I'm also pleased with that one. Another popular spread is the close up between the child and the whale, where the sadness of both is evident. I love that it brings a real drama and focus to the situation.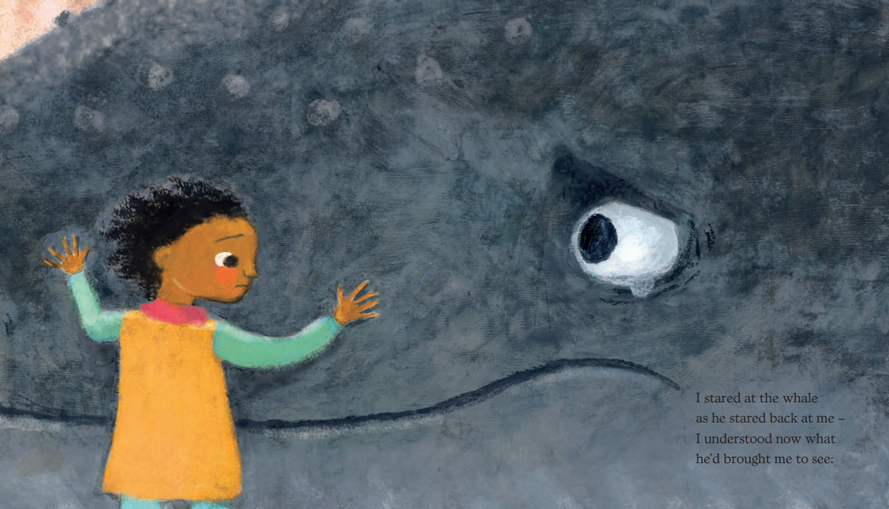 7. Are you working on other picture books?
I'm now working on a very different self-authored book with a comic twist. It involves a baroque castle setting, with some very bouncy children romping through it.

8. What do you enjoy doing when you're not in your studio?
I love meditation, and in fact have experienced my happiest most wholesome moments during, or as a result of, meditation ! I also love reading, and occasionally writing, poetry.  I love walking in all sorts of weather, and delight in the varied wild landscapes of the UK. Where I live I can walk from my doorstep straight into countryside. I enjoy all the ever changing colours, smells and views.
I also have another job working with the elderly as a live-in P.A. I find this fulfilling. It often involves small moments of love.
Author's Titles