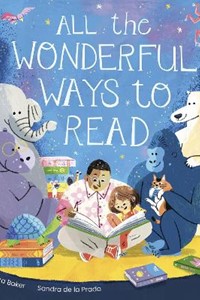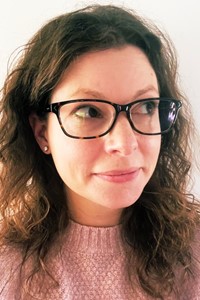 About Author
Laura Baker is the author of all sorts of books for children. She has written about feelings, farms, the magic of books . . . and even talking onions! Laura grew up in Canada but now lives in a lovely town on the coast of Wales with her husband, two boys and big basset hound dog.
Interview
All the Wonderful Ways to Read  (Little Tiger Press)
March 2023
ReadingZone's Picture Book of the Month, All the Wonderful Ways to Read, is a real celebration of books and reading - however you most like to do it. Upside down, perhaps, sitting in a tree, or how about in a tent? And what kind of reader are you - fast, or slow? Do you choose books with pictures, poems or facts?  All the Wonderful Ways to Read by Laura Baker, illustrated by Sandra de la Prada, encourages us to enjoy reading, wherever we are and whatever kind of book we like to read best. 
"Books have the power to take us anywhere - where will you go?"  Here, Laura tells ReadingZone how her own family inspired her to write All the Wonderful Ways to Read, how she hopes it will encourage new readers, and what is her own favourite way of reading!
Q&A with Laura Baker
1.   How did you become a children's book author, and how important are books and reading in your career?
Books and reading are everything in my career! I tried a few different things before becoming a children's book author - government work, technical writing, marketing writing, adult publishing - but they weren't quite right for me. Eventually, I found my dream job and worked for seven years as an editor in a children's publishing house. That was incredible experience to learn about all the aspects that go into making a book, and I loved working with some wonderful authors, illustrators and designers. I made the move to freelance a few years ago and have been focusing more on writing my own stuff since.

2.   Can you tell us about your new picture book, All the Wonderful Ways to Read?
All the Wonderful Ways to Read is a celebration of all types of reading and all types of books. It shows all types of readers - readers in a twist, hesitant readers, voracious readers - and all types of reading - picture books, board books, graphic novels, non-fiction, big books, small books, even the shampoo bottle! The book shows that everything is reading, and it's all about YOUR reading journey. Books have the power to take us anywhere - where will you go?

3.   What inspired this story - what made you think about the ways we prefer to read and the joy in reading?
This book was completely inspired by my eldest son. He reads everything he can get his hands on, and he's always in some sort of funny reading position! One night we were reading bedtime stories and he just started doing funny poses - upside-down reading, dancing reading, lying-flat reading - and the concept of 'how will you read' was born.
I also thought about how different my two boys are. The eldest (now eight) read picture books from a very early age, and moved on swiftly to novels. He also likes to read on his own. In contrast, my younger son is five and still prefers novelty books. He loves getting his hands on the flaps, sliders and sound buttons, and he loves the simple words that he can read himself. He prefers to cuddle up to read together. I think there's joy in reading any of these ways, and I really wanted to celebrate that.


4.   What's the most unusual way to read that you've come across?
Again, my son has shown me so many! Anytime we go to the library, I have to guide him home, because he's got the book right up in front of his face while walking along the pavement. One time we found him lying across the TOP of the sofa. Another time he was at his brother's football practice, his foot twisted in the net, completely oblivious to everything going on around him!
I sent some of the photos of him to the publisher, and some of the characters who ended up in the book are definitely inspired by them, but of course Sandra brought her own wonderful ideas to the poses too.

5.   Which 'wonderful way' do you like to read? How will you celebrate reading on World Book Day?
My favourite way to read is curled up under a blanket, sunk into a cosy chair, with a cup of tea (and maybe some chocolate!) next to me. I love going on a cottage holiday and hiding away inside to finish a book. World Book Day will be a bit busier, but the perfect way to celebrate reading together and the power of books - I'll be visiting a local school, talking to the children about our favourite books and ways to read. We'll be making our own bookmarks too!

6.   What do you think of the illustrations by Sandra de la Prada - do you have any favourite spreads or moments in the illustrations?
Oh, Sandra's illustrations are so gorgeous! This book is so special to me, and I feel Sandra has made it special to everyone else as well with her beautiful artwork. I love that there is so much to spot on each page, and a character for everyone to identify with. My boys love choosing which one they are!
I can't pick a favourite because I love it all, but I do have a soft spot for these elephants, who remind me of me and my youngest. I also really love the snail! Oh, and the endpapers are just incredible too.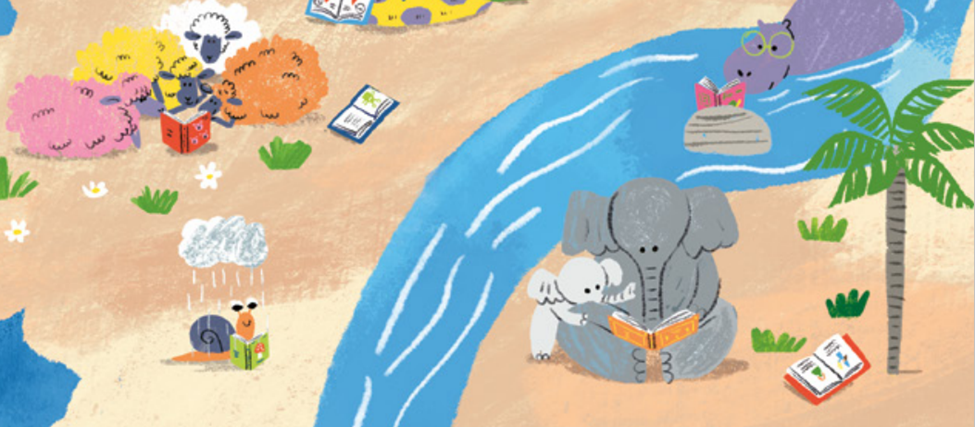 7.   What kinds of reading activities would you like All the Wonderful Ways to Read to inspire, in homes and in schools?
I really hope it inspires a discussion of each individual person's favourite type of reading. Some children might be big readers, and others might not - and that's okay! Some might like joke books, others might like magazines; some might like being read to while others like to read alone. Some might read slowly; some speed along. It's about finding the joy in reading and everyone's right as a reader to carve out their own journey. I think the book lends itself to plenty of fun activities, such as writing book reviews, drawing your favourite reading position and even designing a dream reading den.

8.   Do you also think your picture book can help inspire children who don't like reading to love books more?
I hope so! As the blurb says, this book should encourage you to 'read whatever, however and wherever YOU choose.' The choice is yours. I hope it removes the pressure of a reader being only someone who reads quickly and a lot. The book spends time on readers who only 'peek' and those who haven't found the right book for them. I hope this encourages children to find out what that book might be! Sharing the book together could also start a discussion on what might get reluctant readers into reading. The book also moves into books as an escape and shows where they can take you, which I hope inspires some curiosity.


9.   What other picture books do you have planned? What are you writing currently?
Coming up next is a slight change of pace - a series about zany monsters! The first one publishes in April, called Monsters in Trucks. Following that I have a mix of funny, sweet and energetic books to come, but I'm afraid that's all I can say for now!

10.   Other than reading, what are your favourite escapes from your desk?
My big basset hound pulls me away from my desk for a walk every day - although he's getting older now so it's more of a very slow wander! I love going for family walks on the weekend. We live near the coast in Wales so there is so much to explore. And so much inspiration to be found!
Author's Titles