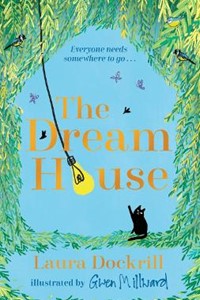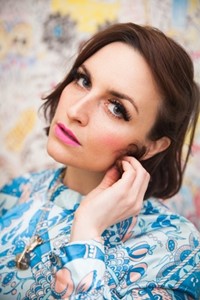 About Author
Laura Dockrill, a performance poet and novelist, has written her second book focusing on children's mental health.  The Dream House, a story about bereavement, follows Butterfly Brain (both published by Piccadilly Press) about memories and grief. 
Laura grew up in Brixton and attended the Brit School and has always written creatively - from poetry to novels and scripts to song lyrics. She is author of the Carnegie Medal nominated YA novel Lorali, as well as the Darcy Burdock series (Random House) for younger readers. Laura has appeared on Blue Peter and CBeebies and is a frequent poet performer at festivals including Glastonbury, Hay, Edinburgh, London Literary Festival and Latitude.  
Laura lives in London. You can follow her on Twitter @LauraDockrill.     Image by Sonny Malhotra
Download a chapter from The Dream House
Interview
The Dream House  (Piccadilly Press)
September 2021
Author and poet Laura Dockrill's new book The Dream House, like her earlier novella Butterfly Brain (both published by Piccadilly Press), explores how children cope with difficult experiences, including bereavement and loss.
In The Dream House, described as a 'sketchbook novella', we meet Rex who is staying with his godfather, Sparky. Rex doesn't say much but draws how he feels in his sketchbook. Sparky's garden holds the 'Dream House', a space just for Rex, a place he has always loved. Now, however, going inside the Dream House will mean revisiting the ghosts of his past...
In this Q&A, Laura describes her own experiences with mental health issues, what inspired this story, and why she feels it is so important for children to be equipped with the knowledge they might need in the future to support their own mental health.

1. Can you tell us a little about your writing career to date?
Thank you for calling it a 'career'! Sometimes I think I'm just inventing and imagining and trying to call it a job, other times I feel like I'm waiting for somebody important-looking with a briefcase to tap me on the shoulder and tell me that I need to get a 'proper real-life' job or else I'll be reported. It also feels extremely ad-hoc, like I'm making it all up as I go along.
So I have written since I was old enough to hold a pen, I always loved telling stories in all forms and drawing too, but found a real connection to live storytelling; poetry, script, monologue which I kept up with all through my childhood (I mean talk about a lifelong hobby!).  In my late teens I then began writing and performing live on stage at festivals, theatres, libraries and literary events, I found this way of reading - although it seems scary now - like a comfort blanket because I wasn't confident with my work on the page, I was insecure about my spelling and grammar and my lack of a 'big vocabulary', and so reading aloud gave me capacity to add tone, meaning and feeling to the work, to light a fire under the words, to help the story leap off the page. Reading out loud is also a great editor, you can learn immediately what bits work and what don't - oh trust me, you know! Without reading in this way, I don't think I ever would have got published.
I was published in my very early 20's after an editor saw me perform reading live and we simply turned the poems, stories and monologues into a book! Since then, I've just kept writing. I write if I'm happy, if I'm sad, no matter the weather, no matter what is going on. Writing is a constant for me, a part of my identity. I am not myself without it. And losing that ability, that desire to write (which has happened to me only once), had such an impact on me and inspired the thought behind Rex and his sketchbook in The Dream House. Thinking about that, it's really sad really that we could love and be good at something like storytelling and just because we don't believe we have the academic 'skills' or 'tools' to pull it off, we leave it behind, we close that door. Good storytelling has nothing to do with spelling, grammar and a rich vocabulary; to tell a good story all you need is a brain and a heart.

2. What is your new book, The Dream House, about?
The Dream House is about just that, when a something challenging happens to us and how we lose our own identity in the process, when we can no longer access the things that make us us. Trying to process something unfathomable whilst also existing. Overwhelming emotions and not knowing how or where to file them. It's about grief. I have never experienced the loss of somebody close first hand, but I have experienced something challenging (which I'll talk about below).
There was a moment in time where I saw my Dad go through the loss of his dad and lifelong best friend at the same time and it hit him really hard. This new story is an original one, reimagined and inspired loosely around watching my own dad experience grief collaged with the loss of a great family friend that we all love and miss very much. It was very painful for us seeing our own dad shrink into a child. Not knowing what to do or how to 'fix' it. I felt like my Dad's feet never touched the ground, like he'd been frozen in time. I thought a lot about him as a child during this time, which is where Rex and Sydney (Rex's new friend) came from.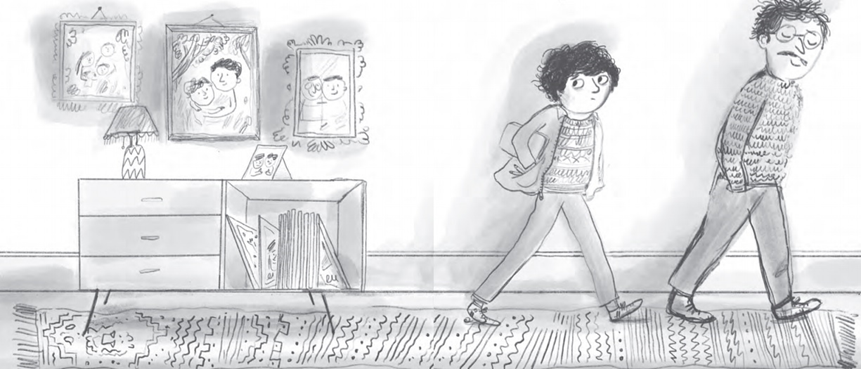 3.   What inspired the 'Dream House' in the story?
The Dream House itself is inspired by a real place and I always knew I wanted to use it in a story one day, I was just waiting for the right one to come alone.
My dad's best friend, our 'godfather', is a man called Krissy Wardie. He has big blue eyes and shiny silver hair that always stands on end, he is always smiling. When I was a little girl, Krissy Wardie, who had no kids of his own, built us a wooden, shed / hut/ Wendy House thing, underneath the big willow tree at the very back of his garden. It was a perfect spot, here where the grass was long and happy, the frogs hopped and flowers grew wildly. We grew up in the city, we didn't really have a big garden of our own - so this, to us, was just completely other-wordly. Krissy Wardie called it 'The Dream House.'
The Dream House had a roof, a real glass window, and a rounded door with a latch so nobody could come inside without knocking and to look at it, you wouldn't even know it was there, hidden away under its drapes of green leaves. Inside was even more magical. Krissy Wardie had found some off-cut scraps of old itchy grey school carpet in a skip which he'd used to cover the floor, and two old school wooden desks with the ink wells and flappy up lids which he'd always fill with colouring books and crayons, books, comics, magic tricks and pranks. The walls were covered with pictures of lions, giraffes and dolphins. Krissi Wardie was an electrician for his real-life job and so the Dream House was lit with real lights and even had a little heater for the winter - it was like a Gingerbread House from a storybook, a grotto.
My little sister and I absolutely loved it here, we'd spent weekends making, drawing, playing and dreaming. I wrote many stories inside the four walls of that house. In fact, we loved it so much we recently fought over which one of us could get it moved into our own back garden! But I think we both secretly know that the Dream House cannot, must not, be moved. That that's where it belongs in the garden…so this naturally felt like the right location to set Rex and his messy, painful world inside.
The Dream House is an empathy story. It is about friendship, grief and growth. What's truly remarkable are Gwen's incredibly moving illustrations - how true to my memory they are. And it is just a pleasure to bring to life and share the beauty of the dream house with younger readers, writers and dreamers.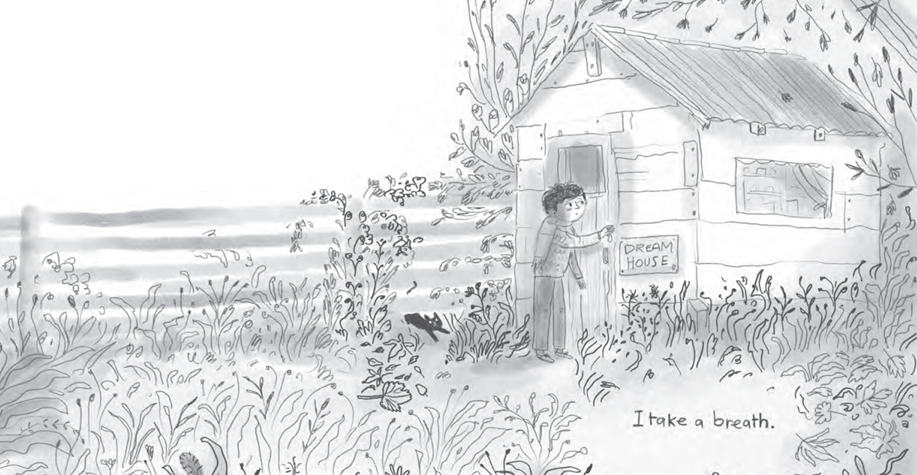 4. Can you tell us how The Dream House links in themes with your earlier children's book, Butterfly Brain, exploring mental health and memories?
Sure! I have always been a person (and writer) both in my real life and in books that truly believes the world is beautiful, happy and joyous. Maybe annoyingly so. People used to joke that I constantly had rose-tinted glasses on. I truly thought life was one 90-ish-year-long knickerbocker glory with sprinkles on top and I held the long silver spoon and couldn't wait to dig in, each layer of cream or chocolate sauce or fudge brownie promising adventure, experience, love and happiness!
And then, in 2018, after the birth of my son, Jet, following a traumatic and chaotic birth, I got severely mentally unwell and was hospitalised in a psychiatric ward when my baby son was just three weeks old. This experience changed me forever. It took me months and months to recover and has changed (for the better) my whole outlook on life. I still believe life is a beautiful knickerbocker-glory with sprinkles on top, it's just that not all the layers are tasty. Some are difficult. Some are cement. Some might even be poisonous. And that's ok. But there's still the gooey goodness to come, still, we keep digging. We don't give up.
Both Butterly Brain and The Dream House books are actually very special and have a poetic strangeness to them that wasn't deliberate. I see them as twins. They are connected and have lots in common. Both of them were actually written for the stage - Butterfly Brain was written to be read with orchestral music at London's Wigmore Hall (I was too unwell to see the show, sadly) and The Dream House for a children's play. Both were written before I got unwell and yet, here they are, standing up, touching on themes that I went though and lived through (of course not exactly the same.)
My incredible editor, Jenny Jacoby, really worked to salvage these stories from the wreckage. When I was at my lowest, when I believed I had no future on the other side of my illness, Jenny pumped life into them, stitched them together and breathed new life into them. Once I got better, I was able to have new editorial turns on the work with fresh eyes and new skills too - like insight and wisdom. Bringing Gwen in to electrify everything to life made the whole thing move as one, brought the two pieces together and made these worlds the magic they are now. I feel they are so beautiful, they are not mine at all - they are Jenny's! If it wasn't for her, these books wouldn't exist. I'm just so grateful and happy to be here to see them set free into the world!

5. Why is it important to have subjects like these covered in children's books?
I really feel if I had had some education about mental health and illness when I was young, it would have informed me and helped me ask for help and get the medical attention I so desperately needed. If we take these 'heavy' taboo topics out of the darkness and throw them into the light, talk about them, share experience, we are doing an enormous amount of powerful work that outlives the pages of a children's book - we could be opening up conversations that could go on to save someone's life.
Knowledge is power and so to pretend these themes don't exist is actually disarming young people, removing the agency and skills they need to tackle challenges and experiences in life. That said, I understand, schools are doing an incredible job now teaching mindfulness, so there's lots to celebrate, but there is still lots more to be done.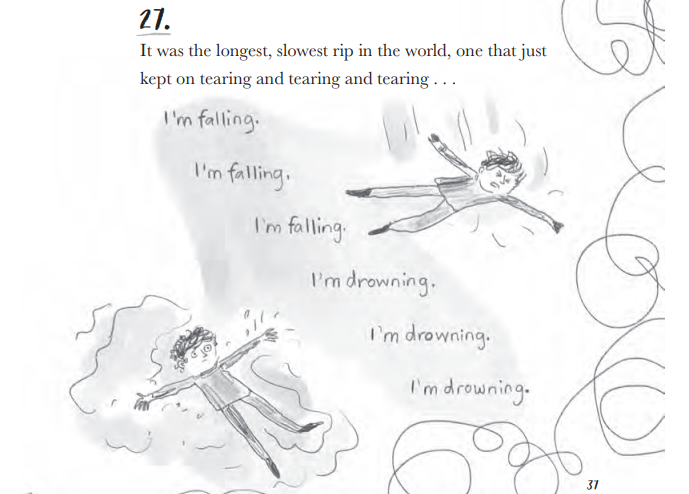 6. Was The Dream House a difficult book to write?
As said, as it was part written before my illness, returning to it was a bit scary.
I think it spent a long time sleeping in my inbox, Jenny softly nudging at me to get back into the work. In truth it was very cathartic; writing about The Dream House itself was completely wonderful, the description of the garden was about four pages longer than what you find inside the book because that place was just so enchanting and visual for me, I felt like I was painting with memory and poetry.
For me, ideas are like little ghosts that don't leave you alone, they haunt you until you catch them, pin them down and catch them into some work - on stage, on audio or here in the pages of a book. And The Dream House is a ghost that's been haunting me for a while! And now it's been caught.  Phew. I can rest.

7. How did you find Rex's voice, and understand how his father's death might affect him?
Rex is a mixture of lots of people all jumbled up - some I have to keep to Rex for the privacy of our friends, but there is lots of truth in Rex's experience. I tried not to think or question too much, I just wrote from the brain and heart using memory. The sketchbook was a brilliant device to have as it allowed him to delve into his consciousness and plunge into his thoughts and dreams. There are two journeys going on - Rex's journey towards The Dream House and his journey towards acceptance and permission to grieve.
 
8. Can you tell us about the writing process for The Dream House and how you have used the blend of narrative, speech and poetry, as well as illustration?
Yes! The sketchbook again was so great for this, it allowed us to free up language and play about with text and form, in fact, in earlier passes we were even more courageous, splashing whole pages with words and blocking out chunks of text - it became a bit too inside itself that way and Jenny and the artistic team really helped to make the read accessible and light still, even though it talks of such heavy matters.
I am really happy with the balance because ultimately, it is a piece about hope and love. About recovery. For me, the breaks and switches in form - blend - as you say, which I like - is really important because emotion isn't always that easy to capture. Mental health is often invisible and difficult to describe unless you live inside it, so it was important to show what we could on the page using illustration and text. Life isn't linear, it doesn't move in nice straight lines, and I wanted to show that on the page.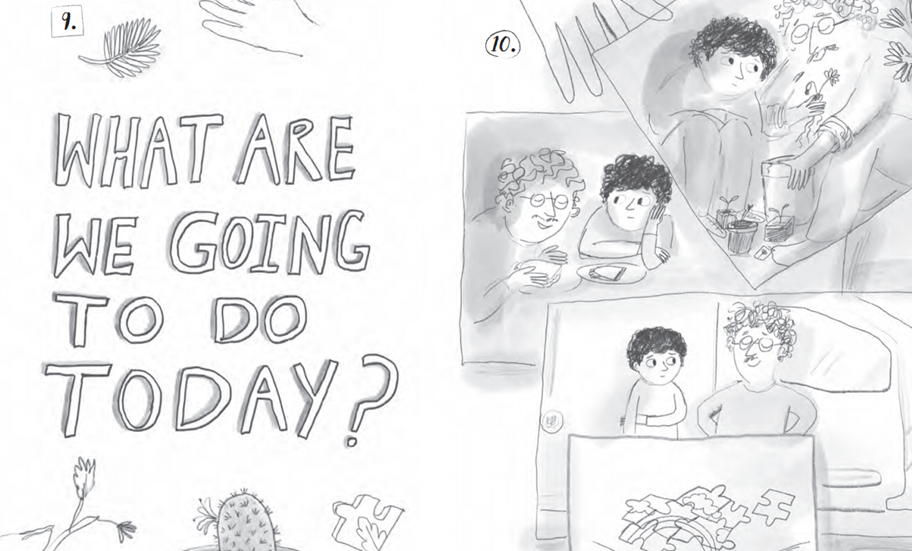 9. Why do you give the characters symbols next to their speech instead of naming them? For example: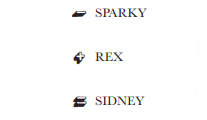 This was a hangover from the playbook version of The Dream House, which as Sparky is an electrician and the house encounters black-outs, I wanted the stage to be all wires and roots - it is a complete duality of science and nature, of messy plants and plugs, wires and roots, growth and light - so the characters were a nod to the electricity world.
This was to explore Rex's fear of the garden vs the hospital, the metaphor of his Dream House, with visiting his dad in the hospital bed. The connection and conductivity between these two warped worlds that never seem to meet and yet here, now, somehow do.

10. What did you think of the illustrations by Gwen Millward?
Gwen is the absolute best. She has such an emotive softness to her work, she seems to capture sadness, anger, confusion and terror so beautifully, in a child-like way that always lands sophisticated and elegant. I love her work in full colour as Butterfly Brain explores and here in the sketchy pages of The Dream House. She manages to recreate memories of my own or images in my head.
The very greatest trait about Gwen's work is its sneakiness, she lures you into an image - you're thinking oh, how sweet, and before you know it - you are crying your eyes out!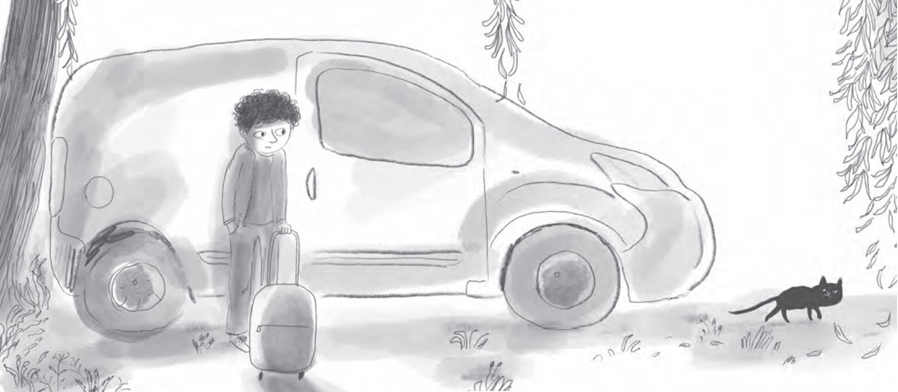 11. How does your writing day go, and where is your favourite place to write?
Well, I have a very bossy CEO to report to - my toddler - so when he's busy and off my back, ideally a day goes like this. We are up early and have tea together then I'll try and have a walk or throw my sleepy self on the exercise bike. Exercise really warms my brain up as well as my body! It's important for my mental health too! Especially as the rest of the day I'm sitting at my desk.
Then I change into clean pyjamas and plonk myself down with a large cup of tea and some toast. Eating is also really important when I write, I need lots of fuel to keep going. I have to feel really comfortable to rocket-ship off in my brain, which is why I can never seem to write in cafes or libraries, I get too distracted and self-conscious, plus I need to feel what I write, I make ugly faces when I write, I might even pick my nose or have to do a million and one wees! It's just me, my desk and the window in front of me looking at the trees...

12. What gets you through if your writing isn't going well?
Living! You can't write if you don't live. So I stop what I'm doing, reach out to a friend, have a cup of tea or a walk. I'll play with my son, do something fun. Take the train to my sister's house and sit in her big sunny garden with my niece. I'm very fortunate to live in an incredible city with art and opportunity on our doorsteps, so art galleries, parks, museums, wildlife, forests.
I love cooking too, so I'll try and be creative in that way, I rummage the cupboards and invent something new, that always distracts me. I love film - so give myself permission to roll onto the sofa with a big blanket and have the day off if I need to, watching films - which actually still very much counts as work.
For me, inspiration doesn't just come from books, stories are everywhere, in all forms of art; music, food, art, film, TV, so it's still feeding my head. But it's important to listen to yourself and give yourself breaks when you can. Resting is a must and a skill to learn in itself, when you work for yourself it's easy to beat yourself up or feel guilty for not working all the time, but it's part of the job. Existing is still working (and actually counts as research!)

13. What are your favourite ways to relax? Will this change much post lockdown?
I love car trips!  Being in the car with Hugo and my little boy, singing along to the songs on the radio and getting little sandwiches and bags of crisps from the garage. Cooking for my friends and bath bombs! Big, massive fizzy rainbow ones that dye your whole bath green!
Author's Titles