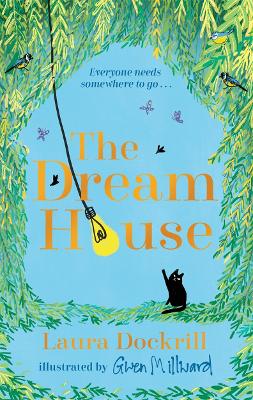 By Author / Illustrator
Laura Dockrill, Gwen Millward
Genre
Bereavement
Age range(s)
9+
Publisher
Templar Publishing
ISBN
9781848129450
Format
Hardback
Published
09-09-2021
Synopsis
Everyone needs somewhere to dream. The stunning new book from one of the most original and interesting voices in children's literature.
Rex has gone to stay with his godfather, Sparky. Rex doesn't say much but that's OK because Sparky is always on hand with a cup of tea to enjoy on the sofa, set up outside like an outdoor living room. Rex has his sketchbook, and he draws how he feels even if he doesn't talk about it. And in Sparky's garden, hidden under the canopy of the willow tree, is the Dream House: a lovingly created space just for Rex, to dream, to play, to think, to be. A place he's loved all his childhood. But to go inside now Rex must summon his strength for revisiting the ghosts of his past . . .
An evocative sketchbook novella revealing a boy's inner world, accessing his feelings through drawing and reconnecting with the people who love him, told through Laura Dockrill's vivid storytelling. Fully illustrated throughout by Gwen Millward.
Q&A with author Laura Dockrill
Reviews
Bryony
The Dream House by Laura Dockrill is part novella, part verse and part graphic novel. Just over 100 pages of text and pictures draw the reader into Rex's world. Containing text and illustrations in a 'scrap book' style, this is a unique book. Rex is staying with his godfather, Sparky, following the death of his father. The plot explores Rex's experiences of grief, love and memories when he returns to the Dream House.
Dockrill masterfully explores the relationships between Rex and his family members through short chapters. The illustrations by Gwen Millward bring the lyrical text to life. Each of the five characters in the book is represented by a symbol, which is used in place of speech marks. Initially I had to keep flicking back to the key at the beginning but I soon grasped who was speaking to who.  Millward captures the confused emotions around grief through her drawings; the sadness and dark places mixed in with memories and moments of happiness.
A super exploration of grief, family and memory, this would be a good text to explore with bereaved children. It would help children who know someone experiencing a loss to understand their feelings too. Initially this text looks simple and short but there are many layers to be explored on multiple readings. It is suitable for upper key stage 2 and above (9+); younger children would be able to access with some support.
112 pages / Reviewed by Bryony Davies, teacher
Suggested Reading Age 9+
Jennifer
I love the style of Laura Dockrill's writing - it is original and lyrical and absorbs the reader entirely into the multi layered thoughts and consciousness of its main character.
This is a beautifully moving story of a boy struggling through the stages of grief after the loss of a parent.  Rex goes to stay with sensitive, supportive godfather Sparky (dad's oldest, best friend) to try and escape painful memories and reminders of his dad's months of illness at home. Rex feels adrift; cut off from his love of nature and drawing and unable to process thoughts of his dad and come to terms with how his illness altered their relationship. When he rediscovers his childhood Dream House in Sparky's garden, built by his dad and Sparky, will he be able to open up and allow himself to face the realities of grief and of being able to remember his dad lovingly, too?  
When Rex hears a voice over the wall and then meets a curious by called Sidney, the reader is kept intrigued and enthralled too by what is real and what is not. Is Rex's grief stricken mind playing tricks on him? Is Sidney real? A ghost of his father? A voice inside his own head?
The powerful, honest writing of Laura Dockrill and absolutely stunning illustrations and sketches of Gwen Millward make The Dream House an incredibly emotionally-charged story. As with her previous book about parental loss, Dockrill takes great care and responsibility to balance the fear, confusion and heart wrenching pain of grief with the joy, warmth and pure love contained in the precious moments and memories of our lives. She doesn't shy away from the bleakness and heartache but, at the same time, she wraps the reader in gentle comfort and warmth and moves with them on the emotional journey she creates.
This book moved me to tears and made me smile and cry in recognition of all the emotions it contains. The last few pages are amongst the most powerful and beautiful words I have read for a long, long time and touched my heart completely.
112 pages / Reviewed by Jennifer Caddick, teacher
Suggested Reading Age 9+
Sue
Rex has gone to stay with his godfather, Sparky, but a lot has changed since his last visit... Rex has lost his dad and is struggling with overwhelming grief. He no longer talks much and even finds it hard to draw like he used to. However, with love and support, he gradually finds himself again.
In The Dream House, Laura Dockrill has created a powerful, tender story which really explores grief from a child's point of view. Rex has been sent to stay with Sparky, his dad's best friend, and although his mum has said she thinks it will be good for him to get away, Rex is left worrying that she really means she can't deal with him. This idea is sensitively explored, allowing children to empathise with Rex and offer the chance to discuss and explore his feelings. Sparky is a wonderful character who shows how men can be sensitive and supportive. Rex's dad used to be annoyed by this at times, but now his son is benefitting from the guidance of this tender man.
As an adult reader, I had to pause many times to shed a quiet tear whilst reading this book. Although a slender volume, The Dream House is fully charged with emotion and written in evocative, lyrical language, beautifully illustrated throughout by Gwen Millward. It is a very special book, offering comfort and hope to all who read it.
112 pages / Reviewed by Sue Wilsher, teacher
Suggested Reading Age 11+