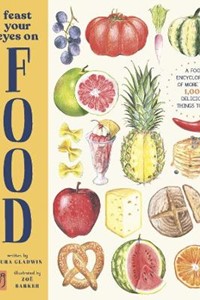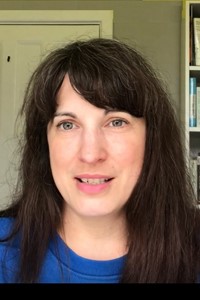 About Author
Laura Gladwin trained at Leith's School of Food and Wine before working as a freelance chef. She then spent five years at one of London's biggest party design companies, where she devised spectacular cocktail lists for more than 500 events. She now works as a writer and editor specializing in food and drink, writing for the Good Food Guide and editing high-profile cookery books for chefs including Ferran Adrià, René Redzepi and Heston Blumenthal.
Zoë Barker is an illustrator gifted with powers of visual trickery, using watercolour washes and intricately textured graphite to create portraits, still-lifes and character designs that convey impressive visual depth. She lives in London where her clients include Soho House, Ralph Lauren and Liberty of London.
Interview
Feast Your Eyes on Food  (Magic Cat Publishing)
September 2021
As its name suggests, Feast Your Eyes on Food is a treat for the senses, a love letter to the food we prepare and eat, and a gentle reminder of how to eat well and how we can explore the environmental impact of what we choose to eat. 
In this video, author and chef Laura Gladwin tells us more about the book and shares some pages with us, with a Q&A to follow with Laura and illustrator Zoë Barker.
Q&A with Laura Gladwin
1 What inspired you to create this delicious book, Feast Your Eyes on Food?  
I love food: picking it, preparing it, cooking it and eating it. I trained and worked as a chef when I was younger, and I've been writing and working on cookbooks for a long time.
When we first talked about the idea for the book, Rachel (the publisher at Magic Cat) and I felt that although there are lots of lovely food books for adults, we couldn't find any beautiful food encyclopaedias for children. We both remembered looking at the wonderful illustrations in old cookbooks like Mrs Beeton when we were young, and marvelling at the amazing cakes, jellies and sweet confections. We wanted to inspire that kind of joy and curiosity about all different kinds of food.


2. So that was your aim when you started to plan it? 
Yes, our aim was to show readers the wonderful range of different things to eat there is in the world, and get their mouths watering! We imagined readers browsing through the book and discovering things they'd never heard of before. There are even a few things in there that I've never tasted, like horned melon and wakame seaweed.

3.  Can you tell us what you cover in the book?
At the beginning of the book there are short explorations of some important issues around food: where it comes from, and how it affects our bodies and our planet.
The main part of the book shows over a thousand ingredients and foodstuffs, and explains a little bit about each one, with some fun facts too! As well as ingredients, we cover dishes and snacks that children might encounter ready-made, such as falafel, spring rolls, bread, pancakes, pastries, cakes and biscuits.
We divided it into chapters covering the main types of food: fruit; vegetables; dairy, meat, fish and other protein; flour, pasta, rice and other starch; and store cupboard ingredients. This makes it more fun for browsing than if we'd arranged it alphabetically. For example, if you like Cheddar, you might discover a new kind of cheese you'd like to try on the same page.
At the end of the book there are lists of ideas for how to cook the different ingredients in the book. We hope these will help inspire people to cook with some new ingredients, or ring the changes on some old favourites.

4. There are a lot of interesting facts about the foods you cover, did you need to do a lot of research for it?  Were there any big surprises?
Yes! I thought I knew a lot about food, but I definitely needed to do plenty of research. It was fascinating for me to find out how some foods are produced. Did you know that more than half the world's almonds are grown in California? And that there is always an even number of kernels on a sweetcorn cob?

5.  You also cover the environmental impact of what we eat - what are your top three environmental facts about what we eat?
I think many of us don't realise the long and complex journey that our food often takes before it reaches our plate, and how much effort and resources go into making sure we can enjoy our favourite foods throughout the year. It's quite a complex and changeable picture because there are so many things to take into account: not just food miles, carbon emissions and use of pesticides, but also water and energy usage, fair trade, threats to biodiversity and the amount of land is needed to produce the food.
With Feast Your Eyes, rather than going into all the details we're aiming to encourage children to think about, and ask questions about, where their food comes from and how it is produced.

6.  What else would you like your readers to take from the book?
The book is about enjoying and celebrating all kinds of food in a positive way, and getting to know a wide range of foods. Although sustainability and healthy eating are important, we're not aiming to tell people what they should be eating; we're just showing what lovely ingredients and dishes there are to try. There are many different ways to eat a good diet; the most important thing is just to eat a variety of different food.

7.  Why did you want to include recipe suggestions at the back of the book? 
We wanted to offer some practical suggestions to help readers if they come across new ingredients and want to know how to use them! Also, even for ingredients we already cook often, it can be nice to give them a new spin. They're all dishes I've made for my family over the years.

8.  What did you think of the illustrations by Zoë Barker - any favourite spreads?
I love Zoe's illustrations! I think it was quite a labour of love for her, and the rich colours and details are fabulous. Some of the sections were quite a challenge, such as the milk and yoghurt page, where everything is white. She did a brilliant job of coming up with clever ways of bringing life to the pages. It's hard to pick a favourite spread, but I do really love the biscuits.


9.  How would you like schools and families to use your book, Feast Your Eyes on Food?
I'd love families to enjoy just poring over the pages together, finding the foods they recognise and looking up the things they don't, and talking about their favourite things to eat. For readers who might feel nervous about trying new things, it's nice just to be able to enjoy looking at food, perhaps finding out some facts they didn't know, without the pressure of tasting anything.
It's also fun to look at the food people eat in different countries, and it would be nice if looking at the book led to some interesting conversations about this.

10.  What is your own favourite meal?
Now that's a hard one! It probably depends which day you ask me, as I enjoy eating so many different things. I like tasting lots of small dishes, so it might have to be tapas: perhaps spinach fried in olive oil with garlic, pine nuts and raisins; a perfectly seasoned egg and potato Spanish tortilla; warm, soft flatbread with sheep's milk cheese and honey; and some fabulous Serrano ham. Afterwards a crema catalana (which is a bit like a crème brûlée) scented with cinnamon and lemon zest.

Q&A with Zoë Barker
1.  How did you come to book illustration?
I love drawing and I'm a big book worm, so book illustration is my ideal scenario. I work in many areas of illustration, from magazines to advertising, but book illustration is such a privilege. It's so nice to spend an extended period of time on one project and pour your heart into it. This book has over 1000 illustrations so it was definitely a labour of love. 

2.  How did you first get involved in the project?
I was approached by Magic Cat with this idea, and I was so keen. It's my first book for children, and it was a real honour to illustrate. I love how Laura Gladwin has written it, and how it appeals to both adults and children alike - I learnt a lot from illustrating it! And the Magic Cat folk are a delight to work with - so creative and supportive.

3.  The images are delicious, but how did you decide to approach the illustration work?
All of the illustrations are drawn in colouring pencil. I wanted the drawings to be tactile and appealing so I intensified the colours and layered up lots of pale shades of colour to make them really rich. I really like the graininess of colouring pencil - especially in a picture book - it makes me want to touch the pages!


4.  And how did you create your illustrations? 
For anything that was available I drew the items from life - this was also very fun, as I'd go to my local greengrocer or market and be buying one of each thing. I had to explain what I was working on and they got to know me from visiting them each week. Not many people go to them asking for one potato or one plum. This became quite comical. 

5.  What was the most challenging thing about illustrating the book?
There were a few spreads that were particular tricky, because the things I was drawing looked very similar. The Flour and Cornmeal spread, and the Milk and Cream spread were hard. I decided to show them in different types of vessels to make them more interesting and to highlight their differences. Also, when I was drawing the pasta spread we were about to go into lockdown due to the pandemic, and everybody was panic buying pasta and toilet roll, so that made it hard to find what I needed to draw! 

6.  And what did you enjoy the most? Any favourite spreads or images?
I really enjoyed drawing the Cakes spread - it was the first spread I did and it was full of excitement for the project ahead. It also made me very hungry. I also really enjoyed the Fish and Seafood spread.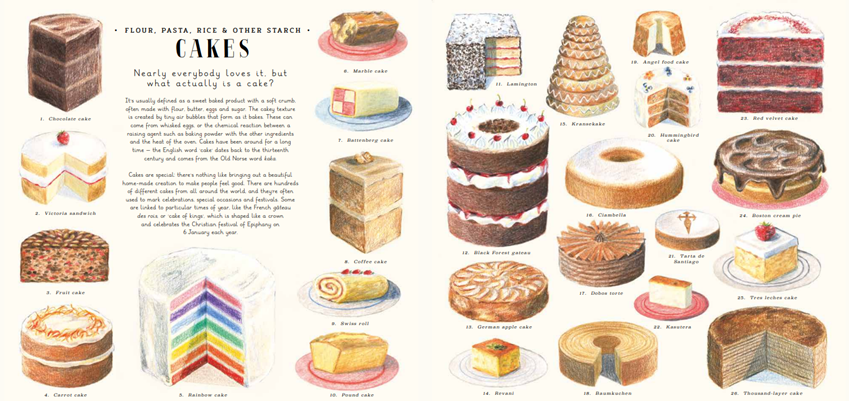 7.  Are you a 'foodie'? What are your go-to comfort foods?
This was such an enjoyable project for me, because I love food and cooking. My ultimate comfort food is a steamed sponge pudding with loads of custard. I also love Thai and Vietnamese food and trying food from other cultures. It feels like a little holiday!
Author's Titles