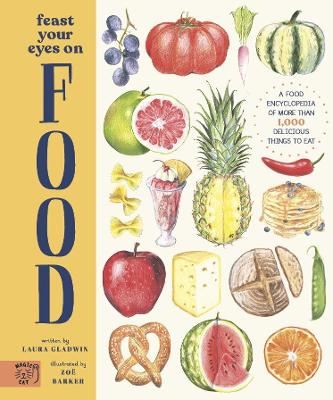 By Author / Illustrator
Laura Gladwin, Zoe Barker
Genre
Non Fiction
Age range(s)
7+
Publisher
Magic Cat Publishing
ISBN
9781913520229
Format
Hardback
Published
02-09-2021
Synopsis
Learn how flour and water were revolutionized as you pore over different pasta and noodle shapes, discover how cheese is made, find out why onions make you cry and marvel at nature's ingenuity as you take a bite from eighteen varieties of apples and pears. Split into digestible chapters, this visual guide explores the journey from farm to table, letting you taste your way around the world from the comfort of home.
Q&A and Video with Laura Gladwin & Zoe Barker
Reviews
Hayley
Feast Your Eyes on Food by Laura Gladwin, is a food encyclopaedia of more than 1000 delicious things to eat. This beautiful book stipulates that eating is more than just tasting the food we eat; it explains how food feeds the soul and allows us to experience new cultures and traditions by bringing us joy and connecting us to the global community.
From the onset, this book questions your understanding of the senses and how we use them when eating. It informs you about the vital role that food plays in our bodies, as well as the impact that our food choices have upon the planet. Each chapter is beautifully illustrated by Zoe Barker and each illustration is clearly labelled and explained. You can choose a sub-category of food and the book will give you insightful information about the foods within this category - how they are produced, how many different types there are, why they are different colours etc.
What I really like about this book is that at the back the author has given you a section that explores 10 ways to eat the different types of food. These are very simple suggestions but it does help contextualise how the foods can be used in a variety of ways. This book helps you to think carefully about the food we eat and the origins of it; it also helps us to connect to the wider world and have a better understanding of how our food is farmed and produced.
I would recommend this book to be in every school library because children would be empowered by the information and illustrations it contains. It would also be an excellent teaching resource for wider curriculum units on farming, world food production and sciences units on animals and living things, especially when they are looking at lessons relating to diets and healthy living.
92 pages / Reviewed by Hayley Summerfield, Teacher
Suggested Reading Age 7+
Other titles