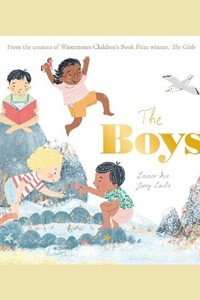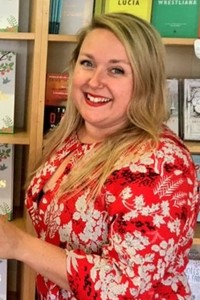 About Author
Lauren Ace is from south Wales, studied Drama at the University of Exeter, and now lives in London, where she has worked in publishing for ten years.
An award-winning publicist, Lauren looked after Julia Donaldson during her tenure as Children's Laureate and has managed campaigns for World Book Day and the announcement of Chris Riddell as Children's Laureate. She now works as an editor. The Girls and The Boys were her first picture books.
Interview
The Boys (Little Tiger Press)
April 2022
Lauren Ace joins ReadingZone to tell us about her picture book, The Boys, which, like her earlier picture book The Girls, is a heart-warming story about friendship and childhood hopes and dreams, and with a powerful message about the importance of sharing feelings and communication between friends. 


Q&A with Lauren Ace
1. How did you become an author?
I'm not sure if I became an author by accident or by destiny. When I was little I wanted to be a world-famous actress, a musician, or an author - little did I know back then if you were one of the former, you'd likely become the latter! I ended up studying Drama at university and working part time in a bookshop, so I was always immersed in stories and storytelling. I then went from bookselling to publishing and a mere 12 years later I had my first book published.
I say I became an author by accident because one day my friend (and publisher) and I were discussing how we'd like to publish an empowering book about being a girl, and he suggested I have a go at writing it. And the rest, as they say...

2. What inspired your first picture book, The Girls, and can you tell us a little about it?
The conversation above took place when we were seeing what I refer to as the 'Rebel Girls effect'. The book Good Night Stories for Rebel Girls was originally self-published and became a breakout success. Publishers love to pounce on a trend, and so followed a deluge of books about amazing, real women who had achieved remarkable things throughout history.
These books are great, and do an important job, but I felt we were lacking books celebrating ordinary girls. Not every girl will grow to be the first woman to do something in her field, or be the number one in her industry, but every girl should feel she can have an impact in her corner of the world and on the people around her.
The book follows four childhood friends as they grow to be adults, each with their own personalities and interests. I wanted to show that there are lots of different ways to be a girl, and also celebrate the importance of female friendships and lifting one another up.

3. Why did you decide to follow up that picture book with The Boys?
We never set out to follow The Girls with a 'boys' version'. I firmly believe that boys should be encouraged to read books with female characters and that there should be plenty that boys can relate to in The Girls, in terms of the importance of friendship, being kind, and not conforming to stereotypes. I have met plenty of boy readers at events who love The Girls. However, predictably following the success of The Girls, readers were keen for a companion title and it struck me that there was an opportunity to address toxic masculinity at an early age.


4. What are the main challenges the boys' friendships face as they grow and change, and why did you want to explore this in your picture book?
When we were promoting The Girls, a small number of adults commented on the fact that you couldn't do a book like this about boys because boys don't have these kinds of deep, sustaining friendships. This is something Jenny and I didn't believe to be true, and if it is for some boys, then it's something we wanted to combat with a book celebrating boys who are able to share their feelings and support one another.
I think one of the biggest challenges boys face is the expectation that to be strong and manly you shouldn't talk about your feelings, or show vulnerability. This is something which desperately needs to be addressed in order to raise boys to be emotionally literate, secure and happy.

5. The background to the boys' friendship is the sea, why did you decide to use that as the physical background and as a metaphor for their lives?
Both Jenny and I grew up by the sea, so it's a landscape which we both love and feel connected to. In some ways the characters are inspired by my younger brother and his friends who grew up playing together on the beach.
I actually started writing The Boys when I was on holiday in India staying at a surf and yoga camp. The young men who work as surf instructors there also grew up together locally. They have a wonderful bond, and seem more like brothers. And the sea is just always a fantastic source for metaphors! It felt like a bountiful alternative to the tree in The Girls.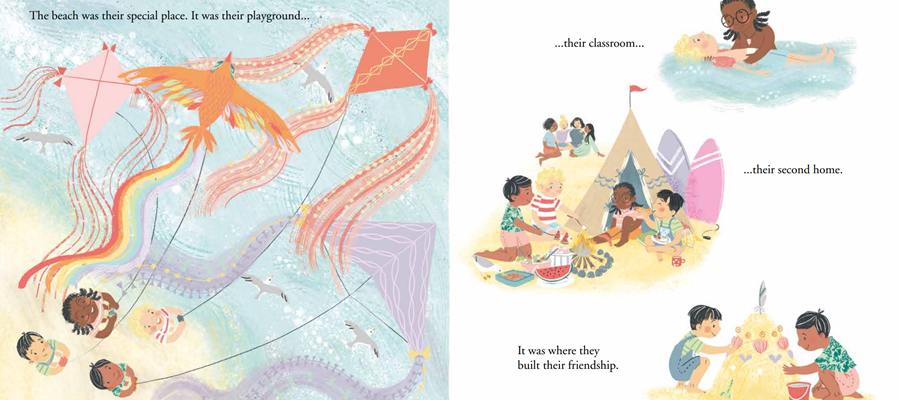 6. What do you think of the illustrations by Jenny Løvlie? Any favourite spreads?
I have honestly found a kindred spirit in Jenny. I feel so lucky that a book about the importance of female friendship brought a wonderful new friend into my life. When I saw her character samples for The Girls I felt as though she had plucked them out of my head. She just instinctively understood them.
With The Boys, we were able to work together from conception. Jenny is a full-time illustrator and was really raring to go, whereas I have a full-time job in publishing so needed a bit of nagging to get going. The first thing I did was come up with the characters and send descriptions over to Jenny, so she would send over little character sketches to help get my creative juices flowing!
I find it very hard to choose a favourite spread as I just think all the art is absolutely perfect, but if pushed I would say the one where they are flying kites - the perspective there is so clever and I think it's a lovely companion to the pride spread in The Girls, as it feels really joyful and full of life. I also love the spread where Nattie is sitting alone looking out at a stormy sea - I love the metaphorical aspect to that one.

7. There is a lot of diversity in the images, was that important to you as the author?
I think increasing the visibility of all kinds of children in books is the single most important issue facing the children's publishing industry. My friend Darren Chetty (who was a beta reader and gave me really valuable feedback on The Boys) wrote an essay in The Good Immigrant detailing his experience as a teacher and his class of predominantly non-white children saying that "stories are supposed to be about white people". I can't imagine taking my books into schools and exacerbating this notion, I just couldn't do it.
The long-term goal is for authors and illustrators from all kinds of backgrounds to be able to tell their own stories. But where I'm writing about a group of children as an omnipresent narrator, I want to represent as many children as I can, so that the children who look like my characters know that they belong in books, and could grow up to write or illustrate their own.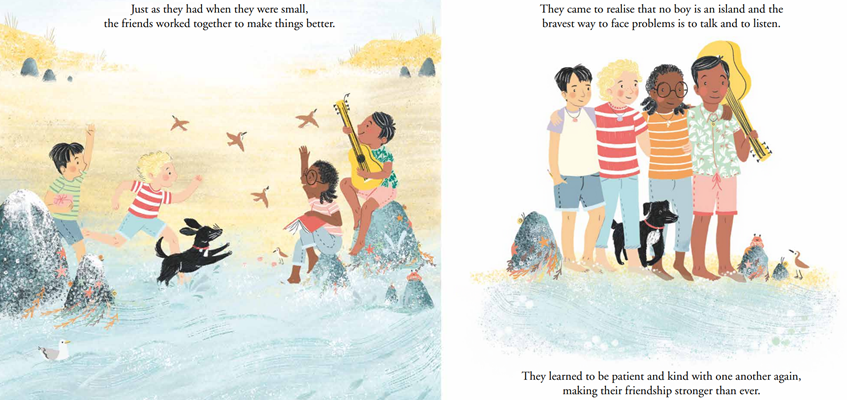 8. How would you like to see your books being used?
I love hearing about the books being used in schools to discuss identity, kindness and friendship. I love hearing that adults have bought the books for their grown up friends and that they see their own long-standing friendships reflected. I love seeing pictures of children dressed up as the characters because they relate so strongly to them. Mostly I love the idea of them instilling in children that they are free to be and do whatever they want.

9. What would you like your readers to take from The Boys?
I would like them to recognise that boys can be gentle and kind, that they should be able to ask their friends for support and talk about their feelings, that there are lots of different ways to be a boy and a man and none are more valid than others.

10. Do you have more books planned? What are you writing currently?
Like many people, I have found it very difficult to focus my creativity during the pandemic. It has taken all my brainpower and energy to keep my day job on course, so a few ideas have been put on the back burner! I have written something about sibling dynamics and have another idea about a boy and girl friendship duo. My agent would love me to write something about my little rescue dog and her dog cousin because they are a funny double act. I also have an idea for a middle grade fiction series which needs a bigger time commitment to get stuck into!
Author's Titles