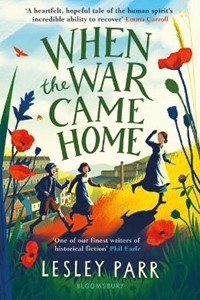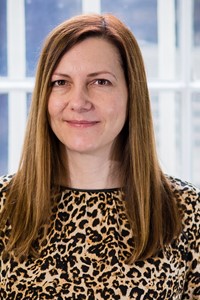 About Author
Author Lesley Parr's new historical fiction novel, When the War Came Home (Bloomsbury), explores the effects of WWI after the war had ended.
Lesley grew up in South Wales and now lives in England with her husband and their rescue cat, Angharad.  She shares her time between writing stories, teaching at a primary school and tutoring adults. Apart from books, rugby union is her favourite thing in the world, especially if Wales is winning.  
Website: LesleyParr.com   /   Twitter: @WelshDragonParr
Competition:  Win a copy of When the War Came Home
Interview
Author Lesley Parr tells ReadingZone about her new book, When the War Came Home (Bloomsbury Children's Books), which like her debut The Valley of Lost Secrets is set in Wales.  When the War Came Home takes place just after WW1 and explores the effects of trauma on returning soldiers and their families, and also looks at social conditions for children and ordinary people of the time.
Review:  "I cannot recommend When the War Came Home highly enough. Beautifully written, the story flows perfectly and covers such a wide range of issues. Suffragettes, shell shock, war poetry and social deprivation, are all introduced and woven into the story in a seamless manner. For any teacher studying this period of history, there are a wealth of topics which could be discussed with the class."
Read a chapter from When the War Came Home
Read a chapter from The Valley of Lost Secrets
Lesley Parr introduces When the War Came Home and reads from a short section of the book:
Q&A with Lesly Parr
1. What brought you into writing for children?
When I was a child, I was always writing stories and poems. As a teen, I had many pen pals so wrote lots of letters. Then life took over - I was a nanny in London, then a teacher - and the writing got a bit lost.
When I decided to try to become an author, children's books seemed the obvious choice. One of the reasons I chose to be a teacher was so I could read stories to the children in my class. Particular favourites have been books by Roddy Doyle, Harriet Whitehorn, David Almond, and poetry by AF Harrold.
2. What was the starting point for your debut The Valley of Lost Secrets?
It all came from a writing task when I studied for a Master's Degree in writing for young people at Bath Spa University. We were asked to write a short historical piece. When previously researching a different story, I discovered the true account of children finding a skull in a tree, so used that as a starting point. The words just flowed... Jimmy and Ronnie felt instantly real and everything grew from there.
Oddly, I didn't ever see myself writing historical fiction, even though I've always been interested in history. This whole book came from the chance to try a new genre. Once I'd started, I knew it was a story I wanted to tell.
3.   The Valley of Lost Secrets was published during lockdown. Did you still manage to connect with your readers? 
Almost all of my events with bookshops, festivals and schools were online, but I did visit one school in person so that has to be the highlight for me. I spoke to six classes and signed lots of books. It was lovely to finally meet readers!

4. Can you tell us about your new book, When the War Came Home?
It's set just after World War One and is about a girl called Natty who has to move to live with distant relatives after her mother loses (yet another!) job for standing up for workers' rights. Natty meets two young men who lied about their ages to fight as boy soldiers in the war, and she helps them to deal with their individual traumas. In doing so, she finds her own way to fight for things.
Putting it that way, it sounds quite serious - and it is, because these are serious subjects - but there are also lighter moments and some funny characters. I particularly enjoyed writing two loveable rogues called Albert and Griff!

5. Why is this and your previous book, The Valley of Lost Secrets, set in Wales?
I'm from South Wales and very proud of my working-class heritage. I love setting my stories in communities like my own, even if they are decades apart.

6. Do you prefer to use real settings in your stories?
I tend to create fictionalised places within real settings and feed in a mixture of lots of different areas. That's the beauty of fiction - we can play about with it and create what we want.

7. What draws you to writing historical fiction, and especially around the period of WWI?
I've always been interested in history, especially social history, and want to tell the stories of ordinary people - there are too many kings and queens and posh people on historical record for my liking! The wars just seemed to fit in naturally with my first two books.

8. Why did you decide to set this book just after WWI ended and how did you research this period, and people's daily lives at the time?
I originally wanted to write a feminist story about factory girls, but my research led me down a different path - although there are still strong, feminist characters. I don't plan, so, after my initial research, I let the characters and story lead me, and check facts along the way. I also read a lot of World War One poetry to try to get some understanding of the boys' experiences.

9. Why did you decide to write about the impact of PTSD not just on soldiers returning home, but on their families, too?
I realised I couldn't write about a period just after WWI without addressing this issue. Because my stories are always first and foremost about people - their families had to be a big part of it.

10. Your main character, Natty, objects to her mum's 'militancy' around social justice, while her cousin Nerys loves it. Whose side would you have been on as a child?
A bit like Natty, it would have to depend on the cause. I was writing to politicians about animal rights from a very young age and I've always cared a lot for this issue. Again, like Natty, I didn't much like being told what to do, so needed to find my own way to fight for things.

11. You describe a tough time for children at this time, especially in school. How would you have coped as a child?
I think I would have coped better than some as my mother was the type to always put her children first - and woe betide anyone who upset or hurt us! Even if I'd had a horrible headmaster like Mad Dog Manford, I'd have had the love and support at home to help me deal with it.

12. What can today's child take from Natty's experiences in When the War Came Home?
At the risk of sounding serious (again!), I suppose I'd like them to see that the people regarded as less powerful in society; the children, the working-classes, the marginalised, can achieve real change if they find strength in others and a cause they can believe in. But, more than anything, I want my readers to feel they've enjoyed a good story!

13. Where and when do you do your best writing? What are you writing currently?
I write at my desk in the corner of the spare bedroom and tend to stick to daytime hours. If I have a pressing deadline, I can work into the evening, but usually I've paced myself so that doesn't happen. I know I peak earlier than that! I'm currently writing my third book - an adventure quest set in 1974.

14. Will you continue to write historical fiction, or do you plan to write different genres?
I honestly don't know. I'm enjoying it at the moment! For now, I'll go with the flow…

15. Where is your favourite place in Wales?
I don't have one favourite place - I like lots of places for different reasons, but if I could live anywhere in Wales it would be near Abergavenny. It holds many special memories for me.
16. Where and when are your favourite times and places to write?
I don't have a particular time of day that works best for me, it's just however the mood takes me. Some mornings can be very fruitful, some not - the same with afternoons. Over the years, I've learned not to question it and just go with the flow and be grateful for the productive times. I like to write at my desk, with lots of lovely things around me - presents from my husband, my mother and my friends - reminders of happy times.
17. What would your dream writer's shed look like?
I have a summer house but this is where I tend to read and research, not write. My husband named it my Word Shack and it's a calm space with lots of nice things around me and pictures on the walls.
18. What do you enjoy doing to relax when you're not at your desk?
I like to cook, walk, watch rugby union, and am quite addicted to the Australian soap Neighbours! I series-link it and have it as a daily treat.
Author's Titles