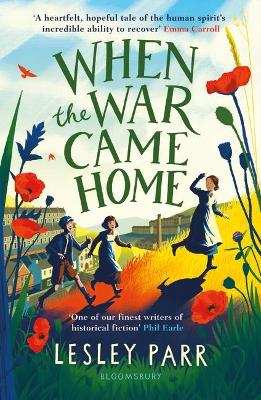 By Author / Illustrator
Lesley Parr
Genre
Historical Fiction
Age range(s)
11+
Publisher
Bloomsbury Publishing PLC
ISBN
9781526621009
Format
Paperback / softback
Published
06-01-2022
Synopsis
A stirring historical adventure from the author of The Valley of Lost Secrets.   The First World War has ended, but it hasn't gone away. When Natty has to move to a new village, she meets two young soldiers who are still battling the effects of war. Huw can't forget the terrible things he's seen, but Johnny doesn't even remember who he is. As Natty tries to keep a secret and unravel a mystery, she finds her own way to fight for what she believes in - and learns that some things should never be forgotten...   This mesmerising historical mystery includes an interactive clue so readers can unravel the mystery alongside the characters.  'A heartfelt, hopeful tale of the human spirit's incredible ability to recover.' Emma Carroll
Find out more from author Lesly Parr
Reviews
Jacqueline
Natty is forced to leave her home and go with her mother to stay at her cousin's farm in another Welsh village. There she gets to know her wider family, including Nery's who is around her age and Nery's older brother Huw. Huw, only seventeen, has come back from the trenches a changed person, having seen ghastly things that no child should see, as he faked his age and joined up aged fourteen. Also in the village are other soldiers, staying at the convalescent home, each one scared in their own way. Can Natty help any of these young people damaged so badly by the war?
This is a period of history often neglected in children's literature. The aftermath of the First World War is rarely talked about, and this book tackles it with sensitivity and care. The character of Huw was only the same age as my son when he joined the army and that is almost impossible to comprehend.
The sights the soldiers saw are never really described; When the War Came Home is all about the aftermath. The story also evokes a feeling of what is was like to live in the Welsh villages between the wars. The poverty of some families and the difficulties ordinary people faced have echoes in today. I had a proof copy so I cannot say what the illustrations by David Dean were like; the front cover completely captures the book with the poppies for remembrance. Reading the book, the same week as Remembrance Sunday, was a powerful reminder of past wars.
The Valley of Lost Secrets, Lesley Parr's first book was a wonderful read, but this one is even better. Upper Key Stage 2 children will not only find this a gripping story, but it also raises many issues that are relevant for the here and now. Children going hungry as well as the trauma we now understand as PTSD, create a useful discussion point. This is also a book that works well with Remembrance Sunday as it in no way glorifies war, but instead looks at the damage inflicted by such wars. This book should become a classic; it would be very well deserved.
320 pages / Reviewed by Jacqueline Harris
Suggested Reading Age 9+
Beverley
Set in the early 1920's, this wonderful novel explores the after effects of World War 1 on both the surviving soldiers and the families they return to. Natty lives in the small Welsh village of Libanwy with her mother, Ffion, who is a vocal supporter of women's rights. When her outspokenness causes her to lose her job at the local factory, she and Natty are forced to move to the neighbouring village of Ynsyfach to stay with relatives.
Aunt Mary and Uncle Dewi run a smallholding, and live there with their daughter Nerys, who is the same age as Natty, and their older son Huw. Huw lied about his age to serve in the Welsh Guards in the war, and fought at the Battle of Passchendaele. Now back at home he is suffering from shell shock and is struggling to come to terms with the loss of his best friend, Rhys.
In the village there is a hospital which treats soldiers recovering from wartime injuries, both physical and mental. Natty meets Johnny, a soldier who was found wandering in Belgium and who has no recollection of who he is. Natty wants to help him to remember, and by talking to him and playing childhood games with him, he begins to remember snippets from his past. She is determined to solve the mystery of who he is so that he can be reunited with his family.
When I reviewed Lesley Parr's first book, The Valley of Lost Secrets, last year, I said that it was one of the best debut novels I had been privileged to read in a long time, and this new book is even better. The characters are so beautifully drawn; Natty loves her mother but is infuriated by the way her behaviour affects their lives. It is only when Natty becomes involved in her own battle, the fight for free meals at her new school, that she begins to realise how like her mother she really is. I also loved Nerys; a clever chatterbox , she is intensely loyal to her friend Owen and cannot bear the injustices he suffers at the hands of their truly awful teacher "Mad Dog Manford". Although Natty finds her irritating at first, she and Nerys become a real team, not only in the campaign for school meals, but also in solving the mystery of Johnny's real identity.
There are many very moving events in the book, one which particularly stood out was when Nerys was telling Natty that she misses her brother – the old Huw. She says "The war took him away, Natty. And it gave him back, only not every part of him. And it took away some of the good parts and gave him bad ones instead." Seeing the effects of the war through the eyes of children seems to make the impact all the greater.
I cannot recommend When the War Came Home highly enough. Beautifully written, the story flows perfectly and covers such a wide range of issues. Suffragettes, shell shock, war poetry and social deprivation, are all introduced and woven into the story in a seamless manner. For any teacher studying this period of history, there are a wealth of topics which could be discussed with the class.
I firmly believe that Lesley Parr is fast becoming a very important voice in the field of historical fiction for young people, and every classroom and school library should have copies of her brilliant novels on their shelves. My book of the year!
320 pages / Reviewed by Beverley Somerset, school librarian 
Suggested Reading Age 9+
Other titles