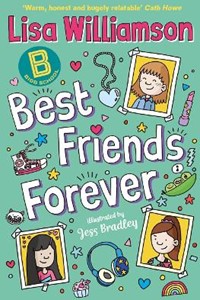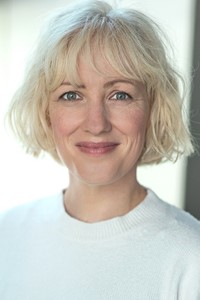 About Author
Lisa Williamson grew up in Nottingham, studied drama and worked as an actor on stage and TV. Her first novel, The Art of Being Normal, won the Waterstones Children's Book Prize for older fiction and she continues to write YA novels and non-fiction for younger children. She lives in London. Follow Lisa @lisa_letters
Jess Bradley is an illustrator and writer who lives in Devon. She works from her home studio and likes drawing in her sketchbooks, reading, playing video games, and watching cartoons with her son. She also contributes to The Phoenix Comic and the Beano. Follow Jess @VenkmanProject
Interview
Bigg School: Best Friends Forever  (Guppy Books)
October 2023
Find out what inspired Lisa Williamson's new Bigg School series, which follows different students as they move from primary to secondary school. We will get to find out their worries about secondary school, what happens with their friendship groups, and what's happening behind the scenes in their homes.
Watch Lisa read from a short section of the first book in the series, Best Friends Forever, and find out what else she has planned for the series:
Q&A with Lisa Williamson
"Growing up is hard and I never shy away from this. Equally, growing up is really exciting too! I always strive to find the balance in my stories."
1.   It's great to have you join us at Readingzone, Lisa. Can you tell us a little about yourself as a writer and the kinds of books you enjoy writing? 
As a child, contemporary stories were always my favourite. I think there's an awful lot of magic in real life, and as an adult, I like to explore this special brand of magic when I write. I definitely think of my younger self, and try to create the sorts of characters and stories I know she would have enjoyed. For example, I was often mixed up in some sort of friendship drama so it makes complete sense to me that friendship in all its messy, complicated glory is central to so many of my books. I certainly don't like to sugar coat things for my readers. Growing up is hard and I never shy away from this. Equally, growing up is really exciting too! I always strive to find the balance in my stories.

2.    Will you be drawing on any of your own high school dramas in your new Bigg School series? What are your best and worst memories from school? 
Yes, for sure! I found the transition from primary to secondary school really tricky. I was separated from all my friends and it took me ages to find my new tribe, with a whole lot of mishaps along the way.
My best memory of school from school is probably the year 10 trip to Germany. I wasn't even studying German (I'd dropped it the previous year) but my friends begged the teachers to let me come along and for some reason they said yes, despite the fact I barely spoke a word of the language (I am not a natural linguist). My friends and I had great fun roaming around a small town of Kaufungen (thanks to this trip I can still remember how to order an ice cream sundae in German - one of the only phrases I learned!).
My worst memory is definitely being bullied in year 8. My tormentor was a girl who I thought was my friend, which made it all the more painful. Once the teachers got wind of what was going on, it was nipped in the bud very quickly, but for a while there, I was quite unhappy.

3.   What is Bigg School: Best Friends Forever about, and do you plan to write more about Bigg School? 
BFF's heroine is 11 year-old Lola. She is horrified when she moves up to secondary school and discovers she's going to be in a different class from her best friend, Evie. When Evie strikes up a friendship with snooty Cleo, Lola struggles massively, especially when Cloe makes it pretty clear that she'd like Evie to herself. Meanwhile, Lola's home life isn't straight forward, either - her brother is driving her up the wall, her mum wants to move house, and her dad keeps getting mysterious texts and phone calls.
I wanted to write a book that doesn't shy away from how tough it is to be 11 years old, at the same time as being funny and entertaining. BFF is the first in a series, with each book focussing on a different kid in year 7 at the Henry Bigg Academy. The next book is from the point of view of Lola's annoying classmate Daniel, who has struggles of his own…

"I wanted to write a book that doesn't shy away from how tough it is to be 11 years old, at the same time as being funny and entertaining."

4.    Why did you want to focus on this transition time, from primary to secondary school? What kinds of challenges did you want to explore?
I think it's easy to forget what a big transition it is. Often kids are moving from a school with maybe 100 kids in it to one with 10 or 15 times that. That's traumatic! I was separated from all of my friends and spent most of year 7 desperately trying to cement new friendships, some of which stuck and some of which really didn't (that bully I mentioned? She was one of the new friends I made).  Looking back, I don't think I felt settled until well into year 9.
I loved books about school, but all the school-set stories I read (Malory Towers, The Worst Witch) weren't exactly relatable for me - a working class kid attending a suburban comprehensive school in the East Midlands. I would have given anything for a book like BFF, which I've purposefully written in such a way so that (hopefully) the majority of children will be able to pick it up and imagine themselves as students at Henry Bigg Academy.

5.    What was it like writing Lola's character, as she doesn't always get things right - and, when things are difficult for her, isn't always a good friend?
I loved writing Lola! She's a hot-head and can be very self-absorbed, which means she often acts before she thinks. As a child I was very quiet and kept things bottled up so it was fun to write from the point of view of someone who isn't afraid (or cannot help) expressing her emotions. Lola cries and shouts and sulks and makes mistakes. In fact some of my favourite scenes to write were the ones where she flies off the handle! I loved exploring the messiness that arises from these moments.

6.    Other than a great read, what would you like children to take from Best Friends Forever - especially those who have started at new schools this term?
It would be great if reading Lola's story made children feel a bit less alone. Growing up, I regularly thought I was the only one finding things tough. Learning that you're not can be revelatory.
I also like to think that, although things don't turn out quite the way Lola hoped for, the books ends with a definite sense that things are going to be ok. I like my stories to be realistic, but I think it's also important to provide children with hope, and I think BFF does both of these things.

7.    What do you think of Jess Bradley's illustrations? Do they match the characters you'd imagined?
I adore Jess's illustrations! They're hilarious and quirky and moving all at once and capture the characters perfectly. I'm mad about all of them but my top three would have to be Lola sulking (pg 94), the Period Club membership card (pg 110) and the two final images of Lola and Evie at the disco right at the very end. When I first saw those, I got a proper lump in my throat!

"I adore Jess's illustrations! They're hilarious and quirky and moving all at once and capture the characters perfectly."

8.    Who are your own favourite literary or film friends, and what qualities do you look for in BFFs?
As a teenager, I was obsessed with a film called Now and Then. It's kind of like the female Stand by Me (another favourite of mine) and features a brilliantly feisty quartet of girls grappling with crushes, grief, puberty and body image in the early 1970s. I also loved the friendship between Thomas and Veda in My Girl, and the gang in The Sandlot Kids (two more nostalgic-heavy 90s classics).
Books-wise, BFF is heavily influenced by Just As Long as We're Together by Judy Blume. It also features a friendship under pressure and lots of complex family dynamics, and really spoke to me when I read it as a young teenager.
In real life, I'm lucky enough to have several BFFs, all of whom are kind, funny, generous and loyal, as well as being totally unique. I'm thankful for them every single day.

9.    Where and when do you prefer to write?
I mostly write at my dining room table. Not ideal, but it works. I dream of an office at the bottom of the garden! You can also often find my writing in the IKEA restaurant! During the week it's surprisingly peaceful. Plus, meatballs and daim cake!
I work part-time for a children's theatre charity so I write whenever I'm not doing that. This means I regularly write in the evenings. In fact, I find I'm often at my most productive after dark.

10.    What are your favourite things to do when you're away from your desk - places to go, things to do, and being still moments?
It's an obvious one, but I love reading. Escaping into a world someone else has created has and always will be such a treat. I also adore going to the theatre and cinema, reading the Sunday newspapers, walking my dog and spending quality time with my family and friends. I'm also a sucker for a good jigsaw, preferably with some sort of trashy reality TV on in the background. I live in London so getting out into the countryside or down to the coast brings me massive joy, and is something I try to do every few months if I can.
Author's Titles