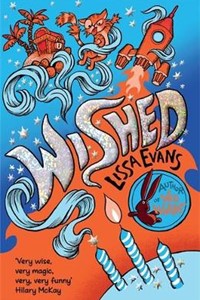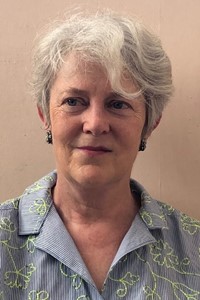 About Author
Lissa Evans's new book, Wished, is a magical story with some surprising adventures.
Lissa still remembers writing her first joke, aged 7 (it involved a hippo). She never lost her
interest in funny lines, and, following a medical degree, she changed careers to become a comedy producer for radio and TV.
Her children's novels include Wished, Wed Wabbit and Small Change for Stuart. Her books have been shortlisted for the Costa Children's Book Award, Carnegie Medal, and Branford Boase Award. She has also written a number of adult novels, including Their Finest Hour.
www.lissaevans.com @LissaKEvans
Interview
Wished  (David Fickling Books)
January 2023
The discovery of a box of birthday candles begins a surprising and magical series of adventures for three children, their neighbour and a grumpy cat in Wished, now available in paperback. We asked author Lissa Evens to tell us what inspired this story about wishes, friendships and grumpy pets!
Download a chapter from Wished
Q&A with Lissa Evans
1. What sort of books do you enjoy writing, and have any of your children's books stood out for you to date?
I enjoy writing funny books in which ordinary children stumble across magic. I'll often spend a long time thinking about an idea before I start writing, but 'Wed Wabbit' landed in my head almost whole, so out of all my books, that's probably my favourite.

2. Can you tell us about the other kinds of writing you have done during your writing career?
I started off by writing sketches for a comedy group, and then I spent many years in radio and television, where I edited and produced other people's scripts. It was fantastic training, as it meant I have a good sense of the bits of a text that matter most, and I'm not afraid to cut anything that might be boring or unnecessary. I started writing my first book when I was nearly 40 years old, and since then I've written six novels for adults and four for children.

3. What is your new book, Wished, about?
Wished is about three children who are faced with a very boring half-term holiday, spent at the house of an elderly neighbour. But at the neighbour's house they discover a box of old birthday candles, never used, and they find that each candle comes with a wish - a wish that only lasts as long as the candle burns.

4. What inspired the first spark of the story for you, and is the final book very different from your original idea?
There have been loads of books for children about wishes. E Nesbit's Five Children and It, and Nicholas Stuart Grey's The Magic Apple Seed are two that I loved when I was a child: both are very funny as well as magical, but both are set a long time ago, and I started thinking about what wishes would mean to children who've been brought up on the instant magic of tablets and phones.
My initial idea was simply to find out where the children's wishes took them, but then different ideas started tumbling into place, and the book ended up being about friendship, and bravery and the choices that we're able to make in life.

5. What were the 'rules' for how the wishes would work in Wished?
Each small birthday candle grants a wish that lasts for as long as the candle burns - about four minutes. This works very well for five of the wishes but then the children accidentally start a fire, and end up with the remaining candles melted into a single large lump. And when they light the melted candle, they find that all the rules have changed completely....!

6. How did your main characters, Roo and Ed, develop?
Ed is a sharp, sarcastic, clever boy who happens to be in a wheelchair. His sister Roo adores and admires him, but sees herself mainly as his helper and support. As the book progresses, Ed begins to view Roo as a person in her own right, and Roo realises that she can have adventures of her own.

7. Did any grumpy, smelly cats help inspire Attlee the cat? 
I inherited two cats from a friend: one (called Nobby) was sparky, charismatic and affectionate, while the other (called Tracey) had no skills or charm whatsoever, and was only passionate about food. Attlee is based on Tracey (who lived till she was 21!)

8. The relationships in the story are a little like the twisted strings of the candles - all their stories come together in the end. But did one of those relationships or friendships stand out for you?
I particularly enjoyed writing Willard, a boy who's had to move house several times, and who copes with a succession of new schools by labelling himself as 'class clown'. But there's a lot more to Willard than fake sick and armpit-fart-noises, and I loved writing the genuine growing friendship between him and Ed: both of them are outsiders to a certain extent, but together they can form a team.

9. How did you decide what your characters would wish for? Were there lots of options you had to whittle down?
At the start, the wishes only last four minutes, so some of the classic choices - like fame, or money, or travelling the world - simply don't work. Like the children, I had to think hard about 'short wishes', and about the precision of what to ask for. 'Flying' might sound great, but what sort of 'flying' do we mean? In the book, there's more than one answer to that one....

10. And since everyone will want to know - what would you wish for?
I'd like to fly - to soar like a buzzard.

11. Where and when do you prefer to write?
Anywhere that isn't home (where there's always something else I ought to be doing instead of writing): so, cafes and libraries, mainly.

12. What are you writing currently?
I am writing a book for adults, set in 1945 (just after the end of World War 2), and I'm thinking about another book for children.

13. What do you most enjoy doing when you're away from your desk?
Reading while sitting on a sofa with my dog (Watson). Also watching competition programmes on TV: Pottery Throwdown, Bake Off, Sewing Bee, Masterchef - I love them all!!
Author's Titles