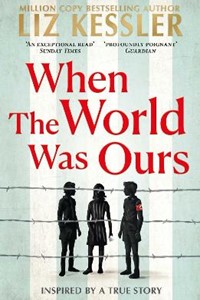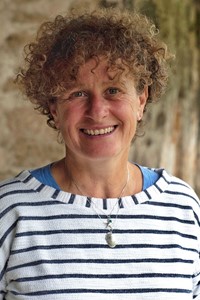 About Author
Liz Kessler is the author of 23 books for children and young adults. Her new novel, When the World Was Ours, was inspired by her father's childhood escape from the Nazis just before the second world war. The book is aimed at young (and not-so-young) adults.
Liz's books range from Early Readers to books for Young Adults and include the internationally best-selling series about half-mermaid Emily Windsnap. She has an MA in Novel Writing from Manchester Metropolitan University and has been a full-time author for the last twenty years. She lives with her wife and their dog in rural Cheshire.
Interview
When the World Was Ours (Simon & Schuster Children's Books)
January 2022
Author Liz Kessler talks to ReadingZone about her novel When the World Was Ours, which draws on the true story of her father's escape from Nazi Germany. It is a powerful, heart-breaking but ultimately redemptive novel about friendship, courage and the power of kindness.
Read a Chapter from When the World Was Ours
Q&A with Liz Kessler
1.  Can you tell us about When the World Was Ours?
When The World Was Ours follows the lives of three young people, Leo, Elsa and Max, whose lives are forever changed by the events of the Holocaust and the Second World War. The book begins in Austria in 1936 and explores the events of the next decade through the eyes of each character. Leo and Elsa are Jewish, Max isn't. When Hitler comes to power, each of them will follow their own path and will be torn apart from each other in ways they could never have imagined.

2.  Why did you want to write this novel, and what inspired it?
The novel was inspired by my dad's early life. Due to a tiny chance moment, he met an English couple in 1934 in Vienna where he lived (aged four at that time). This brief meeting would later become the moment that would ensure he and his parents could escape the Nazis. The generosity of the English couple undoubtedly saved their lives.
My dad's life inspired the character of Leo in the story. But there were other aspects of my family history that came into the book as well, and the character of Elsa is named after my great aunt who was murdered at Auschwitz.

3.  What was the writing process like and how difficult was it to write When the World Was Ours?
The process was very intense! The early stages were about planning and researching the book as thoroughly as possible. The next stage was a research trip across five countries in Central Europe. I visited concentration camps, museums, synagogues and other places of historical importance.
It was a very tough thing to go through but felt important as I have always wanted this book to be as true to the facts as I can possibly make it. After the trip, the writing was almost like a cathartic experience. I wrote all day, every day, often crying as I was writing, until the first draft was done.
5.  Where did you research the stories of Jewish families affected by the war and what day-to-day life was like under the Nazis?
For a year I read pretty much nothing but Holocaust books! I read many personal accounts, both online and in books. I used many of the resources that we've listed at the back of the book. And then I went on historical walking tours and visits to museums on the research trip in several cities, such as Munich, Krakow, Prague, Vienna and Amsterdam.
After I'd finished the first draft I also sent the book to two Holocaust experts who added their thoughts and feedback and helped me to make the book as accurate and truthful to history as possible.

6.  Can you tell us about the settings you include as, like many Jewish families, your characters are displaced by the war? How did you research these settings?
Much of this came from my visits to the settings on the research trip. You can find an awful lot of information online nowadays, but for getting your settings right there is nothing quite like going to the places themselves. So, I drew very strongly on my visits to concentration camps such as Auschwitz and Birkenau and Mauthausen, not just in terms of making my own observations but from reading the exhibitions there and educating myself as far as possible.
In terms of the other places, again I read as much as I could online and in books, but my walking tours in Vienna and in Prague and Amsterdam were invaluable in learning about the experiences of Jewish people who were displaced at that time. We had a private tour with a family friend in Vienna, which was incredible. And of course, I spoke at length with my father whose life was completely upended twice - once from Vienna to Czechoslovakia and again in escaping to the UK.
I hope that the extent of my research is evident in the book as it was very important to me to get these things right!

7.  How did you decide on the format of the novel, which is written from the perspective of the three children growing up before and during the war. Why is one child, Max, narrated in the third person while the other two, Leo and Elsa, are first person narratives?
Partly this was about differentiating the voices of the main characters so that the reader has a strong sense of whose narrative they are in all the way through. But there were other reasons for these choices as well. I wanted Leo's story to feel very personal but also to have a sense of telling a story of what happened to him in the past. So his story is told in the first person, past tense.
For Elsa, her story needed to feel as immediate and as close as possible, so hers is in the first person present tense. And with Max, because of the journey he goes on, joining the Hitler Youth and getting very involved in the Nazis' side of history, I felt quite strongly that I wanted to put a slight distance between him and the reader - and between him and me! So I wrote his narrative in the third person, past tense.
I think it's a very close third person as I still wanted the reader to engage with his story and his character as strongly as possible, but I felt a need to offer a slight bit of protection to my readers and myself as Max's story unfolds, so I used this narrative viewpoint to put it at a slight distance.

8.  Did you feel particularly close to any of your characters?
The character I found myself feeling closest to was Elsa. I have never felt such a protective feeling of love for a character that I've written before. I knew that she was the character who was going to have the most upsetting journey and I felt that I wanted to be by her side, helping her to feel strong as the book unfolds.

9.  What would you like modern readers to take from their stories? How important is it that stories like these are available to them?
I think it's extremely important that there are books like this out there for young people, not just from the point of view of learning about important historical events like the Holocaust but to hopefully help inspire young people to try to stop terrible things like this from happening again.
What I'd like readers to take from my book is first of all to simply feel immersed in the characters' stories and be moved by them. But I'd love to think that young people would find themselves asking questions of themselves about who they identify with and why, and asking which side of events like these they would like to imagine themselves on.
I'd love my book to help young people to feel stronger about themselves, to consider the power of kindness, and to feel brave enough to stand up for other people and for things that they believe to be right.

10.  How did you feel about the completed novel, and did writing it change you in any way?
This book feels like it has come from a very deep and a very important part of myself and I am so glad I've written it, having been in the back of my mind for about ten years. Writing it connected me with my own family history in a way that felt quite profound. It hasn't changed who I am but it has illuminated aspects of myself that I haven't explored before in the same way and has opened up new insights for me.

11.  How have readers been responding to When the World Was Ours?
I have had absolutely wonderful responses, from teachers, librarians, young people, fellow writers. I am touched beyond words by the response I've had to this book.

12.  Can you tell us a little about what you include in your school events for When the World Was Ours?
I talk about the real life events that inspired the book. I have a short video of my dad telling the story of the events himself, which I have sometimes shared. I share photographs from my research trip. I answer questions and engage with young people in whatever ways work best for them and for the school.

13.  What are you writing currently?

I am currently working on a book about two sisters and the Dutch Resistance. But it's early days…
When The World Was Ours by Liz Kessler is out in paperback on 20th January 2022 (Simon & Schuster Children's Books)
Author's Titles