When The World Was Ours: A book about finding hope in the darkest of times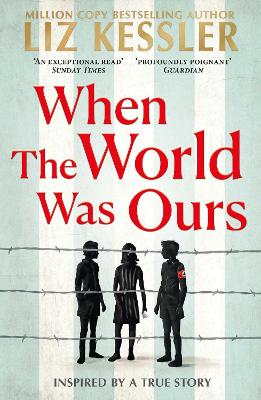 By Author / Illustrator
Liz Kessler
Genre
Historical Fiction
Age range(s)
11+
Publisher
Simon & Schuster Ltd
ISBN
9781471196812
Format
Paperback / softback
Published
20-01-2022
Synopsis
ONE MOMENT CAN CHANGE A LIFE FOREVER.  'An exceptional read' The Sunday Times. 'Vital glimmers of hope enlighten this profoundly poignant book' The Guardian.

A powerful and heart-breaking novel about three childhood friends living during the Second World War whose fates are closely intertwined, even when their lives take very different courses. Inspired by a true story, this is the perfect read for fans of The Book Thief and Anne Frank's The Diary of a Young Girl.

Vienna, 1936.  Elsa, Leo and Max have always been best friends, a special team of three. Then the Nazis come.  As a growing darkness descends around them, Leo and Elsa run for their lives, taking two very different paths across Europe. And Max, once their closest friend, now becomes the enemy as he is drawn into the Hitler Youth. Will the friends ever find their way back to each other? Will they want to?

Inspired by a true story, WHEN THE WORLD WAS OURS is an extraordinary novel that is as powerful as it is heartbreaking, and shows how the bonds of love, family and friendship allow glimmers of hope to flourish, even in the most hopeless of times.  Three friends. Two sides. One memory.
Reviews
Catherine
Tom Palmer's After the War; Michael Rosen's The Missing; Karen Levine's Hana's Suitcase; Morris Gleitzman's Once; Judith Kerr's When Hitler Stole Pink Rabbit; and now, Liz Kessler's When the World Was Ours.
Vienna. 1936. Three friends spend a joy-filled day together celebrating Leo's ninth birthday.  From the top of the ferris wheel the world is theirs, their futures stretching out before them. Each certain that no matter what, their futures will always, always include each other. The three of them, the best of friends.
Inspired by her father's escape from Nazi-occupied Europe, Liz Kessler has written a story that is another incredible tool in starting conversations in classes. Conversations not just about the past and the Holocaust, but about social justice today (conversations supported by the excellent resources at Holocaust Educational Trust).
In When the World Was Ours, Liz has handed the narration to Leo, Elsa and Max and in their capable hands, from the central point of Leo's ninth birthday, a day of joy and endless futures, we follow them as they head down three very different paths - which allows three different perspectives on the events that unfold. Given the subject matter, this was always going to be a heart breaking read but amongst the devastation - and there is devastation - there is hope, and friendship, always friendship.
This should be very high on your 'must read' pile...in fact I'd urge you to put it right at the top.
320 pages / Ages 12+ / Reviewed by Catherine Purcell, school librarian
Suggested Reading Age 11+
Other titles