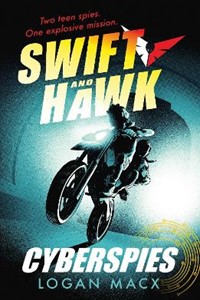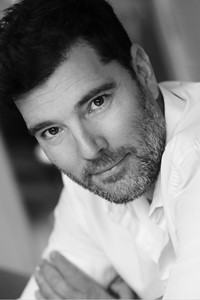 About Author
Swift and Hawk: Cyberspies is a thrilling, high-stakes spy adventure by Logan Macx, the pseudonym of Edward Docx and Matthew Plampin. Say hello @LoganMacx1
Edward Docx (pictured) is a bestselling novelist and journalist, whose second novel, Self Help, was longlisted for the Man Booker Prize. His novels are translated and published all over the world. As a journalist, he has written for major magazines and newspapers. He also writes for television and film. Find him at @EdwardDocx.
Matthew Plampin is the author of four acclaimed historical novels. His most recent novel, Mrs Whistler, was shortlisted for the 2019 HWA Gold Crown. Matthew studied at  the Courtauld Institute of Art, London, and now lectures in nineteenth century art and architecture. Say hello at @MatthewPlampin.
Interview
Logan Macx  (Walker Books)
March 2022
Swift and Hawk: Cyberspies by Logan Macx is a thrilling, high-stakes adventure that pits two teenagers against a sophisticated plot that will require all their teamwork, tech expertise and spy gadgets to win through!
Read a chapter from Swift and Hawk: Cyberspies
Win a copy of Swift and Hawk: Cyberspies
Author duo Edward Docx andMatthew Plampin, who together are 'Logan Macx', tell us about Swift and Hawk: Cyberspies, the first in a brilliant new adventure series for fans of Alex Rider and Young Bond! "Spies always have their gadgets," says Matthew Pampin in this video. "We wanted to take this further and make our young spies the inventors and developers of their gadgets":
Q&A with Logan Macx - Authors Matthew Plampin and Edward Docx
1.   Who is the real Logan Macx? 
Logan Macx is rumoured to be an ex-spy formerly with the British Secret Intelligence Service, specialising in cyber communications and unexplained events. His whereabouts are unknown but he who was last seen on the Isle of Skye about three years ago. He is in periodic communication with the writers of the Logan Macx series - Edward Docx and Matt Plampin.

2.   Why did you decide to write a novel, Swift and Hawk Cyberspies, for children - and to write it together? 
Our wives are best friends from when they were very young. So, we have known each other a long time. We are both writers of adult fiction - and that was great until our children started to come along. Then, gradually, as they moved from being toddlers to readers, they became more and more perplexed that we hadn't written anything for them. We held out for a few years until eventually we caved.

3.   How did you go about planning and writing the novel?
In the beginning, we went up to the highlands of Scotland - to a remote place called Knoydart and we just walked in the misty hills and looked down over the loch and talked to one another about the most exciting story we could imagine.
There's a section in Cyberspies where Zen and Caleb climb a mountain in the snow on the enigmatic island of Spoklesoy and I think that was the very first scene we were sure was going into the book….

4.   Can you tell us a bit about the book?
The short version is that it's a very fast paced spy series for children who love breathless plots, cutting-edge tech and action-packed adventure. But it's also about friendship - about joking around, supporting one another, sharing experiences and facing danger together.

5.   So, what inspired the idea?
Ed - my family on my mother's side have long been involved in military intelligence and so I have always felt adjacent to this world and I wanted to write about it in an accessible way.
Matt - I've always loved the excitement and suspense of spy novels and films. The idea of writing one that also involved a load of dazzling near-future tech was impossible to resist.

6. How did you go about creating your main characters, Swift and Hawk? 
Caleb and Zen seemed to arrive in our imaginations as a fully formed pair. We knew straight away that Caleb would have the amazing Sam - his personalised Artificial Intelligence friend. And we knew that Zen would have her special robot, Beetlebat.
You know you have enduring characters when they present themselves immediately as real. For some reason, we also knew that Caleb would live near Vauxhall in London, where MI6 have their headquarters - and that his base would be on a super-tech barge anchored on the Thames.

7.   There are lots of gadgets and gaming in the novel, why did you decide to make this such a big feature of your story?
We very much wanted a forward, future-facing adventure story. We love fantasy writing about ghosts and elves and magic, but we wanted to set our adventure in the near future that our children were entering. A future where the ghosts - in a way - are Artificial Intelligences and the magic is the strange and wild technologies. This is the future that's coming and this is the world in which our children experience their adventures IRL (as they would say).

8.   There's a big gaming aspect too - are you gamers? 
Matt - I'm the gamer of the two of us. I play all sorts of things and am deeply interested in the storytelling potential of video games. Terrorform - the computer game created by Caleb - is inspired by a wide range of science fiction and adventure games, going all the way back to my childhood - shooters, RPGs, strategy games … far too many to list. I think I could hold my own in Terrorform - or at least not die straight away! One of its coolest features is the level of freedom on offer. There are many different ways to play it.

9.   During Swift and Hawk's adventures, the reader learns about a range of new technologies including AI and quantum computing.  How did you go about researching these subjects for the novel?
We start with our imaginations and our reading about technology. Then we check everything with some friends - one of whom is at Cambridge University and very heavily involved in the world of technology and the other of whom is in a UK business working with AI.

10.   If you could bring home one of the technologies from the book home, which would it be?
Ed - for me, I would love to have an AI that was personal and not designed by an international corporation; something I could trust like Sam.
Matt - I really like the idea of a Beetlebat-style robot familiar that I could whistle special commands to, like Zen does in the book. Maybe something modelled on a toad...

11.   What's next for Swift and Hawk?
Early feedback for Cyberspies has been great. We just love Caleb and Zen and their friends - they're very real and they're great fun to write and to spend time with. We're currently finishing off their second adventure and have many more stories planned. Someone has to defeat Razor!

12.   If you had an unexpected free day, how would you spend it?
Ed - Walking with my children in the Western Isles of Scotland and seeing a golden eagle. Then arguing about whether what we saw was actually a big buzzard. Then coming back to the house in the gathering dusk for an epic shared dinner and the telling of stories.
Matt - in the museums and galleries of of London with my family. Plus a trip to the cinema at the end.

13.   What film, game or book are you most looking forward to seeing / playing / reading this year?
Matt - in my house, every Marvel movie has to be seen at once. We're particularly looking forward to the Doctor Strange one. My son is a massive Sonic the Hedgehog fan, so the new movie and game are high on our list as well. Of the many books that we're eagerly awaiting, two that look especially good are Skywake: Battlefield by Jamie Russell and Legendarium by Jennifer Bell.
Author's Titles