Swift and Hawk: Cyberspies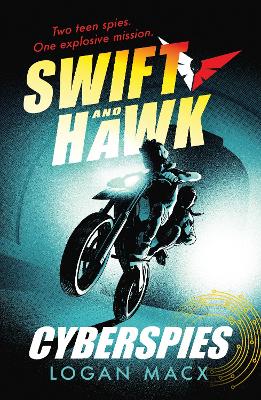 By Author / Illustrator
Logan Macx
Genre
Adventure
Age range(s)
9+
Publisher
Walker Books Ltd
ISBN
9781406394931
Format
Paperback / softback
Published
03-03-2022
Synopsis
An addictive new spy series for Alex Rider fans who love breathless plot, cutting-edge tech and action-packed adventure.

Two teen spies. One explosive mission.....  When their families mysteriously disappear, Swift and Hawk, teen experts in AI and robotics, are recruited by the top-secret Moebius Programme.  Plunged into a life-and-death rescue mission, Swift and Hawk must race from hidden tunnels beneath London to the sinister island of Spokelsoy, straight into the hands of a deadly enemy...

Praise for Swift and Hawk: Cyberspies - "Smart, tense and exciting, Swift and Hawk swept me away into a world of cyber espionage, robots and gadgets that would make even Q envious! A brilliant, breathless thriller." Jennifer Bell. "Loved Swift and Hawk: Cyberspies, a high-octane, high-tech teen spy-fi thriller that left me breathless. Buckle up!" Jamie Russell. 
Video plus Q&A with Logan Macx
Reviews
Clair
Swift and Hawk: Cyberspies is the first in a new spy series written by Logan Macx, which is a pseudonym for two writers, Edward Docx and Matthew Plampin. Swift and Hawk is fast paced, action packed and filled with cutting edge technology. It will definitely appeal to fans of Robert Muchamore's Cherub series, fans of Charlie Higson and Steve Cole.
When the main character Caleb Quinn's mother, a CIA agent, gets kidnapped, she manages to buy him enough time to escape and gives him the secret instruction to go back to school and stay away. Knowing that his mum can take care of herself, Caleb returns to the school to seek out Professor Clay. Clay, however, is nowhere to be found. Unsure who he can trust, Caleb seeks out Zen, Zenobia Rafiq, his best and oldest friend. He is contacted by Zen's Beetlebot, her most sophisticated robot. The Beetlebot scratches out a message for Caleb and he soon finds himself recruited into a top-secret Mobius Programme.
Caleb and Zen are given the codenames Swift and Hawk. They are plunged into a life and death rescue mission to decipher an unbreakable code and rescue their missing family members. Fortunately they are not ordinary teenagers; they're highly skilled. Zen is a robotics engineer with martial arts training and Caleb is a gifted programmer who is an expert in artificial intelligence.
Their rescue mission takes them from the sewage tunnels beneath the British Museum to the dangerous docklands of Amsterdam and a seemingly deserted island of Spoklestark. The villains in this series are portrayed in a realistic manner. Xavier Torrent seems ominous in himself but there would appear to be an even more evil character, 'Razor, who is pulling the strings.
The plot is well thought out and will keep you on the edge of your seat. It is safe to say that Caleb and Zen are in a lot of danger and will really need to rely on their skills to survive. I can see this series being very popular. It will appeal to anyone that enjoys gaming and programming as well as those that enjoy a good action/thriller. Swift and Hawk is full of twists and turns which will keep the reader on their toes. It has been left open for the next in the series and I'm certainly looking forward to reading more.
352 pages / Reviewed by Clair Bossons, school librarian
Suggested Reading Age 9+
Louisa
"Caleb Quinn had never expected to use the emergency exit plan." A classic opening line plunges the reader straight into a breakneck adventure. Caleb and his best friend Zenobia become Swift and Hawk, cyber-spies in the top-secret Mobius programme. Their mission begins with personal goals: to find their families who have been abducted. Soon it becomes clear that they are in a life-and-death race to defeat a ruthless criminal organisation before they are captured, too.
The story zips from the London sewers via the docks of Amsterdam to a sinister and inhospitable Norwegian island, straight into the villains' lair. Within the rapid series of chases and battles, there are just enough flashbacks to flesh out the agents' back stories. Caleb and Zenobia are precociously talented experts in AI and robotics. Now their expertise is their only armoury against a shadowy but deadly enemy; will this and their downright determination be enough to overcome the odds stacked against them?
I enjoyed Swift and Hawk: Cyberspies far more than I expected. Once I'd begun, the plot moved so fast that I found myself racing through the pages, jumping happily from cliffhanger to cliffhanger. I skipped over the rather tedious descriptions of each character's appearance (the language is never inappropriate but not particularly inventive); the story's the thing here. The formula reminded me of the Alex Rider books, but updated to reflect more contemporary technology and has a more 'video game' feel. And, of course, the authors have added a strong female character.
I'll start by recommending it to the children in Year 4 who I know like gaming as much as reading. I predict they will love it.
352 pages / Reviewed by Louisa Farrow, teacher
Suggested Reading Age 9+
Other titles