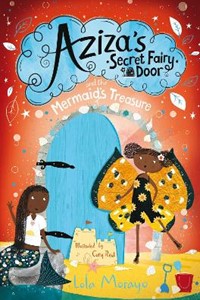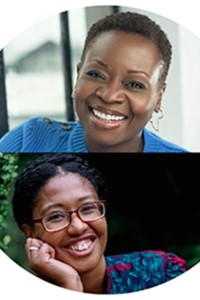 About Author
Lola Morayo is the pen name for the creative partnership of writers Tólá Okogwu and Jasmine Richards. Both are passionate about telling stories that are inclusive and joyful.  Twitter: @LolaMorayo Website: lolamorayo.co.uk
Tólá is a journalist and author of the Daddy Do My Hair series. She is an avid reader who enjoys spending time with her family and friends in her home in Kent, where she lives with her husband and daughters. Website: tolaokogwu.com/
Jasmine is the founder of an inclusive fiction studio called Storymix and has written more than 15 books for children. She lives in Hertfordshire with her husband and two children. Instagram: @storymixstudio Website: JasmineRichards.com 
Interview
Aziza's Secret Fairy Door and the Mermaid's Treasure  (Macmillan Children's Books)
June 2022
Inclusivity and myths and legends from around the world - as well as our more familiar stories of unicorns and mermaids - have helped shape the young fiction series, Aziza's Secret Fairy Door, for children aged five years plus. The books are written by Jasmine Richards, who introduces the series here, with co-author Tólá Okogwu, and together they are Lola Morayo. The books are illustrated by Cory Reid. 
Read a chapter from Aziza's Secret Fairy Door and the Mermaid's Treasure
Q&A with Jasmine Richards
1. Who is Aziza, and what lies behind her secret fairy door?
Aziza loves fairies and arts and crafts. For me, she represents those best traits of perseverance and kindness. The fairy door is a birthday gift from a craft shop, but it soon becomes so much more. It's a portal to a new adventure in each book, giving Aziza unlimited access to the world beyond her everyday life. Although she's happy in her world with her parents and big brother, the doorway gives her access to new experiences such as visiting the countryside with candy-floss clouds or making friends with Princess fairies or mermaids.

2. What happens in her latest adventure, Aziza's Secret Fairy Door and the Mermaid's Treasure?
Aziza and her family are going on a camping trip, but it's raining, so Aziza decides she needs to pack some essential survival equipment - books! That's when she notices the path to the secret fairy door is covered in sand and seashells. Stepping through the door, Aziza finds herself on Shimmerton's beach and it's not long until the naughty fairies, the Gigglers, are causing havoc by accidentally waking up an ancient shell-walker who lives under the sand. Everyone scatters as the shell-walker gets bigger and bigger and it's up to Aziza and her new mermaid friend, Sirena, to save the day.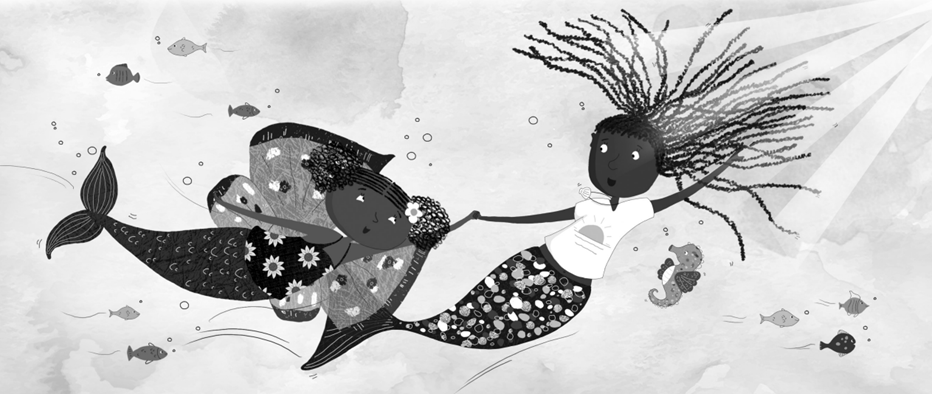 3. What inspired you to write these fairy stories, and how important was it to you that the stories have a diverse cast of characters?
Inclusivity in children's fiction is essential and giving young readers from under-represented backgrounds the chance to see themselves in books is vital. Fairy stories are full of fun and fantasy but it is not a common occurrence to see Black characters having these kinds adventures. All too often, their stories are serious and aimed at older audiences. My co-writer, Tọlá, and I wanted to change that - to create an opportunity for little Black girls to see themselves in the fairy world, experiencing magic and freedom.

4. Why did you decide to write Aziza's adventures together, and how do you plan and write the books?
Tọlá and I both felt that Aziza's story was the kind of story we'd love to tell and knew we could tell them faster if we worked together. Writing the Aziza books has been an incredible ride and we have learnt a lot about creating for this younger audience along the way.

5. How did you develop Aziza's secret fairy world?
There was a lot of research, particularly into world mythology. Indeed, Aziza is named after the mythical winged creatures that appear in West African folklore. Like Aziza, these fairies are known to be helpful and wise. In Aziza's latest adventure, we meet Sirena who is the daughter of Mami Wata, a water deity of the African diaspora. Unicorns, like Mr Bracken, are well known in folklore, but shell-walkers from Icelandic mythology (pictured, from Aziza's latest adventure) are less familiar. Incorporating myths and legends in this way has helped us to open up the world further, but it feels like we've only just begun.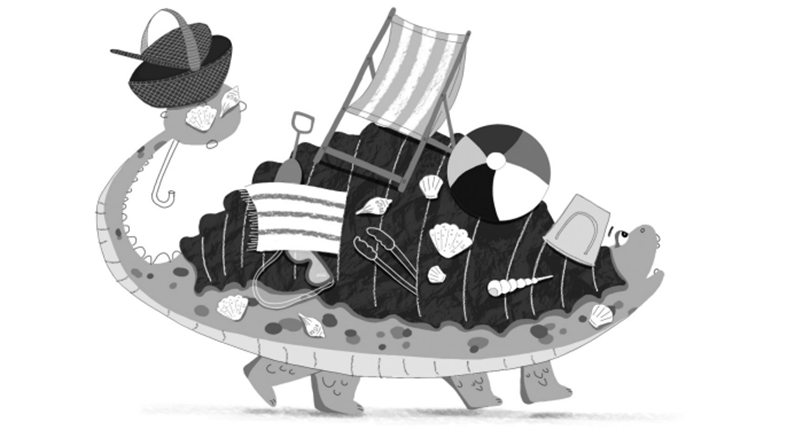 6. Where would you visit if you could find the fairy door?
For me, it's all about time or the lack of at the moment, so it would be a place where time stands still a bit like what happens in my new novel The Unmorrow Curse. Somewhere quiet and peaceful where I can sleep or watch all of the TV programmes I need to catch up on. I'd finally have the chance to read all of the books on my list too!

7. And which of its creatures would you most like to meet?
In her latest adventure, Aziza meets a really cool mermaid called Sirena. Having an underwater adventure with a mermaid would be pretty awesome I think especially if I could get some of that mermaid magic.

8. Do you have any favourite characters from Cory Reid's illustrations of the series?
Cory Reid has done an amazing job with the illustrations and really brings all the characters alive, but Mr Bracken, the unicorn, is my favourite. I love his tank tops!

9. How many more adventures have you got planned for Aziza?
Our publisher, Macmillan, have signed five books and number four has just published. Aziza's Secret Fairy Door and the Magic Puppy, is the last in the current series. As well as more magical fun in Shimmerton with her friends and a magic puppy, Aziza's older brother, Otis, also joins in with the adventure and he has a lot to learn...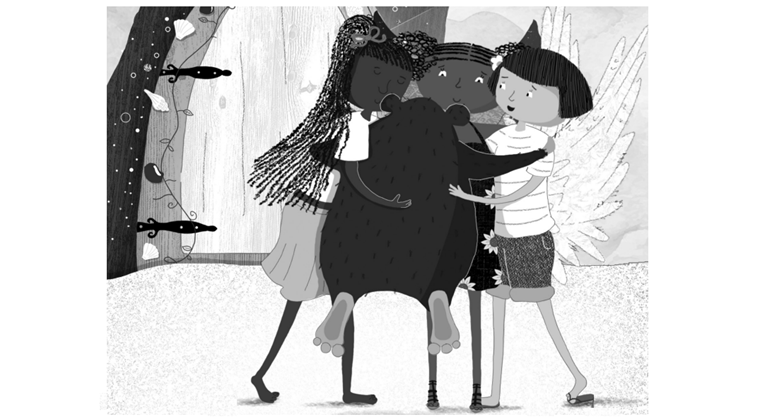 10. What else are you writing?
At the moment, I'm working on a sequel to my book for older children, The Unmorrow Curse, which was published earlier this year by UCLan Publishing. The new book promises more adventure as lots of strange individuals begin turning up at some old ruins and no one knows why they are there. Buzz and Mari work out that the visitors are all forgotten Gods and they are gathering for a huge contest.

11. What would a writer's shed look like in Aziza's fairy world?
It would be a beach hut - just like the ones they have on Mersea Island. I can't imagine anywhere better to sit and write, with a tranquil view. The hut would be candy striped on the outside and the inside would be decorated with fairy lights and soft cushions. The writer's shed would be extra special, because it wouldn't just be for me. It would be a place for all my writing friends to use, hopefully giving them lots of inspiration for more exciting stories.

12. What are your favourite kinds of adventures in the real world?
It has to be a culinary adventure. I really enjoy finding the most difficult places to get to because they have been recommended in the guide book as the best place to enjoy local delicacies. I would definitely scale a mountain to find food!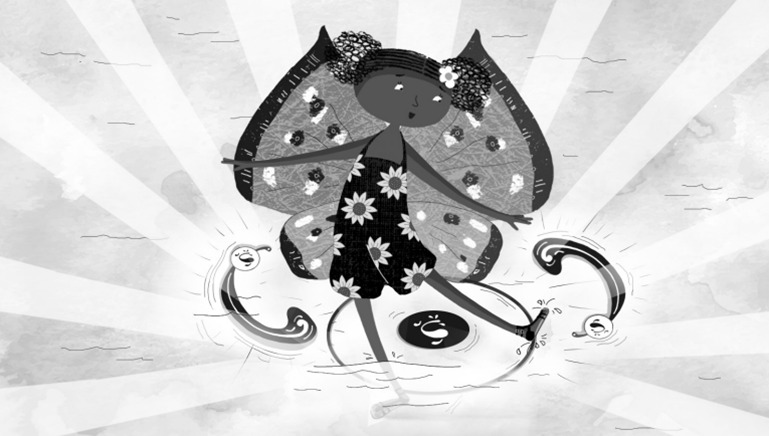 Aziza's Secret Door books are illustrated by Cory Reid, an illustrator and designer who has worked in the creative industry for over 15 years with clients including Usborne Publishing, Owlet Press and Card Factory.                                                                                           Twitter: CoryReidDesign | Instagram: @coryreid_illustration
Author's Titles