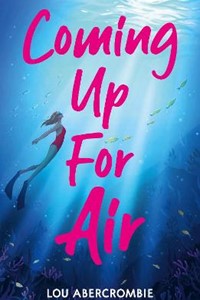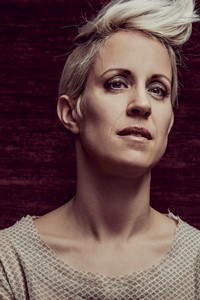 About Author
Lou Abercrombie's new novel, Coming Up for Air, draws on her passions for swimming, and her research into deep diving.
Lou studied Maths at university and went on to apply for jobs in investment banking, but soon switched to television where she worked first as an audio engineer and then as a post production manager and where her favourite moments included recording voice over with Porkins from Star Wars...
After having children, Lou retrained as a portrait photographer and moved to Bath with her family. Alongside projects such as Shooting the Undead (a series that required her to learn how to do zombie makeup) and Age Becomes Her (a series celebrating the older woman), she has focused on photographing children's, fantasy and crime authors.
She now writes the kind of books she would have liked to read aged 11 or 12. For inspiration, she looks to her own areas of interest, including swimming and photography.  When she's not writing, you'll probably find her doing ballet, yoga, playing the piano and being a taxi driver to her three children.
Join ReadingZone for a free Virtual Author Event with Tracy Darnton and Lou Abercrombie (20th May 22, 2pm)
Interview
Coming Up for Air (Stripes Publishing)
April 2022
When Coco moves from the city to the seaside town where her mum grew up, she thinks she will soon make friends and meet her mum's family. Instead, she is met with resentment from the community. Whatever secrets her mum's hiding, they run deep...  We asked author Lou Abercrombie what inspired her new novel, Coming Up for Air.
Reading a chapter from Coming Up for Air
Q&A with Lou Abercrombie
1. What was your path into becoming an author?
At school I never thought I'd be a writer. I wanted to become a sound engineer with the BBC. I studied applied maths at Durham university then joined a post production house in Soho where I worked my way up from receptionist to assistant sound engineer. It was exciting at first. Meeting famous people, working on programmes that were on the telly. I even got to record a voice-over with the actor who played Porky in Star Wars! But… the long hours and boredom of tracklaying convinced me to change course and I eventually became a post producer, working on countless documentaries and light entertainment series.
Still not a book idea in sight though!
When I left the TV industry to have a family, I retrained as a photographer. Through taking author head shots and my husband also being an author, I got to mix with a lot of other writers. Especially when we moved to Bath which seems to have more writers per square foot than any other city! It was only a matter of time before I gave it a go myself…
It was a good friend in publishing who suggested it, actually. I wrote a chapter of an idea, sent it to her, with the key question 'can I write?'. Fortunately, the answer was yes! I went on to finish that book which got me my agent, Gill McLay. But the publishing industry is a slow-moving process, and I am an impatient person! So while I was waiting for this to happen, I wrote another book - Fig Swims the World - which got longlisted on the Bath Children's Novel Award. This is the book that Gill thought would be perfect for my debut and shortly after that, I got a two-book deal with my publisher, Little Tiger.

2. Can you tell us about your new book, Coming Up for Air?
Coming Up For Air is about Coco who moves to the seaside town where her mum grew up, to live with her uncle in a clifftop house overlooking the sea. She's a very positive, can-do person but her attempts to make friends are hampered by a years-old rift between her mum and the community. It's through Coco's determination and her love of swimming, along with a natural talent for freediving, that she starts to break through with the ocean-loving locals. That is until disaster strikes at sea…

3. What was the starting point for this novel, and is the finished novel what you had planned when you began it?
The starting point for Coming Up For Air was a desire to write something else set in the water but not directly about swimming. I read an article about a freediving course which I subsequently went on. Despite my passion for the water, I found to my dismay that I wasn't very good at freediving. In fact, it gave me nightmares! However, it did give me the starting point of having a character who finds she's naturally good at something despite never having done it. Plus I got to give all of my fears to Coco's friend Shiv!
The original idea was to have Coco's mum die in the first chapter which would be the catalyst for Coco having to move in with her uncle. However, it was deemed too gloomy a start. But because I'd already come up with the idea of Min being more of the teenager than Coco, the change in direction suddenly gave me the thread of Min and her brother Henry acting like squabbling siblings. Their scenes are some of the earliest ones I wrote, because I could imagine them so clearly.
One of my original ideas was to base Coco's story on Wizard of Oz, likening her arrival in Piscary Bay to Dorothy's landing in Oz. The novel ended up moving away from this but some of the elements remain including some of the bit characters who were originally modelled on the tin man, the scarecrow and the lion.

4. How much do you draw on your own life - such as your love of swimming - in your novels?
I love to draw on my own experiences. In fact, the one bit of advice I'd give to anyone wanting to write is to live a full and interesting life because it will give you endless writing material! I love writing about things I've done and things I like to do, so you'll often find swimming, photography and maths cropping up in my stories. My characters come from my imagination though I use elements of different people I've met over the years.
I also like to walk in my characters footsteps. So, for Coming Up For Air, I drew on my experiences working in television, tapped into my love of swimming, and have been on a seal watching boat trip, learnt how to freedive and watched a storm batter the coastline. Because I have lived these moments, I think it adds depth to the story.

5. Your main character in Coming Up for Air, Coco, always tries to see the best in everything. How did she develop and why did you want her to be so optimistic; not how teenagers are generally presented?
Yes! Coco is so positive and unlike the way teenagers are often depicted. That's sort of the point of the story. She's the grown-up living with Min and Uncle Henry who are far more teenage like than she is. Initially I wanted to create a character who was the opposite to Fig in Fig Swims the World. I knew I wanted to make Coco confident and less neurotic. Then I started thinking about those people you meet in life who are just so nice and friendly and comfortable in their own skin. Those individuals who take everything in their stride and don't have a bad word to say about anybody, who we can't help admiring. That's who I wanted to Coco to be. Someone I aspire to be and who I hope the reader can look up to as well.

6. Coco's mother, Min, is the teenager in their relationship. Was she fun to write?
Min was so much fun to write! I had the image of Amy Winehouse in my head when I wrote her, though she's based on my experience of a TV type I encountered in my post production years. The kind of person who is so glamorous they almost look ridiculous but who have oodles of confidence in their style so they can get away with it. Coming up with her glamorous yet outlandlish outfits was great fun and I spent ages pouring over images on Pinterest.
Pitching Min as the teenager, dreaming up the ways she ought to behave as a parent but then having her do and say the opposite, were a great way to keep Coco on her toes. And then of course there were the constant arguments she has with Coco's uncle Henry. I loved writing those scenes. They took me back to arguing with my own brother, which I think makes them feel authentic! I also saw them as way of injecting some humour into the book. After all, how ridiculous is it to see two grown adults sniping at each other?!

7. There are some other great characters in the novel, too. Who stands out for you? Who did you enjoy writing the most?
There are several characters that stand out. I loved writing Uncle Henry. He's a once celebrated scientist, obsessed with fish who has seen his career fall apart because of ME. I really enjoyed researching fish and had no idea there was such interesting facts about them! For his illness, I interviewed my mother-in-law who had ME when I first met her. I also liked watching his relationship evolve with Coco and how much his life improves from having her around.
I also enjoyed writing the bit parts, including Wanda the surf-loving gran, Ingrid the fierce boutique owner and Sprout, the adorable yet also annoying younger sister to Shiv.

8. Coco and her mum move to Piscary Bay - is it based on somewhere you know, or do you enjoy inventing your settings?
Piscary Bay is a mishmash of different towns and villages I've visited in Devon and Cornwall. It's not based on one place particularly because I find that too restrictive. I am a visual person, so I like to imagine these things instead. I even drew out a map of the bay and sketched an idea of Cliffhouse so that I could get my bearings!

9. The title, Coming up for Air, draws on the freediving explored in the novel - is this something you do? How did you research it, and what surprised you the most about freedivers?
The idea that sparked this novel came about when I read an article about someone who had gone on a freediving course in order to be photographed underwater dressed as a mermaid. As an avid swimmer, I love adventure, so I thought it was just the thing for me. Except I was terrible at it! It was a three day course - two days of which was a freediving AIDA 1&2 star course followed by another day of focusing on all things mermaid, including a photoshoot. You could say I researched it pretty thoroughly and I've even got the photographic evidence to prove it!
Freedivers are amazing. What surprised me the most was how comfortable they are underwater. They are so calm, as if it's completely normal not to breathe. Whereas I felt nothing but panic, couldn't stop thinking about how deep I was going and how I couldn't wait to come back up for air.

10. Other than a great read, what would you like readers to take from the novel?
I would like readers to be inspired to try new things and to stay positive like Coco.

11. Are you planning to write more for teenagers? Where and when do you like to write?
Yes, I love writing for teenagers. It's the age group I can relate to the most, oddly since my teenage years are some time ago! I've written numerous books which are out on submission, so fingers crossed.
I like to mix it up where I write. I have a study where I work the most, but I also meet up with fellow authors to write in a café and in the summer, I often take it into the garden. As a full-time writer, I am fortunate to be able to write during the day, although that's not to say the ideas don't come at the most inopportune moments. Which is why I keep paper and pen by my bedside, I have a waterproof notebook by the bath, and I can be found recording notes on my phone after I've been for a swim.
I'm currently writing a book called Boo & the Bohemians. Boo is a space geek who has been brought up on facts and figures, not fairy tales. She's been dreaming of space camp all year but finds herself instead sent to stay at Moon Hotel with her estranged dad, his fun-loving parents and their bohemian friends. It's an 'anything-goes' world where there are few rules and even fewer consequences, and it's like Boo has arrived on another planet.

12. What do you enjoy doing in your down-time?

I am a big believer in going on adventures, especially ones that take me to the water. I also love learning new things. I am into wild swimming, paddle boarding, yoga, ballet, reading, playing the piano and taking photographs. 
Author's Titles