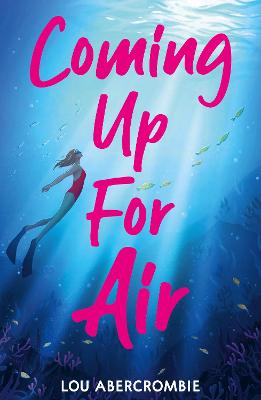 By Author / Illustrator
Lou Abercrombie
Genre
Friends and family
Age range(s)
11+
Publisher
Little Tiger Press Group
ISBN
9781788953184
Format
Paperback / softback
Published
14-04-2022
Synopsis
When Coco moves to the seaside town where her mum grew up, she's excited to make friends and find out more about the family her mum has kept from her. What she doesn't expect is to be met with resentment from the community. Whatever secrets her mum's hiding, they run deep.  But Coco is determined and her love of swimming and natural talent for freediving helps her start to break through with the ocean-loving locals. Until disaster strikes at sea...

As history threatens to repeat itself, will Coco ever be able to undo the age-old rift?  A quirky coming-of-age story, perfect for fans of Katy Birchall, GEEK GIRL and SUPER AWKWARD.
Find out more in author Lou Abercrombie's video and Q&A
Reviews
Morgan
15-year-old Coco and her mother Min move from Soho back to her mothers home town. Coco is anxious but excited too. The idea of making new friends and developing her skills in making films excites her, however she is labelled with terms created by her parents. This encourages Coco to break these unwritten barriers and make a difference. The town continuously blames Min for the death of Billy and, as Coco learns more about her father, they drift apart. Continued prejudices passed down are now affecting the new generation.
This story has real and relatable characters to our society. It is a novel that can really connect with teens who may find themselves in similar situations. Coco's character really builds emotion into the story making it evermore relatable.
Suggested Reading Age 11+
Clair
Coco, a bubbly 15-year-old, is an aspiring film maker who feels like she belongs under water. Her mother Min has lost her job as a producer for a large Soho production house, and they are now having to relocate to her hometown some 300 miles away from everything Coco loves and cherishes. Coco is going to have to try to recreate her life in the very place that her dad lost his life before she was born, in Piscary Bay, a small fishing harbour.
I loved that Coco was excited to make the best of things and make new friends and to find out more about the family that's been kept from her. Despite her positive and friendly attitude, she is greeted with a bit of a frosty reception, and it is clear to the reader that there is a secret that her mum hasn't told her and there's a bit of a mystery to unpick. There is an 'us and them' culture within the harbour community. Tourists are referred to as Zombies, incomers as Cuckoo's and locals as 'fish'. (I could relate to this as we refer to tourists as grockles in Dorset!). Coco is determined to undo this age-old rift and get along with everyone.
I really admired the resilience of the main character, Coco. She was doggedly determined to be cheerful and wear down the locals no matter how difficult a task this might be and greeted everyone by name with a cheery 'hello'. It is in Piscary Bay that Coco discovers an innate talent for freediving and meets Leo, one of the free divers who is a 'fish'.
I thought that Coming up for Air had well-rounded characters. Coco's uncle Henry James is a bit of an eccentric professor who lives at Cliff House with its own private beach and cave. He has ME, a chronic fatigue syndrome and it was nice to see the relationship developing between Coco and her uncle as Min wasn't a very maternal mother and pretty much leaves Coco to her own devices.
I felt that there was a lot that could be learnt from reading Coming Up for Air and like that it is a little bit educational. It contains information about rip tides, safety at sea and marine life. The well-developed characters make this a deeper and more meaningful read. The secrets of her mother's past and Coco's extended family hooked me as a reader, as did the exploration of Morvoren Cave and the rescue mission that takes place at the end.
384 pages / Ages 12+ / Reviewed by Clair Bossons, school librarian
Suggested Reading Age 11+
Emelia
Leaving life in Soho behind for a new adventure in the small seaside Town of Piscary Bay, Coco set out to make the most of her time there while secretly hoping her mother Min will return to London and get her job and home back. Coco's first impression of the sleepy seaside town is one of both excitement and dread. Using all the tricks she learnt while living in Soho - including her smile and bubbly personality - she begins to try and make friends with the 'Fishes', aka the locals. But they view her with hostility and call her a Zombie, which really niggles at her.
An aspiring teenage documentary film maker, Coco starts filming her own documentary and soon finds that she has more family in the town than she realised. Unfortunately they do not know that she is even related to them and hate her mother, Min, with a vengeance. Coco is desperate to find out why and to introduce herself, but Min won't allow it and won't tell her the truth. However, with the help of Uncle Henry, Coco starts researching her family.
Coming Up for Air is a heart-warming adventure of an aspiring film making teenage girl whose life has been turned upside down. The author has thrown in some twists along the way and things aren't always as they seem. Good descriptions support the mind's eye and the pictures forming. Will she ever make friends? Will she ever know her family? Will she ever understand why she is so drawn to the sea? A must read for adventurers and beach lovers alike.
384 pages / Reviewed by Emelia Helliwell, school librarian
Suggested Reading Age 11+
Other titles