Lou Carter & Deborah Allwright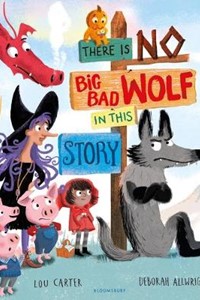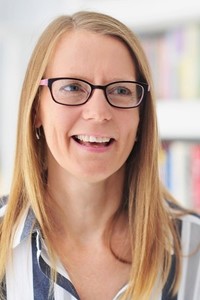 About Author
Lou Carter's There is No Big Bad Wolf in this Book follows the hugely successful There Is No Dragon in this Story (Bloomsbury) - and there are more to come! Before writing picture books, she worked as a primary school teacher. She lives in Cambridge. Find Lou on Twitter @LouCarter240.
Deborah Allwright became a star of the picture book world following publication of The Night Pirates. She has been shortlisted for the V&A Illustration Award and illustrated the hugely successful Don't Read this Book! Deborah works in a studio in Islington, stopping only to attend designer clothes sales, and to do a spot of DJ'ing at music festivals.
Interview
There is No Big Bad Wolf in this Story  (Bloomsbury Children's Books)
July 2021
If you like your fairy tales mixed up, with kind dragons and misunderstood wolves, then you will love these picture books by Lou Carter and Deborah Allwright. There is No Big Bad Wolf in this Story follows the hugely successful There is No Dragon in this Story.  This time, the wolf is the one whose story is causing problems; there is simply too much work for one tired wolf to do.
We asked author Lou Carter and illustrator Deborah Allwright to tell us more!
Q&A with Lou Carter
1. What brought you into writing picture books?
I used to be a primary school teacher and I would read picture books to my year one and two classes every day. One day I decided I would love to write some of my own.
2. Can you tell us about your latest picture book, There is No Big Bad Wolf in this Story?
The Big Bad Wolf can't be in the Three Little Pigs story AND Little Red Riding Hood at the same time. Everyone is cross with him for being late so he decides to take a break, leaving the rest of the fairytale characters to do the huffing and puffing. It does not go too well!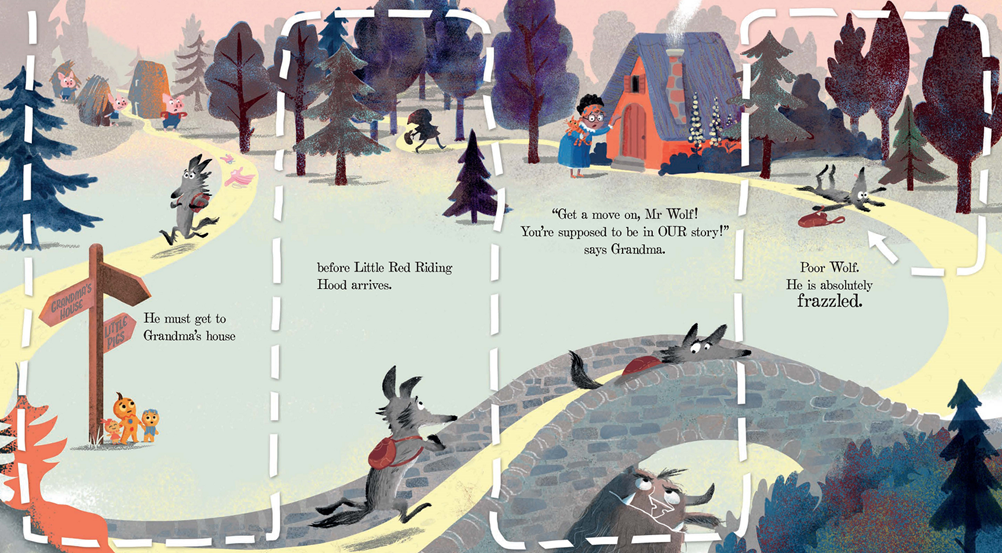 3. There's a Dragon in the story who looks familiar…
Dragon, who is always keen to help, makes an appearance but almost burns the whole story down. Oops!
4. Why did you decide to move on to Wolf's story for this picture book?
Nobody ever seems to like the Big Bad Wolf so I decided it was time we heard his side of the story.
5. Wolf has a tough job - as a child, were you ever on wolf's side?
No, never. I was a bit of a scaredy cat as a child.
6. What would you like children to take from the story?
I'd like them to be entertained and have a giggle.
7. Do you enjoy Deborah Allwright's illustrations - any favourites?
I LOVE Deborah's amazing illustrations. These are my absolute favourites;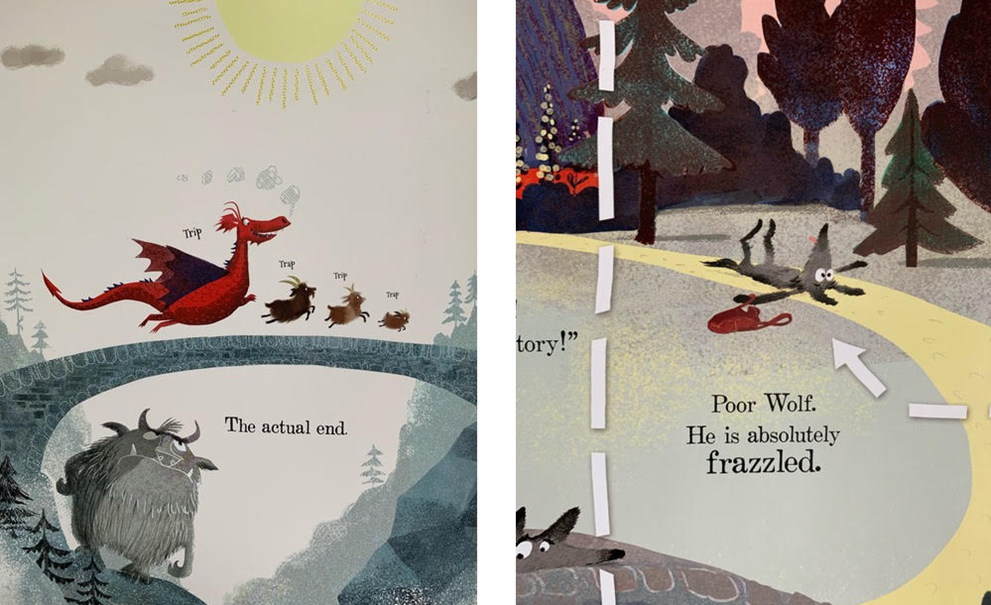 8. Do you have any great ideas for how to use these picture books in the classroom?
Children can use the structure of these stories to make up their own fractured fairytales which are enormous fun to write! Just choose a character, take them out of their usual story and plop them down somewhere else! Easy peasy.
9. Will you be writing more 'fractured fairy tale' picture books?
Absolutely! Plenty more on the way folks!
Q&A with Deborah Allwright  
1. How did you get started in illustrating picture books?
I had just left art college and found myself an agent in central London. I was excited to be offered two picture books of traditional fables! One of these was Aesop's The Town Mouse and the Country Mouse. In order to start my sketches I got myself a pet mouse and named him Seymour.
Seymour was my mouse model and companion through the months of working on these books. I can honestly say, I was a complete novice and had no idea how much work went into creating a picture book and so, in later picture books, I would sometimes add a little mouse hiding on the page as a reminder of that time Seymour helped me on the way to becoming an illustrator.
2. Why did you want to illustrate these picture books by Lou Carter?
Lou has created a wonderfully fractured alternative to the traditional fairytale world. I love that children will recognise Red Riding Hood, the Three Little Pigs and the Gingerbread man but in these twisted plots the familiar characters play new roles. The stories are fast paced and very funny. All of the above is very appealing to my style of work.
Both of Lou's books offer imaginative use of page layout and timelines. I love to draw stories that are like a theatre stage set where the trees and props all get moved around.
3. Do you do lots of doodling before you decide what the characters will look like?
I do an enormous amount of sketching on piles of A4 paper before the right character emerges. Lots and lots of variations to try out different facial expressions and hairstyles!
Doodling is essential and a fun part of the process as you never know what might spring from the imagination.
4. Who is your favourite character to illustrate? 
Wolf is my favourite! He has a wide range of expressions but mainly he is very grumpy! I loved drawing the sequence of Wolf's expressions as he is changing his mind on helping the fairytale characters. He doesn't have much dialogue in the story so mostly his eyebrows reveal his mood.
I also enjoyed drawing the 3 little pigs trying to huff and puff like a big bad wolf. It was a little difficult getting the comical cheeks to look full of air but I myself practiced these expressions in the mirror!
5. Do you enjoy filling in the gaps of the story through the illustrations?
Yes, I think those moments in a story where the text leaves the description to the visual can be very imaginative.
The scene with the visiting Dragon sets a sequence of events into action.  Our well intentioned Dragon has been huffing and puffing and created some kind of disaster. The text doesn't tell us what is happening but the entire page is covered in plumes of dark smoke and there's only one possible answer for that!
6. How do you create your illustrations?
I always sketch in pencil first and possibly do some inky silhouette shapes to start building characters. I scan my second stage sketches into the computer and colour these in Photoshop, playing with the tone and proportions.
I have a collection of scanned textures that I have painted to use as backgrounds and features. I like collage as a method of building a scene and this can be very playful when working with a computer.
7. Which spread are you happiest with?
I quite like the spread with Wolf running through his story locations along a winding path past all the other fairytale characters. It was a challenge to show Wolf's impossible task to be in 2 places at the same time on the same page (see above). But this is the joy of visual story telling.
8. Where are you happiest working?
I am lucky to have a shared studio space to work from. I cycle from home and once there, I can disappear from the everyday to a place for the imagination. The space is filled with all sorts of art materials and collections of interesting objects to inspire.
9. What would your dream studio look like?
I more or less have the perfect studio. It even has a mouse living in it!
The only addition would be a self filling chocolate vending machine.
Author's Titles