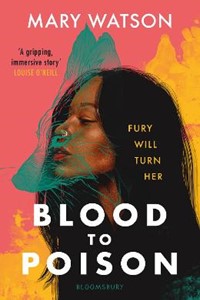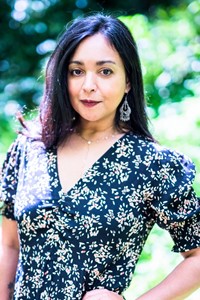 About Author
Mary Watson's new YA novel, Blood to Poison, explores anger, witchcraft and a family curse and is set in today's South Africa. 
Mary grew up in Cape Town during the apartheid years and did her Masters in Creative Writing with André Brink. She won the Caine Prize for African Writing in 2006 and appeared on Hay Festival's Africa39 list of influential writers. Mary now lives in Galway with her family. Blood to Poison is her third novel for young adults and the first rooted in her South African heritage.
Interview
Blood to Poison (Bloomsbury YA)
April 2022
In this stunning contemporary fantasy for YA readers, author Mary Watson (The Wren Hunt, The Wicker Light) introduces the simmering anger caused by past injustices; the magic that lives at the edges and within communities; and a young woman whose life is under threat from a family curse.
Download a chapter from Blood to Poison
In this video and Q&A, Mary Watson tells us more about Blood to Poison and what inspired the novel, as well as reading from a short section of Blood to Poison:
Q&A with Mary Watson
1. Can you tell us how you started writing for YA readers?
I had fallen in love with YA fantasy and dystopian novels. When I finished the first draft of the contemporary fantasy I was working on (this became The Wren Hunt), I realised that without meaning to, I had written a YA fantasy. I had been so deeply immersed in reading YA fantasy that I'd inadvertently ended up writing one, and this was something I explored properly in later drafts.

2. What is your new book, Blood to Poison, about?
Blood to Poison is about 17-year-old Savannah who has to break a centuries old family curse in order to save her life, and the magical underworld she discovers. It's a story about anger, about the discovery of magic and of love in its many guises.

3. What inspired this story of a family curse?
There is a story of a cursed ring in my own family that's fascinated me from young and I've always been drawn to witches. Initially, I'd been thinking of a story of a girl who was cursed to be mean during the day and regretful at night, and at some point early on I realised that her curse was related to anger.

4. Can you tell us about your own connections to South Africa, the setting for your novel?
I currently live in Ireland with my Irish husband, but I am South African and lived most of my life there. The book is set within my community in Cape Town, and many of the places in the book are places I've lived or visited.

5. Savannah, your main character, is cursed with anger - do you empathise with her feelings of rage?
I think we're living in intense times, emotional times, and there is a lot to be angry about. When planning the book, I was feeling a low-grade simmering anger, caused by my frustration with the world: the increase in racism and misogyny, the climate crisis, disinformation etc.
So, yes, I do empathise with Savannah and it was good to have a kind of outlet in her. For example, in the opening scene where Savannah smashes a car in a fit of anger is a kind of power fantasy - I've been in a similar situation, many of us have, and there is a part of me that would love to forget civility and let loose in rage. But of course, I control my emotions and save it for fiction.

6. The background to the story is the history of slavery in South Africa. Why did you want to link that history with today's generation of young people in this novel?
Growing up in a community that is descended from enslaved people (as well as colonial settlers) I feel a strong connection to this story. I thought long and hard before writing - these are real traumas, and researching it brought back how appalling slavery was in terrible detail. But these are our stories, I believe they should be told and I felt that writing it as a YA romantic fantasy brings it to a different audience, one that hasn't read about slavery in the Cape before.

7. The magic in the novel feels very real, taking on a life of its own. Did you do much research into beliefs for Blood to Poison?
In South Africa, magic jostles alongside the real. This is an element of South African culture that really inspired the magic and folklore I created in the book. I wove in some of these beliefs in magic (for example, doekoems, djinn, tokoloshe), and ran it in parallel with the invented magic. One of the things I love best about writing fantasy is the building of a magical system, and I like to keep it fairly close to the real - I hope to create something that is plausible within this reality.

8. Why did you decide to make your most powerful witches in the book women?
I never really thought about it - it was what came naturally. I suppose, on reflection, my creation of the Four Sisters was also a kind of power fantasy - it is four women from different backgrounds, at a time when they would have had little power and would have been unlikely to forge a sisterhood. I wanted to revise that.

9. Was writing Blood to Poison a difficult experience for you, and / or a cathartic one? How do you feel about your finished novel?
Balancing the desire to tell a fun, fast paced romantic adventure with the need to do justice to the traumatic foundations that I built the story on was hard and I'm grateful for the help I had along the way - from my editors and also later from the sensitivity readers. I like stories that have nuance and are a little morally grey, and I think this is there. Overall, I'm pleased with how it turned out.

10. Other than a powerful story, what would you like your readers to take from Savannah's story?
I want readers to get swept in story, lost in a magical world and to feel along with the characters; honestly, directing a reader to feel something is one of my main objectives - it's one of the most awesome things, for me, in the exchange between writer and reader. But I do hope that readers who aren't familiar with South Africa and its difficult history get some insight into this beautiful but complicated place.

11. Are you writing more books for young people?
I'm working on another one right now. It's too early for me to talk about it, but I am enjoying it.

12. Where and when do you do your best writing?
I work best at my desk in my study. When I'm very involved in a book, I wake up early, maybe 5am, maybe 6am and I get my best writing done before seven thirty.

13. Have you read other YA novels based in Africa, and do any stand out for you?
I've enjoyed the African inspired YA fantasies that have been published in recent years, like Children of Blood and Bone and The Gilded Ones. I also love the writing of South African YA writer, Sally Partridge.

14. What do you enjoy doing to relax away from your desk?
Laughing with friends and family, going on walks in nature, reading, making candles.
Author's Titles