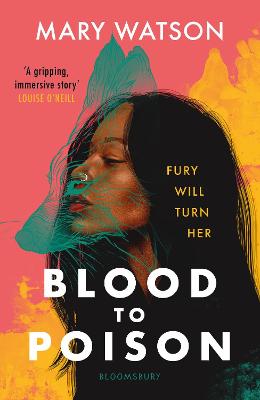 By Author / Illustrator
Mary Watson
Genre
Fantasy
Age range(s)
14+
Publisher
Bloomsbury Publishing PLC
ISBN
9781526619174
Format
Paperback / softback
Published
14-04-2022
Synopsis
17-year-old Savannah is cursed. It's a sinister family heirloom; passed down through the bloodline for hundreds of years, with one woman in every generation destined to die young. The family call them Hella's girls, named for their ancestor Hella; the enslaved woman with whom it all began.
Hella's girls are always angry, especially in the months before they die. The anger is bursting from Savannah - at the men who cat-call her in the street, at her mother's disingenuous fiance, even at her own loving family. Each fit of rage is bringing her closer to the edge and now Savannah has to act to save herself. Or die trying. Because the key to survival lies in the underbelly of Cape Town, where the sinister veilwitches are waiting for just such a girl.
Blood to Poison is a furious and mesmerising story about discovering magic, historical rage and love in all its guises.
Author Mary Watson introduces Blood to Poison
Reviews
Eileen
17-year-old Savannah is angry, very angry. She's angry at the hundreds of injustices of everyday life in post-Apartheid South Africa. She's angry at the racial injustice and violence against women which surrounds her, at being cat-called in the street, at being treated differently from white men. She's angry at her mum's new fiance. She's angry at the sinister curse which has passed through her family's bloodline for hundreds of years so that one woman in every generation is destined to die young.
These girls, Hella's girls, are named after the enslaved woman with whom it all began, the woman who harnessed magic to curse her enslaver's family, little realising she was carrying his child. Hella's girls are always angry, especially in the months before they die. Savannah can feel her anger building, bringing her closer to the edge, can see the tell-tale rash on her skin, and is determined to act to save herself from the curse, or die trying. But blood curses are almost impossible to lift, especially when you find yourself in the middle of a war between rival factions of magic practitioners, jackal and furious veilwitches, in the dark underworld of Cape Town.
Blood to Poison is an ambitious and original urban fantasy thriller, deeply rooted in South African history. Such is Watson's skill as a storyteller that she blends myth and magic with a contemporary setting in a way which is both credible and compelling. Though the setting is particular, the themes are universal: identity, enslavement, racism, poverty, misogyny, discrimination, disinformation, self-discovery, female power and love.
The intensity and relentlessness of Savannah's rage makes it impossible not to care about her. As a reader, you can almost feel her fury in the pages, making it impossible to put the book down. Far from being a one-dimensional character, defined purely by her unapologetic anger, Savannah's large and loving extended family of cousins and aunts and reliable childhood friends keep her grounded and believable. Her anger is at once a curse, a gift and a strength. Teenage readers will identify with her struggle and resistance instantly and completely.
Blood to Poison is a book too good to reserve just for your fantasy fans. Recommend it to all kinds of readers for its high stakes, plot twists, fast pace, dark magic, very real danger, identifiable emotions, and eye-opening insight into South African history. Just brilliant!
For more page-turning feminist fantasy with a dark and magical twist try This Poison Heart by Kalynn Bayron and The Gilded Ones by Namina Forna. For a shocking and realistic slant on appropriate anger try Furious Thing by Jenny Downham.
384 pages / Reviewed by Eileen Armstrong, school librarian
Suggested Reading Age 14+
Tanja
South African born fantasy YA author Mary Watson, known for her bewitching 'Wren' books, returns to her Cape Town roots for her latest thriller. Reminiscent of Tracy Deonn's 'Legendborn' with its blood magic, heady sense of place, colloquial language, generational pain, interwoven mythology and undercurrent of grief-stricken anger, it has complex layers and fizzes with energy and urgency.
Centring around the world of 17-year-old Savannah, who is the victim of a sinister family curse, the book explores the legacy of slavery, misogynistic attitudes and how power corrupts. It will draw readers in who enjoy enchantments, mysteries and a "will they, won't they" romance dynamic as Savannah flirts with feelings for the mysterious and troubled Dex.
Tension rises as Savannah combats with rage and contempt for her would be stepfather Quinton while battling to find the keys to stop the ticking timebomb of her magic exploding and causing chaos. The angrier she feels, the more she attracts powers of darkness controlled by the Jackal, the quintessential trickster character.
As her extended family become concerned at the continued appearance of strange marks on her skin, Savannah discovers the atmospheric and intoxicating world of the Carniveil, inhabited by the Nightmarket's Veil Witches. Like Cassandra Clare's Shadow Market, this is a place of dark dealings, double crosses and dangerous choices. Yet where there is dark there is light. The question is, whom can Savannah trust and will she ever be free?
Watson was inspired by family history, heritage, star myths and endemic social issues to create this narrative which remains visceral and evocative, despite its convoluted plot and multiple twists. CAUTION - Provocative language is used to express anger and there are violent scenes.
384 pages / Reviewed by Tanja Jennings, school librarian
Suggested Reading Age 14+
Other titles