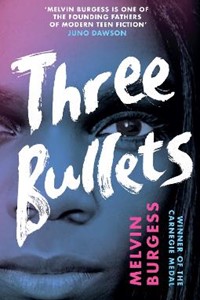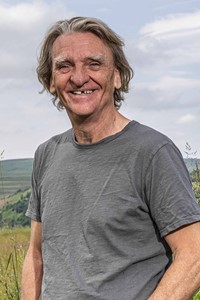 About Author
Melvin Burgess is regarded as one of the best writers in contemporary children's literature, having won the Carnegie Medal and the Guardian Children's Fiction Prize for his acclaimed novel Junk, whose 25th Anniversary edition has just been published by Andersen Press, together with his new novel, Three Bullets.
Melvin Burgess was born in London and brought up in Surrey and Sussex. He had a variety of jobs before becoming a full-time writer. Before his first novel, he had short stories published and a play broadcast on Radio 4.  
Read a chapter from Three Bullets
Interview
Three Bullets  (Andersen Press)
August 2022
In a future dystopian Britain, riven by civil war, the 'Bloods' are in control - white, Christian supremacists who will stop at nothing to achieve this. But they have reckoned without Marti, whose mission could destroy their movement from the inside. Melvin Burgess tells us more about his powerful, breath-taking novel, Three Bullets, and talks about his boundary-busting novel of 25 years ago, Junk. 
Q&A with Melvin Burgess
1. Can you tell us what Three Bullets is about, and why you chose this title?
In the world of Three Bullets, the UK is in the grip of a civil war, and the group that's winning is the US-backed, far right, white supremicist Christian government, the Knights of the Blood of Christ, known as the Bloods. Now they're headed north and Manchester-based Marti thinks it's time to leave the UK and go to a proper country where she can live the decadent lifestyle she wants.
But then she discovers that her dad is still alive, trapped down south in the ERAC, the Evangelical Re-alignment Center, where they use a new technology to re-write history directly into people's brains. She just cannot allow her beloved dad, who was always so radical, to be turned into a racist dummy, so with her best friend Maude and her little brother, she heads off down south into Blood's territory to try and save him.
Trouble is, mixed heritage, trans Marti represents everything the Bloods hate just by existing. Can she win through, deliver the software her dad helped develop to reverse the ERAC process, and escape intact? Marti is not at all sure that she can.
2. You've explained that Three Bullets is part of a triptech of novels, 'Ruled Britannia'. How did this come about, what inspired this world and your title for the triptech?
The idea of Ruled Britannia began with wondering how it would be if what has happened to Syria happened here. Two friends, Tariq Mehmood and Pete Kalu, came up with the idea of doing something together, and this is the result. The three novels are set in the same world, but involve different characters in different places, although they brush together somewhat.
Tariq was the main developer of the world, although we all had a part. The idea is that the USA has defaulted on the dollar, so no one there or the troops stationed abroad is getting paid - chaos! Civil war breaks out in the USA, and the troops abroad offer themselves out for hire as mercenaries. Here in the UK, they join various factions and war breaks out here, too. In the end, a southern, far right group win in the States and they prop up a government with similar views here - the Knights of the Blood of Christ.
The title Three Bullets came along whilst I was writing the book, but I think it's too much of a give away to say why here - you'll have to read the book!
3. Why did you decide to create this world with other authors? 
Writing is a very solitary thing. You miss out on the kind of contact you get with other people you get when you're writing plays, TV and so on. On the other hand, writing the same novel with someone is difficult - it's never worked for me. But with this idea you get the best of all worlds. We swapped drafts, talked about the world, discussed the politics, the religion etc., exchanged ideas. It was a really fun project to do - such a change.

4. Your main character in Three Bullets, Marti, leaps off the pages. How did she develop and did you enjoy creating her?
Writing Marti was the best fun - I fell in love with her early on and she more or less told the story for me. She came about via various routes. First off, when I suggested to Pete that Marti might visit his prison camp where they were re-writing people, with some software that might reverse the process, he said …'Great idea, Melvin, but I can't have the white cavalry. She has to be mixed race.' So that was a challenge - I've never written a black character before. I was always very wary of that, because the basic experience of black people is so different, even if you grow up in the same town, or the same street. There's liable to be another culture involved in their past, and of course we live in a racist world.
For this book, though, I had Peter and Tariq to advise me about black history, the experience of being black, how to take some things into account that I never thought existed, how to dump ideas that were redundant. They were both amazingly generous with their time and their efforts. It's been a massive but very fun learning curve for me, it's made the world I was writing infinitely richer than I could ever have managed on why own - and it's been a huge help in making Marti what she is.
The trans side of things came about in an unusual way. I couldn't make up my mind if my character should be a boy or a girl to start with. Then I thought, 'Well, maybe I'm being as bit prescriptive here. Things aren't so simple after all …' So I stepped back, let them speak... and she kind of 'came out' as trans.
Once that happened, it made a lot of sense because it's just the very sort of thing that the Bloods, her mortal enemies, would hate. And then her voice, that transgressive, tough, funny, self depreciating voice, sprang out. I showed the earlier drafts of the book to people in the local queer community, including trans women, and again, they were so generous and helpful to me in getting her right and showing huge enthusiasm for the character. So I was away …!
5. Why is it important to shine a light on LGBTQ issues in the novel?
That community still suffers prejudice and abuse all around the world to this day, and it shows no sign of ending, although progress is being made in many quarters. Once we had the world sorted out, and once it appeared that Marti was going to be everything the regime hated, her being part of that community in some way or other was more or less inevitable.
Trans issues are particularly interesting because unlike, say, gay people, trans rights involved everyone else taking on new definitions. People who have spent their lives thinking that their gender is defined by their physicality are very challenged by those ideas. And trans people, particularly trans women, have to face down curiosity and prejudice every time they go out the door. It must be exhausting, but it does develop in some people into a particular kind of beauty and a tremendous presence. I think those ideas really helped make Marti what she is.
But I don't think that this is something that is central to the book. Marti's trans identity isn't something she pushes forward … it isn't how she defines herself, she's much more than that. I wanted that side of her just to be something that's there, that comes up from time to time. The book certainly isn't about being trans. It's just something she happens to be.
6. Who is your favourite supporting character in Three Bullets?
It has to be Marti's best friend Maude. In many ways they're a double act. Marti admires Maude for her principles ('I admire her for having principles because I don't have any myself,') but is at the same time is infuriated with her for trying to do the right thing all the time, when all Marti wants to do is be selfish. But she learns in the end that although she presents herself to everyone, including herself, as this cold, heartless bitch, she is at heart anything but. It's her love for Maude that carries her through so many trials.
7. Were there parts of the novel that were particularly difficult to write?
None of it was very personal to me, which is one area that can make things hard … you find yourself getting in the way too much. Marti's voice carried me though most of it. I suppose people would think that a lot of the violence might be hard to write, but actually, Marti is actually rather coy about intimate experiences. (I know that must seem like an odd thing to say, but curiously, violence to the person is intimate, in the most horrible way.) So she avoids giving any real detail.

8. Will you be revisiting Marti?
Writing Marti was the best writing fun I've had in a long time. I certainly wouldn't say it's out of the question.

9. Marti's playlists from her dad help keep her going. What would be the top five tunes on your playlist for anyone listening to Three Bullets?
Silvester - You Make Me Feel; Marvin Gaye - What's Going On; Crazy in Love - Beyonce; Coming Home - Diddy Dirty Money; The Birdie Song. Her Mum and Dad used to play that and dance with her to it when she was tiny.
10. One of your earlier novels, Junk, is celebrating its 25th anniversary. How important was that novel to you?
Junk was my breakthrough novel. Although it caused a stir at the time and some people hated it, in fact it's done an awful lot of good in the world, and still today I get people writing to tell me how much they loved and do still love it. So yes, it's an important book for me.

11. Where is your favourite place to write, and what are you working on currently?
I have a study on the edge of the woods - I love it there. At the moment I'm having some time off. Why not? It's summer, innit?
Author's Titles