Michelle Robinson & Sharon Davey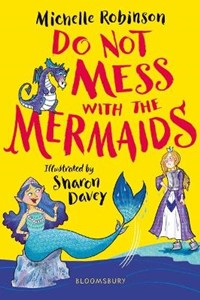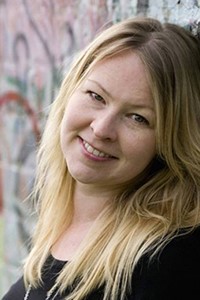 About Author
Michelle Robinson is the bestselling, award-winning author of picture books including The World Made a Rainbow, She Rex, There's a Lion in my Cornflakes, A Beginner's Guide to Bearspotting and many, many more. She has won awards, including the Lollies Laugh Out Loud Book Award and Sainsbury's Children's Book Award.  michellerobinson.co.uk / @micherobinson
Sharon Davey is a children's illustrator based in Surrey, England. She loves to draw grumpy kids and comical animals, and also enjoys sliding down stairs on her bottom and collecting plastic dinosaurs. Sharon has worked for a variety of clients, including David Fickling Books, Oxford University Press, Usborne and Bloomsbury. When she's not at her desk working you can find her dancing in the kitchen.
Interview
Do Not Mess with the Mermaids  (Bloomsbury Children's Books)
July 2021
A fabulous new adventure from Michelle Robinson and Sharon Davey involving dragons, mermaids and knights of old, Do Not Mess with the Mermaids will become a firm favourite with children. It follows on from their previous title, Do Not Disturb the Dragons. We asked Michelle Robinson and illustrator Sharon Davey to tell us more about their books.
Read an extract from Do Not Mess with the Mermaids
Q&A with Michelle Robinson
1. Can you tell us what happens in Do Not Mess with the Mermaids?
Grace and Portia, the two young princess-knights who live in Wondermere Castle, find an abandoned dragon's egg in the castle moat. Even though it's against the rules, they can't resist caring for the egg. It hatches at the worst possible moment! Queen Jeen, mermaid ruler of the Outer Ocean, is coming to visit. Merfolk do not like dragons - not even extremely cute baby ones. Grace has to find a way of keeping everyone happy, using her wits, her legendary good luck and a magic potion or two.
2. What got you started on dragons in the first place, for Do Not Disturb the Dragons?
I had dreamed up a fantastical adventure story about two young princesses who were secretly knights in armour. I knew the story was a little longer than my usual picture books. The plot was a little more involved and there was just more to unpack than is possible in a few hundred words - this story wanted to be a chapter book for young readers. A whole series, actually!
I wanted to write the sort of book I would have adored as a child - I was a huge fan of The Worst Witch, and I hoped to write something as playful, mischievous and full of ideas. Just like when I'm writing my picture books, I wanted to make sure it was just as much fun for adults to read aloud as children.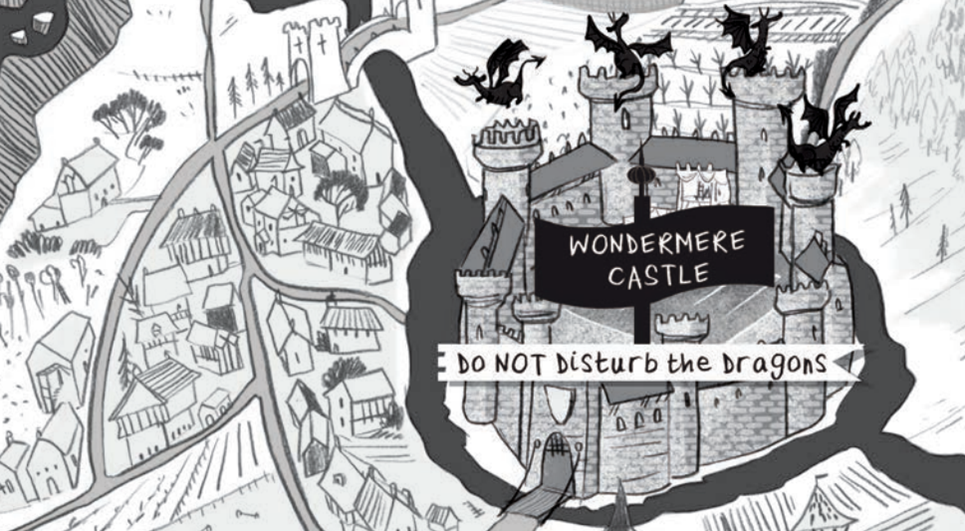 3. Grace and Portia have dragons living on their castle turret. How would you cope if a dragon nested on your chimney?
What a wonderful thought! I'd absolutely love it, so long as it dropped the occasional gemstone into my fireplace rather than ... you know, the lucky, mucky stuff that comes out of its other end.
4. Why did you decide to bring Merpeople into this story?
As you can see from Sharon's brilliant map, the first book only explores a tiny fraction of the realm of Wondermere, but it also hints at some key locations and their inhabitants. I always loved the idea of the mermaids in the castle moat, and I wanted to find out more about what merfolk would be like in Grace's world. I knew all along they'd be every bit as fiery as Grace herself, so it was brilliant to dive in and meet them properly. I think mermaids would have to be really tough and smart to survive and thrive under the sea, so it was fun to write mermaids in this way.
5.  What did you think when you first saw your characters drawn by Sharon Davey - and that baby dragon!
Sharon's illustrations are superb. She manages to make her characters so charming, funny and real. Their expressions and body language are always spot on. There's a unique magic that goes on somewhere between my words and Sharon's pictures that really brings Wondermere to life. Her dragons are particularly gorgeous, especially baby Dennis.
One of the many things she does so well is bring her own heart and humour to her pencil lines. You can feel it coming right off the page. She's a special illustrator and a wonderful person. I'm very glad to know her.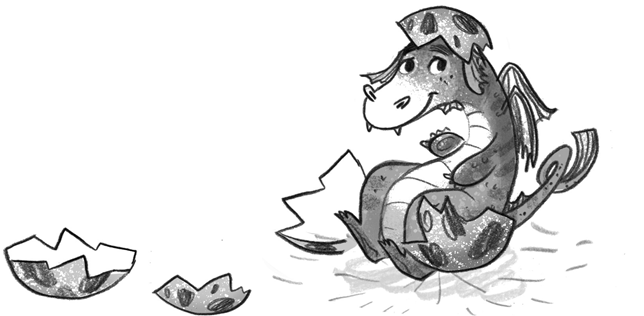 6.  If you got to spend a day with the sibling princesses, Grace and Portia, where in Wondermere would you want them to take you?
Somewhere we haven't been yet! I really want to visit the witches' house, where Verity Merriwinkle lives with her grandmother. Their house has a spirit of its own and I know it's as difficult to trust as Verity herself. It's full of surprises, which makes it a very tempting place to write about. That's how authors visit most places: in our imaginations.
7.   Portia is Champion of Dragon Studies and Grace is Champion of Troll-o. If you could be anything, what would your chosen Champion title be?
Ooh, these questions are great! In Wondermere I'd like to be Champion of Treehouses, so that I could have a good nose around them and generally hang out up a marshmallow tree, drinking tea and admiring the view. In our world, I'll be Champion of Chocolate, please.
8. Do you have more adventures planned for Portia and Grace?
I most certainly do. I am currently writing the third book, and loving every minute. There are some new characters to get to know as well as some old friends to hang out with. I honestly love being in Wondermere so much, I sometimes feel sad that it's not a real place. Writing about it is the next best thing to living there. I hope to carry on dreaming up more adventures for as long as people enjoy reading them.
9.  What's the biggest adventure you've ever had in real life?
Aside from motherhood, which is my favourite adventure by miles, it would probably have to be visiting my aunt on a little island just north of Panama. I absolutely hate hot weather and am terrified of poisonous creatures, so I was not happy. But it opened my eyes and made me want to go on more adventures afterwards, albeit in less terrifying places with a cooler climate
Q&A with Sharon Davey
1. How did you become an illustrator?
I was a set and costume designer for children's theatre for years and decided to change to illustration after reading about a million picture books to my own kids. I went on lots of short courses and worked on my portfolio for about 3 years before I got an agent and started creating published books. It's the best job in the world.
2. What are you enjoying about illustrating the Wondermere books?
The words are just so funny. I really had a sense of Michelle's voice in my head when I got the first draft. She's so good at storytelling without restricting me with too much detail. It's a brilliant position to be in and I'm genuinely excited to see what she comes up with next.
3. Do you have a favourite character to illustrate?
The Dragons are the easiest to draw for me, but I enjoy Grace's expressions the most. She is so dramatic and adventurous. I love her.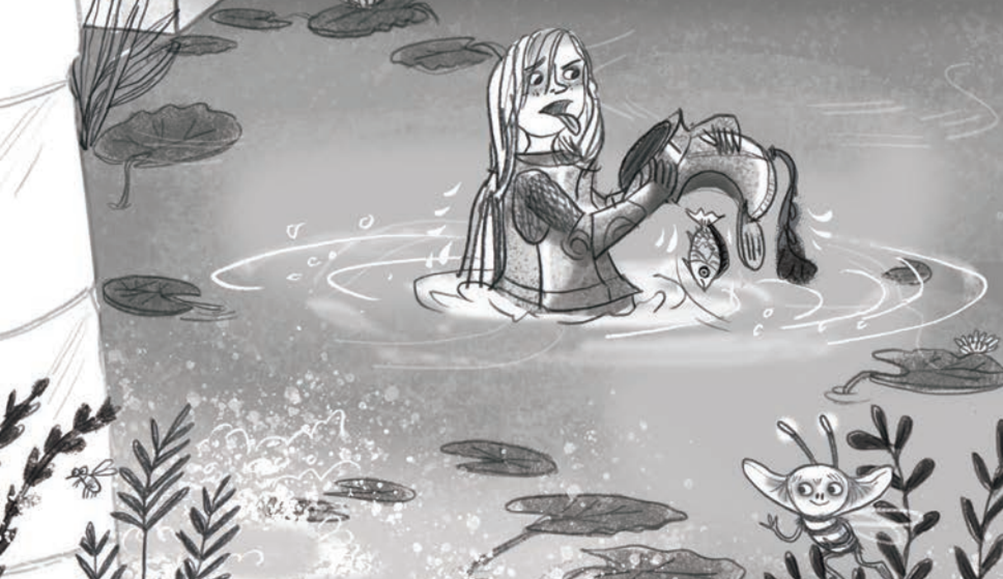 4. Do you choose which parts of the story you want to illustrate, or are you told which to cover?
I work with an amazing designer, Juliette, and the art direction is communicated by a team. It is meticulously arranged and discussed even before it comes to me, so I just draw the moment listed as I see it. I choose the perspective, composition, and characters' interactions. Very rarely do we change the aspect of the illustrations as that would affect the text so much and the layout is super important.
5. Do you enjoy illustrating in black and white?
I love it! It always takes me a while to get back into it after working on full colour picture books. It's a different pocket of my brain being activated. Everything is smaller but just as detailed. It's crucial to get the right contrast in black, white, grey and texture or you will lose important details.
I worked much more instinctively on book two because I knew the characters and had made quite a few decisions in book one about landscapes and environments.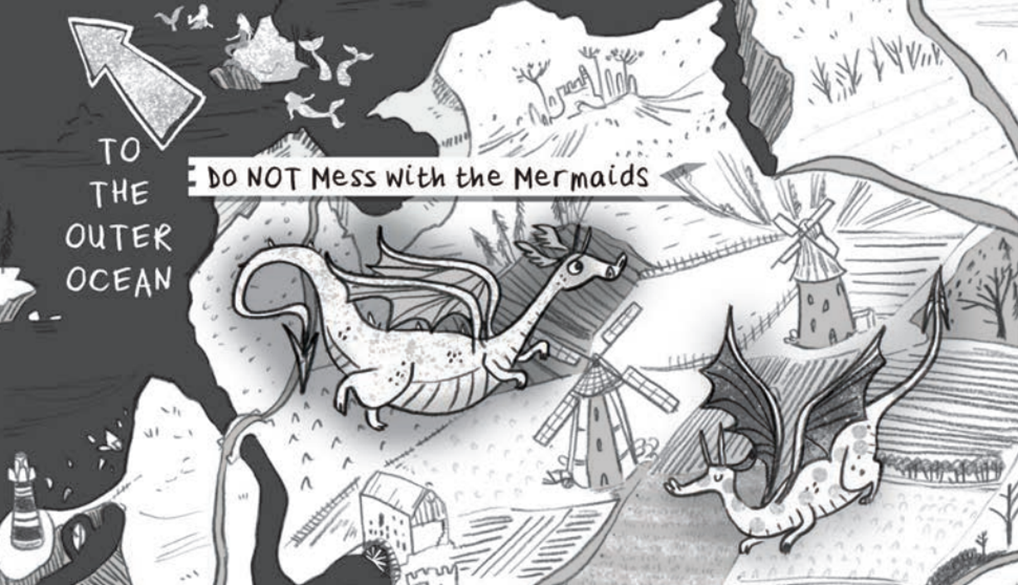 6. What was the most challenging illustration in this book, and do you have a favourite spread from the story?
My favourite spread is inside the tree house with Grace asleep on the table. I had fun thinking up details for the background and how the structure would work.
The most challenging illustration was the mermaids' chariots! I could not figure out how they worked, how they would hold water, maybe it's because I'm the daughter of an engineer but I really struggled with the concept. We settled for shells on wheels but most of the outtake drawings were ridiculous bath shaped contraptions.
7. If you could bring to life any part of Wondermere, what would it be?
I think sitting on the banks of the moat and watching all the dragons interact on the turrets would be pretty cool.
8. What do you most enjoy doing when you're not at your desk / studio?
I'm at my desk a lot, particularly for this book but when I get time, I like to bake a cake and hang out with my family. I'm more likely to be found reading a book than off on an adventure like Michelle (and Grace).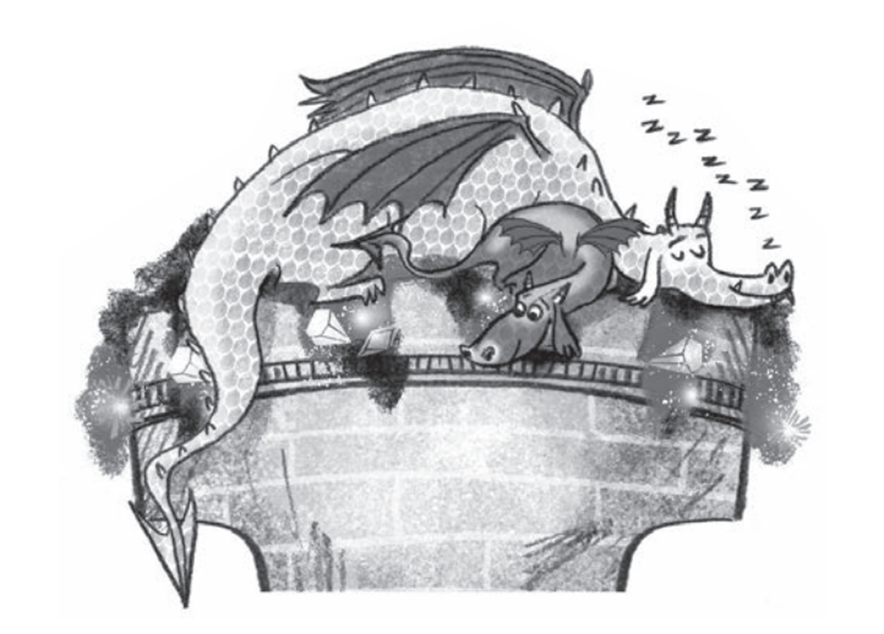 Author's Titles